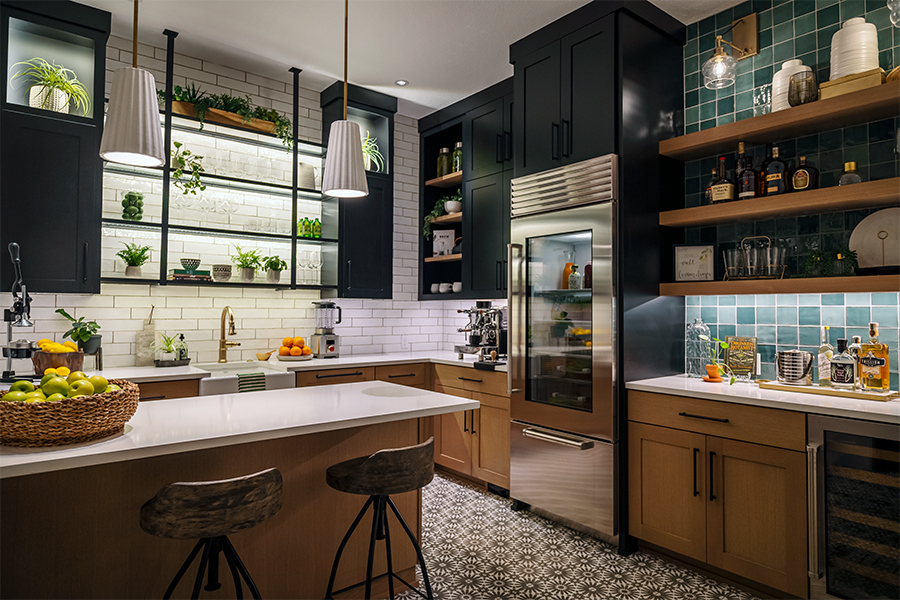 Farm to Table by Renaissance Homes is a stunning example of how lighting design can enhance a home. Our sister company, Globe Lighting, was proud to design the lighting layout for this multi-award-winning house. Lighting Farm to Table, inside and out, was inspired by modern technology and how it can be used to support the needs of everyday life. With a mix of gorgeous decorative fixtures, expertly placed task-lighting, and smart switches with programmable scenes, the genius of Farm to Table is best experienced at night.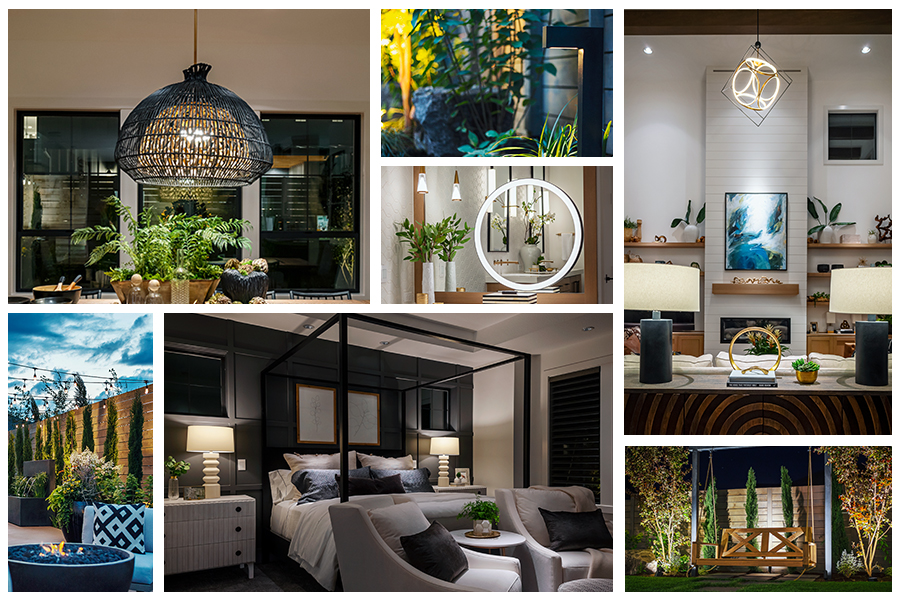 Creating Mood with Lighting
When selecting lighting placement for this project we wanted to create a warm, cozy environment that could be enjoyed day or night while entertaining or just relaxing. To accomplish this overall feeling, we used multiple layers of dimmable lighting throughout the entire home. The lighting layout of each room was designed to create a contrast of light and dark spaces with fixtures placed only in areas of interest. Small aperture recessed lighting, or 3″- 4″ cans, were used throughout Farm to Table in place of the more commonly used 6″ cans which only make an appearance on the living room's 24′ ceilings. By using smaller, adjustable recessed lights by Recesso, we were able to create scenes that let you focus on the light in the room and the areas of interest that they create rather than focus on the hole in the ceiling. All lighting fixtures within the home are paired to Deako smart switches making them easy to dim, program, and control from the wall or smart device.

Exterior Lighting
The home's exterior lighting scheme consists of Hinkley path lights, spotlights, outdoor wall lights, lighted garage doors, and a barn light. Each light has a specific function; the path lights add safety on the steps leading to the door, spotlights cast shadows of the flowers and shrubs while grazing the brick exterior, lighted garage doors add a subtle glow, and the decorative wall and barn lights add character. Aside from looking beautiful and highlighting plants and architectural features, ample outdoor lighting brings a layer of safety and security to any home.
Entering Farm to Table through the front or side door is a warm and welcoming lightscape. Multiple layers of light at every entry point make it easy to see house numbers from the street and for you and your guests to find your way to the door on a dark night.
Entryway & Living Room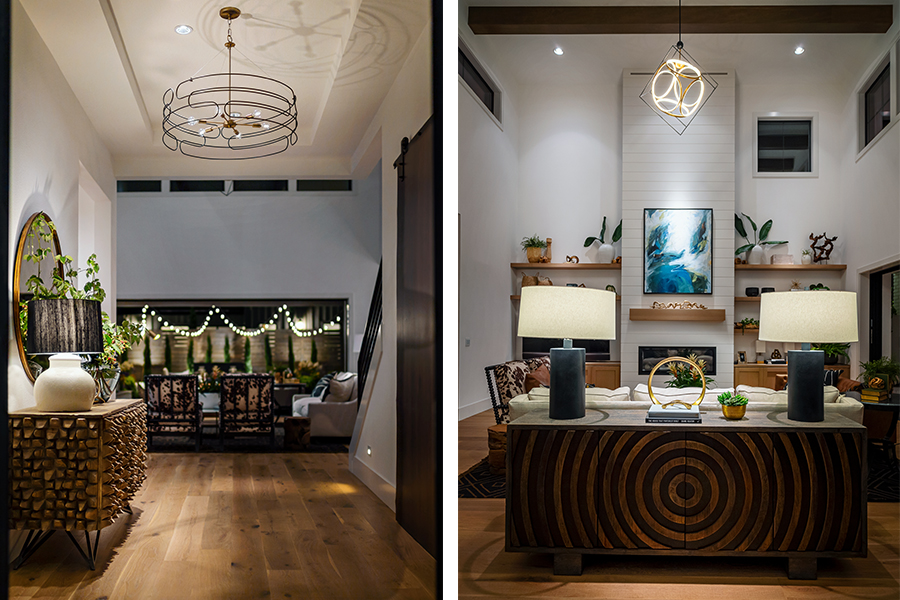 As you enter the home through the front door you are greeted by a gorgeous Capital Lighting pendant with mixed metal finishes. Recessed lights with a linear beam are cast upon the entryway, grazing the console and house plant to create dramatic shadows. Step lights are placed throughout this and other hallways within the home to serve as an extra layer of light and a low-wattage nightlight.

The open concept living room boasts high ceilings with a second-story balcony and an impressive LED pendant by Kuzco. Recessed cans are placed to highlight areas of interest, such as artwork, shelving, and above the sitting area.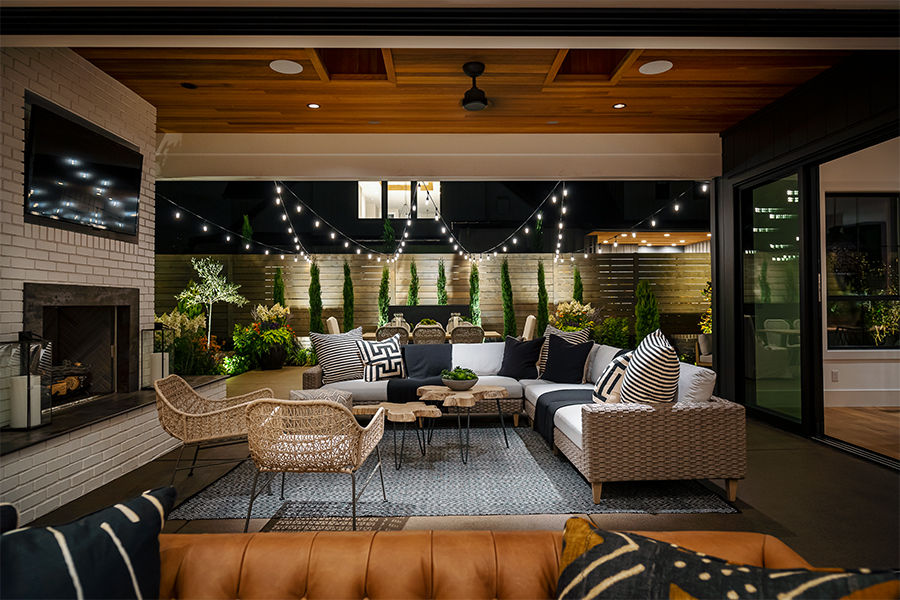 From the living room, a wall of sliding glass doors open fully to extend the entertaining space outside. This thoughtful setup creates an attractive, inviting space that people are immediately drawn to. Adjustable recessed lights are set up with linear beam spreads that shine only on the sitting space so as not to distract from the view of the outdoor TV, gorgeous landscaping, and outdoor features. The 4″ outdoor cans are outfitted with a dark bronze trim to fit in with the natural wood ceilings.

Artwork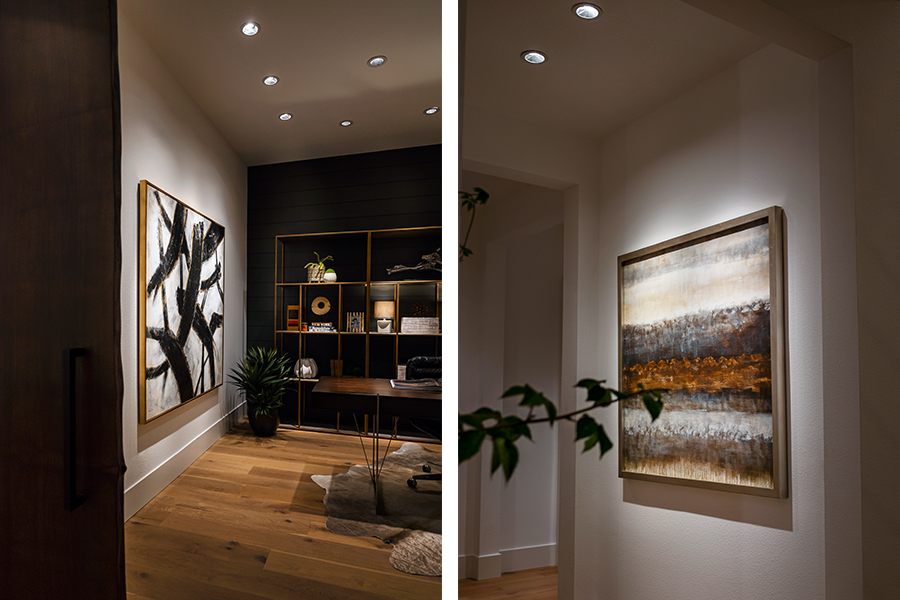 Throughout Farm to Table you can see stunning artwork and gallery walls. Each work of art is expertly lit with directional recessed cans to spotlight and highlight the beautiful, original paintings. In the den, three lights are placed above the artwork, two are above the desk, and three are directed towards the bookshelf. In the Hallway, two lights are directed towards the artwork on the wall. Specular clear trims are used in each can to reduce glare from the ceiling to help your eye focus on the artwork or task in front of you.

Master Bedroom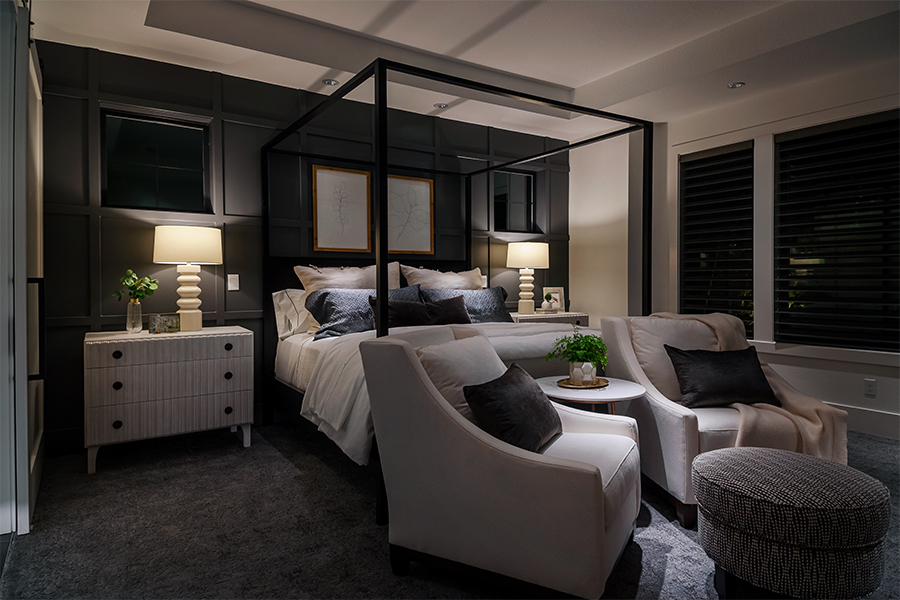 Recessed cans are the key to lighting this master bedroom. Cans are placed above the bed to create a spotlight on either side with angled lenses that won't shine into your eyes, each side can be controlled independently which is perfect for couples with different bedtimes. There are also directional cans placed toward to end of the bed in the sitting area for nighttime reading without lighting the entire room. Deako Smart Switches are located on either side of the bed, not only do they control the lighting in the master bedroom, they are able to turn off every light in the entire home, additional switches are placed by the windows to control all of the landscape lighting surrounding the home.

Master Bathroom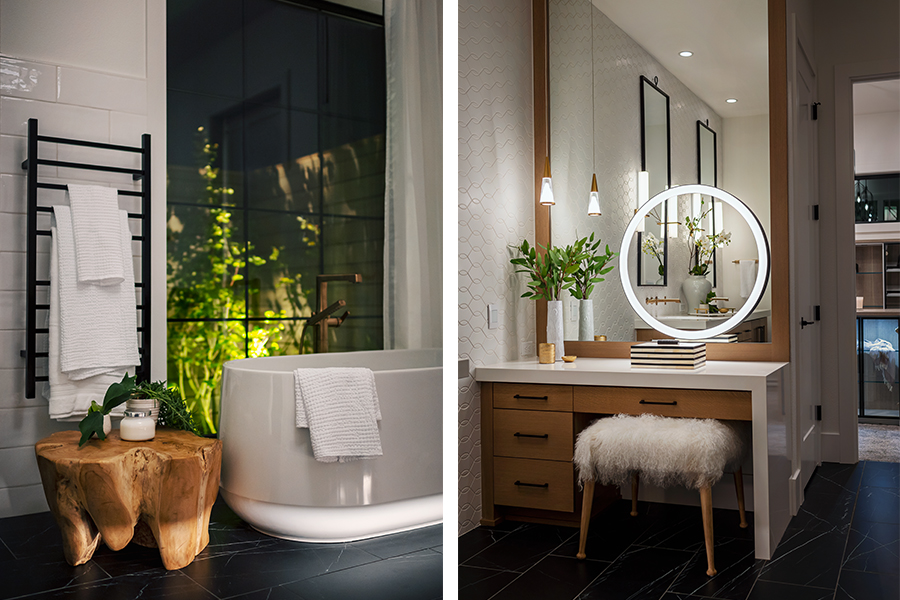 Attached to the master bedroom is the breathtaking master bathroom. Floor to ceiling windows let the natural light shine throughout the day and at night showcase the gorgeous landscaping. The makeup vanity uses a stacked mirror technique with a lighted Elan LED makeup mirror at the perfect height for flawless application at a seated level.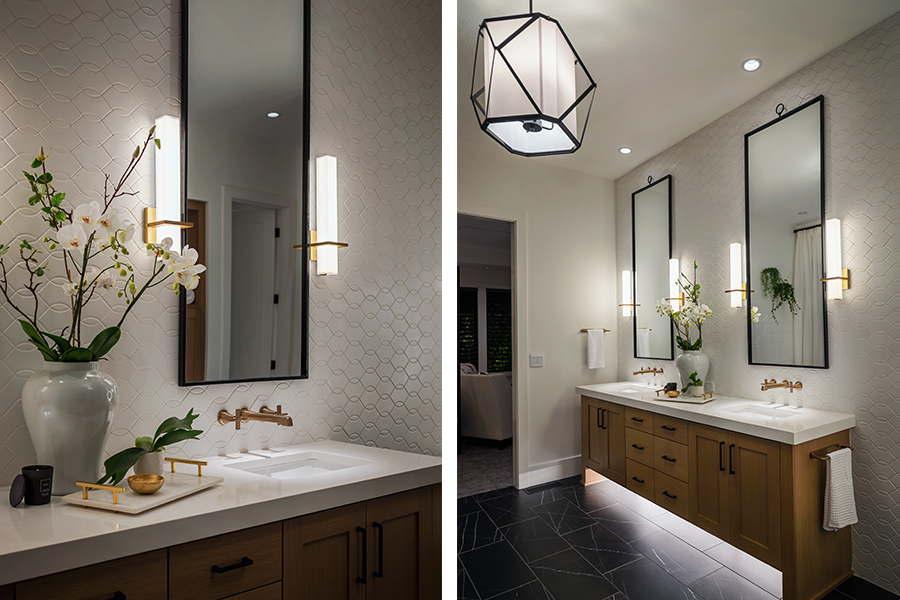 While mixed finishes and lighting collections are used throughout Farm to Table, it is most evident in the master bath. The black geometric pendant pairs effortlessly with Kuzco brass LED sconces and brass LED mini-pendant. Toe-kick lights are placed below the sink to add a helpful glow using our Recesso brand's Super Thin LED Light Bars.

Kitchen & Dining Room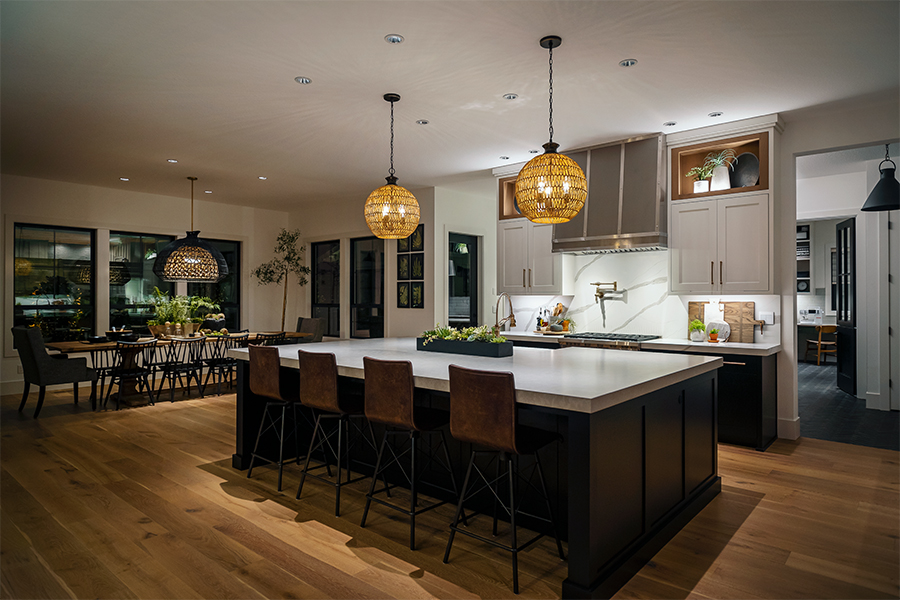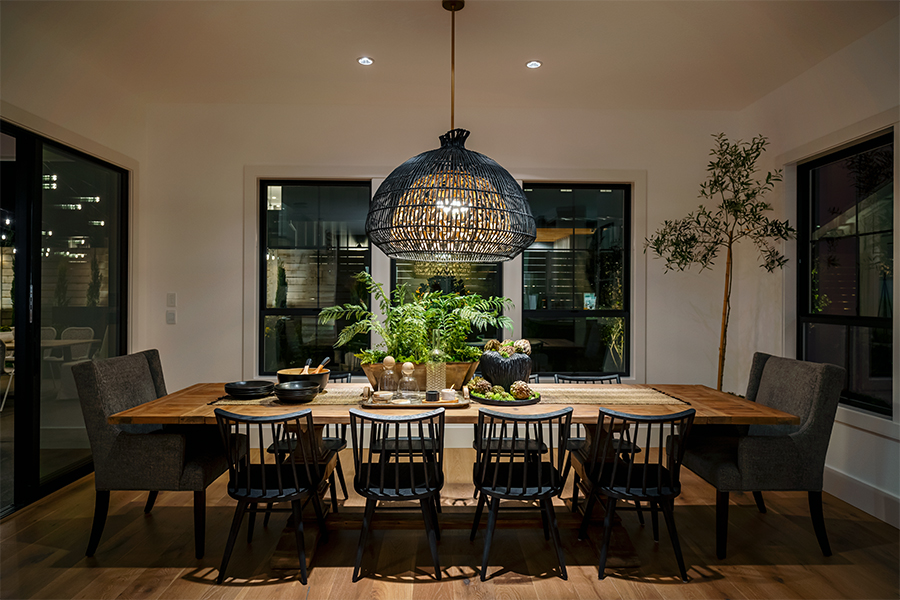 With natural materials and neutral colors, the kitchen pendants by Quoizel and dining room pendant by Arteriors Home embody the popular modern organic style. Recessed lights are placed strategically throughout the space to add task lighting to important areas such as cutting surfaces and over the dining table. Under cabinet lighting provides a safe space to chop and prepare food as well as a subtle nighttime glow when the kitchen is not in use.

Juice Bar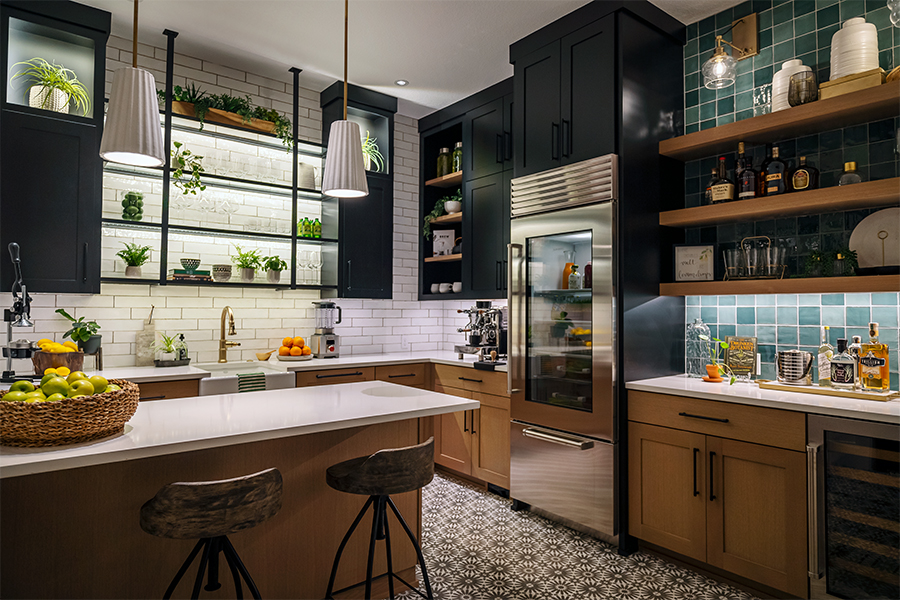 The indoor/outdoor juice bar tucked behind the kitchen is the hidden gem of Farm to Table with a fully stocked bar and a serving window. Minimal yet eye-catching Capital Lighting pendants hang above the island with their white shades adding the perfect contrast against the dark cabinets. Vintage style brass sconces by Capital Lighting add a touch of light above the bar shelving. Backlit shelving makes house plants pop against the white subway tile backsplash. Our Super Thin LED Light Bars were the perfect choice to light these shelves because they are low profile and completely customizable. These LED Light Bars range in size from 6″ – 48″ and can be plugged together to create the perfect length for any space. Each section can be used singularly or in connected lengths up to 100′ and are easily replaced when needed.

Back Patio
One of Farm to Table's greatest features is its dreamy back yard where string lights and landscape lighting create the perfect ambiance. Multiple seating areas make for the perfect entertaining space. All areas are well lit with a warm glow that won't distract from the beauty of the night sky overhead.

Landscape Lighting Design
Landscape lighting is the perfect finishing touch to any home. At Farm to Table we took special care to highlight interesting plants, architectural features, and safety elements like steps and pathways. Multiple fixture types were used to create the perfect landscape lighting scheme. Path lights are used to line steps and pathways, in-ground well-lights illuminate trees from their base, and spotlights highlight plants and cast shadows onto fences and structural walls. In areas with the most striking plants, we used a cross lighting technique to light both sides of the plant to make them stand out from the rest.

Love What You See?
Our online and in-store lighting experts at Globe Lighting, Seattle Lighting, Builders Lighting, and Meletio will help you design the perfect scenes for your home.

Follow Us
For more lighting and design inspiration, follow us on Pinterest, Instagram, and Facebook.