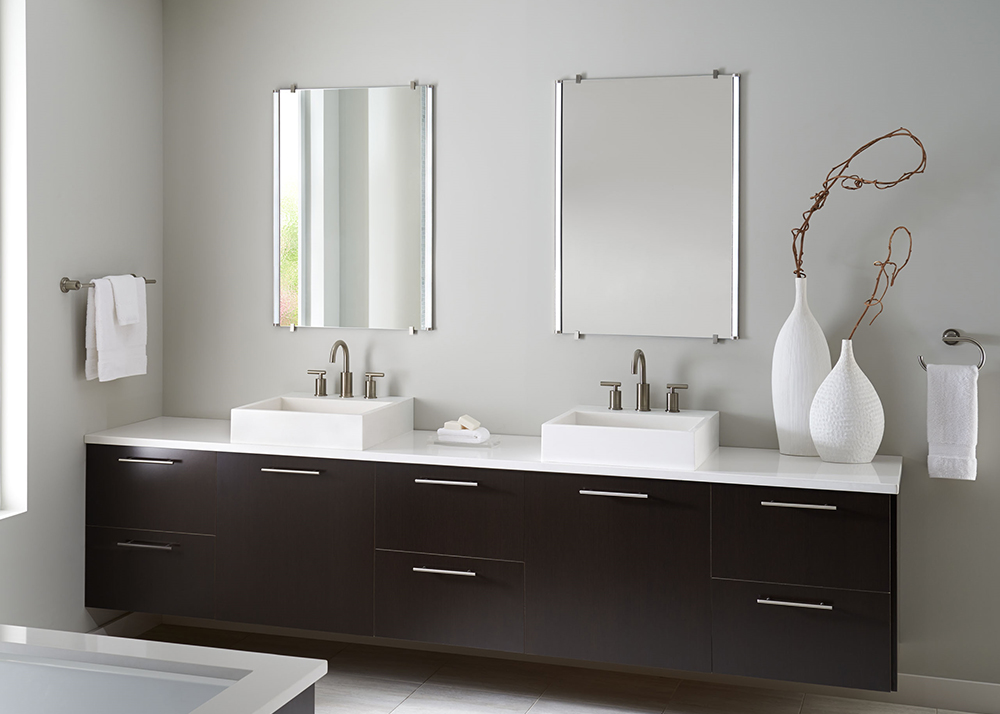 Bathroom lighting is functional and used every day, but it's also frequently neglected when it comes to proper illumination. Because they're often small, bathrooms typically have one or two light fixtures that provide ambient light and little else. Adding additional layers of bathroom lighting can enhance the appearance of these personal sanctuaries. Proper illumination can also make it easier to carry out personal grooming tasks such as shaving or putting on makeup.
The Importance of Staying Dry
When choosing bathroom lighting, remember that electricity and water are a shocking mix. Be sure to use wet-rated bathroom fixtures in any location that may come in contact with water. Recessed lights with low-profile shower trims come in varied sizes and shapes and won't take up space in your shower stall. A large tub with a tiled surround offers more room for wet-rated decorative fixtures. You may want to consult a professional electrician when choosing bathroom fixtures to ensure they meet electrical code and safety requirements.
Light Your Bathroom in Layers
There are three types of illumination you should consider when altering the lighting in any room.
Ambient light is general illumination that's often provided by ceiling fixtures, chandeliers or pendant lighting.
Accent lighting uses focused fixtures such as mini pendants or spotlights to emphasize specific features in a room.
Task lights create bright, even illumination in work areas. In the bathroom, that's your vanity or mirror.
While overhead fixtures provide excellent general illumination, they can be very bright late at night or first thing in the morning. Adding softer, indirect light with cove fixtures may be easier on your eyes. An accent light focused on shower or tub hardware can highlight unique plumbing fixtures and provide a little extra light while bathing. You can also use a small light to draw attention to amenities such as towels or bathing supplies in a guest bathroom.
The mirror is one of the most commonly used features in your bathroom and adding appropriate task lighting to it can enhance its utility. Many mirrors and vanities have lights along their top edge, but these may produce shadows on your face that make it difficult to apply makeup, style your hair or shave. Installing sconces or vertical bathroom light fixtures on either side of a mirror at eye level provides even, shadow-free illumination.
Create an Oasis
Light fixtures sometimes disappear into the background in larger rooms, but they certainly shine in the smaller, more intimate space of a bathroom. In fact, they can be used as the basis of a theme or design style.
Artistic Appeal – Use eye-catching Arts and Crafts or Craftsman bathroom lights to create an inviting, creative space for guests.
Contemporary Chic – Modernize your bathroom with a combination of satin, nickel or chrome finishes and geometric fixture designs.
Romantic Notions – Choose fixtures with warm bronze or brown finishes such as chandeliers, sconces or mini pendants to create a dreamy private refuge.
Soothing Spa – Add lights with natural-looking trims, translucent, patterned shades and earthy colors to create a relaxing haven where you can wash away the day's cares.
When choosing bathroom lighting, be sure you consider the materials used in plumbing fixtures such as faucets, shower heads, and towel bars. Coordinated finishes create a cohesive look, while a mix of metals can add an eclectic touch to your bathroom's appearance. You can also reduce the impact of fixtures such as overhead or recessed bathroom lights by choosing finishes that match your ceiling or wall colors.
Finishing Touches
There's one thing every bathroom has: water. Polished metal fixtures have a bright, clean look, but they may show water spots that brushed finishes can help hide. Nickel and brass will tarnish over time and require occasional cleaning, particularly in a moist environment. Chrome and lacquered finishes won't tarnish, making them an excellent low-maintenance option.
Fine Tuned Illumination
Being able to adjust each fixture's illumination settings individually enhances the effectiveness of your layered bathroom lighting. Using separate light switches in bathing areas and keeping them off when the shower or tub is not in use can reduce your energy bills. If your bathroom receives natural light, a photocell control can turn on a small accent light to provide gentle nighttime illumination automatically. Installing a dimmer switch for overhead fixtures provides additional control over bathroom lighting.
When it comes to lighting, bathrooms are functional spaces that are sometimes overlooked. Layers of lighting designed around major features such as tubs, showers, and mirrors can enhance the appearance of these small spaces and increase the value to your home. Add adjustable general lighting, decorative accent fixtures, and well-placed task lights to the bathrooms in your home and create an inviting space for guests or a peaceful personal retreat.