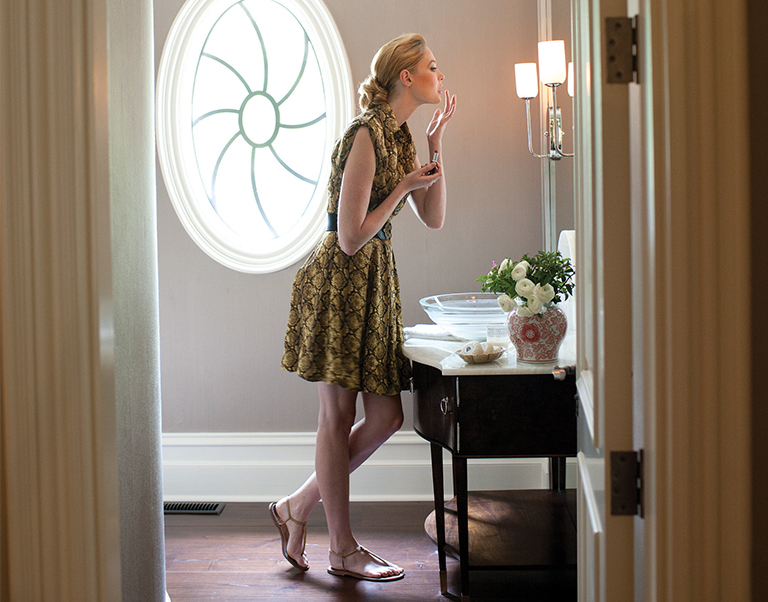 Best Bathroom Lighting for Applying Makeup – Sconce by Hinkley Lighting
Applying makeup in a poorly-lit bathroom is an all too common struggle. The lighting in your bathroom is the key to a beautiful and functional space, as well as a beautifully made-up face. An ideal vanity lighting design mimics daylight so you'll feel confident you look your best every day.
Key Considerations
While overhead fixtures in the ceiling or above the mirror work well for ambient lighting, they can create shadows or glare that are not ideal for shaving or makeup application. The best vanity lighting offsets these issues with a flattering glow. Side light fixtures create a natural radiance and prevent harsh glare or unnatural shadows. It's important to layer the light: ambient lighting from the ceiling and accent side lighting for style and functionality.
Lighting From the Side
Lighting mirrors and vanities from the side reduce the shadows and splotches created by overhead lighting. Side lights create a radiance similar to daylight to make personal grooming easier and more effective. Additionally, they add visual interest to your walls and give your bathroom the look and feel of an upscale spa.
Vanity lighting ideas fall into two basic categories: sconces and vertical light bars. Each design has unique advantages so choose the best option for your bathroom. Sconces are very stylish additions to the overall decor. You should mount sconces close to the center line of the mirror. The American Lighting Association standards state sconces should be mounted 60 inches from the ground and 28 inches apart. Vertical light bars are an alternative to sconces. These are usually slimmer in profile than sconces and match well with modern decor and architecture.
Bulb Basics
One of the most important vanity lighting tips is to choose the right quality and color of light. Each type of light bulb such as incandescent, LED and fluorescent emits a specific light color and is different in terms of energy efficiency. The bulb type has a large impact on the light quality. A color temperature rating between 5000K and 6500K indicates a glow similar to what you see in commercial spaces like doctor offices so that amount of light is not advised in residential lighting. Look for bulbs with a color rendering index (CRI) of at least 90 and a kelvin temperature between 2700 and 3000K.
It's also important to pay attention to the lumens, which indicate the efficiency and light output of the bulb. Essentially a lumen indicates the amount of light perceived by the human eye. Incandescent bulbs are less efficient than other types because they require a lot of power to produce an adequate amount of lumens. However, they create a very nice quality of light and are easy to source. CFLs and LEDs are more efficient as they require far less power than incandescent bulbs to produce the same amount of lumens. Check the bulb information for lumen ratings to make sure you'll have adequate lighting in your bathroom.
Vanity Lighting Ideas
Turn your bathroom into a luxurious and stylish retreat with the right lighting fixtures. If you have enough ceiling height, consider using a mini chandelier to create a focal point. You could also add recessed lighting or flush mount fixtures to ensure there is enough ambient light. Then think about vanity lighting such as sconces or vertical light bars. There are many styles of vertical bathroom lights. Frosted glass is a brilliant choice for any decor, and you can choose metal accents that match your other fixtures such as chrome, brushed nickel or bronze. If you want a contemporary feel, go with transitional style lighting. You can match vanity lighting with a statement-making chandelier, unique wall sconces and even a small lamp on your countertop. Dimmable makeup vanity lighting gives you the most flexibility.
Choosing the Right Vanity Lighting for Your Bathroom
The best vanity lighting is flattering and similar to daylight, making personal grooming tasks simple. Create adequate ambient lighting with ceiling fixtures and other traditional bathroom lights. Then add side lighting to minimize shadows and glare from the overhead lights. Sconces are very stylish and serve as accents to the decor. If you want more subtle fixtures, go with vertical light bars. Frosted glass is a good choice, and you can choose the type of bulb that will fit your preferences for light quality and energy efficiency. The right vanity lighting design makes your bathroom more functional and gives it the beautiful and relaxing atmosphere of a spa.