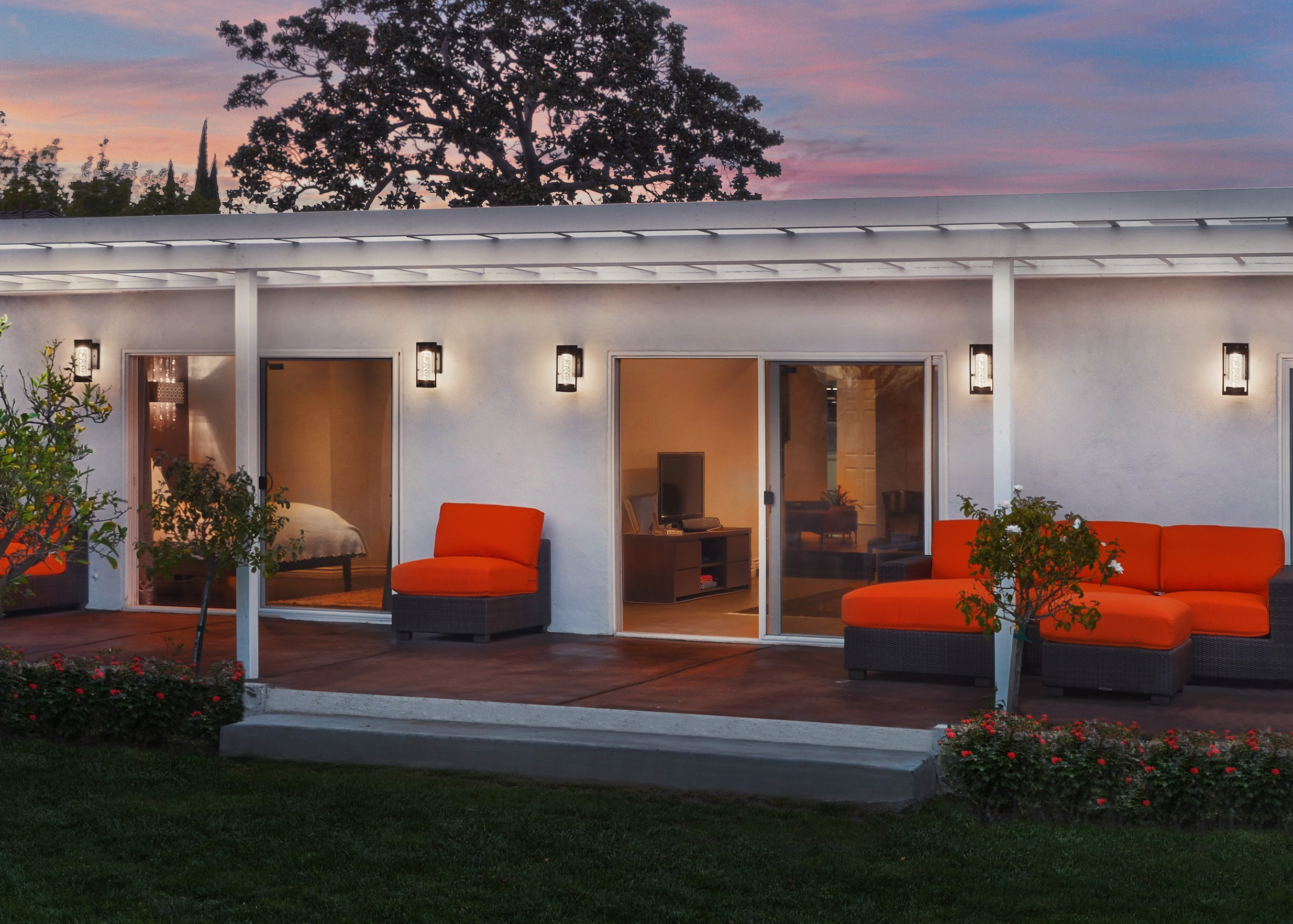 What does dusk to dawn mean?
Outdoor wall lights illuminate several important areas around your home. They shine over walkways and enhance visibility near the locks on your door. They can also serve as theft deterrents. That's why many homeowners choose to leave their lights on all through the night. Dusk to dawn lights automatically control your home's exterior lights, so you don't have to manually turn them on every night.
Light the Night in Style
There are three common ways to use dusk to dawn light fixtures at home. In many cases, these lights connect with timers that switch power on and off at specific hours. Other dusk to dawn lights use photocells or motion sensors to activate lights. Here's how to figure out which to use outside your home.
Photocell and Motion-Activated Dusk to Dawn Lights
Many lights use photocells for power. These units detect natural light and turn on the lights after sunset. They also shut everything down when the sun rises, so nothing burns power during the day. Many photocell fixtures come with motion detectors as well. These lights work as simple at-home security systems. They also accommodate seasonal shifts in daylight. It doesn't matter when the sun goes down. Because photocell-activated dusk to dawn lights sense natural light, they automatically adjust for longer and shorter nights.
Motion sensors keep lights turned off unless something moves nearby. Unlike many dusk to dawn lights, they don't activate for long periods of time. You can usually select how long you want these lights on. Some allow homeowners to select activation periods as short as five seconds and longer than 10 minutes at a time. Motion sensors are a common form of outdoor lighting, but they don't keep the yard lit all night long. Instead, they're used in situations where you only need light when someone's nearby. You can install them in backyards to let pets out at night or as theft deterrents around your home's exterior.
Time-Controlled Dusk to Dawn Lights
Time-controlled dusk to dawn lights help homeowners conserve energy. There are several types of timers, and many of them are made specifically for outdoor usage. Advanced systems can control porch lights and other major fixtures with programmed settings inside the house. Some timers remain outside all the time. They attach between the fixtures and electrical outlets and often have protective cases to prevent leaks. Time controllers use programmed information to activate lights at specific times throughout the day and night.
Some timers turn the power on at multiple intervals in a single 24-hour period. You can have them turn on around sunset and off at a specific time every night. Distinct time frames keep the power off while you sleep, so you conserve energy during the night. Timers can also turn your path lights on when you wake up and off when you go to work. They illuminate connected path lights, wall lights and flood lights, so you can safely navigate paths before sunrise.
The Power You Need for Outdoor Light
As with other types of outdoor light fixtures, dusk to dawn lights connect to your home's power system in three different ways. Some of these use line voltage. They connect to standard wiring like most other lights around the house. The second is low voltage dusk to dawn lights. This style uses transformers to connect with your home's power system. A third style also exists. Some dusk to dawn lights have solar panels that charge internal batteries during daylight hours. Because they have their own source of power, many connect to wall outlets only for backup power.
Control Your Environment
Timers, photocells and motion sensors provide complete control over exterior lighting fixtures. When you don't want to manually activate your lights every night, you can rely on any of them to help with the job. Some units combine motion sensors and light sensors, but their photocells don't turn the lights on when the sun goes down. When paired with motion detectors, photocells keep lights off during daylight hours. They work as security lights in the evening, turning on when they sense motion after dusk. You can also adjust these fixtures to allow the motion sensors to work all day. Because these control systems are made for all sorts of homes, many have programmable settings to adjust their performance. Check the manual that comes with your fixture to find out how to make these adjustments, and your lights can turn on anytime you need them.
Dusk to dawn lights help you illuminate your home's exterior after dark. Whether you want a simple security feature that casts spotlights on specific areas or an automatic way to control path lights, these fixtures can help with the job.