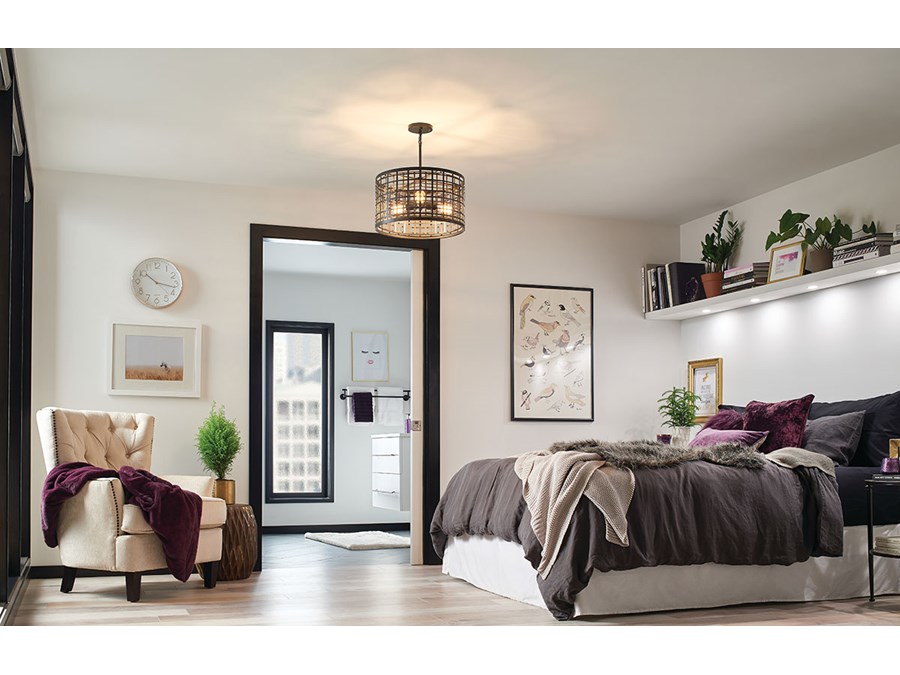 Master Bedroom Lighting – Aldergate 3-Light Semi-Flush by Kichler
Your master bedroom, large or small, should be a cozy, peaceful getaway.
The right lighting can help you transform your space from a bedroom into a sanctuary.
By combining elements of basic lighting design with your own unique style, the bedroom of your dreams is within reach. A new lighting fixture can serve as the centerpiece of your bedroom and is likely to remain on your ceiling for a number of years as fads come and go. While it may seem crucial to pay attention to the hottest trends, the most important part of creating your perfect space is to fill it with items that you love.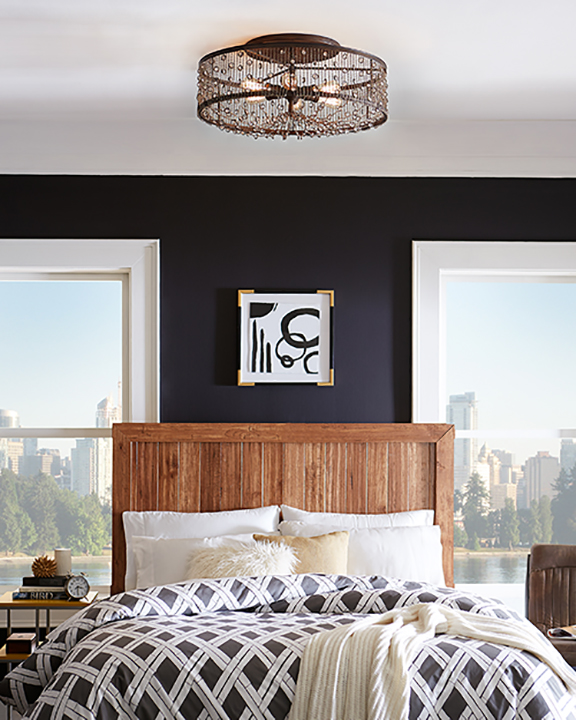 Your Style
Are you someone who likes to change your decor and paint color regularly? It might be wise to choose a neutral lighting fixture rather than a statement piece.  A classic semi-flush with drum shade or a neutral ceiling fan will match your decor through new bedding, statement-ceilings, and Pantone's color picks from one year to the next.
Is your style distinctly your own? Is your decor a permanent and expanding collection of favorite pieces carefully selected throughout the years? Go for the statement piece, the extravagant beaded chandelier, the unique, contemporary LED wall sconce. Let your style shine bright with your carefully curated piece.
If you like to be up on the latest trends and you aren't worried about changing your fixtures as often as you change your sheet sets, now is your time to go wild! There are so many beautiful and innovative lighting fixtures waiting to be discovered.  Chandeliers, ceiling fans, semi-flush, pendants, and wall sconces are all great choices for master bedroom lighting.
As you update, keep in mind that lightly used fixtures can be donated to local rebuilding organizations such as Habitat for Humanity, etc.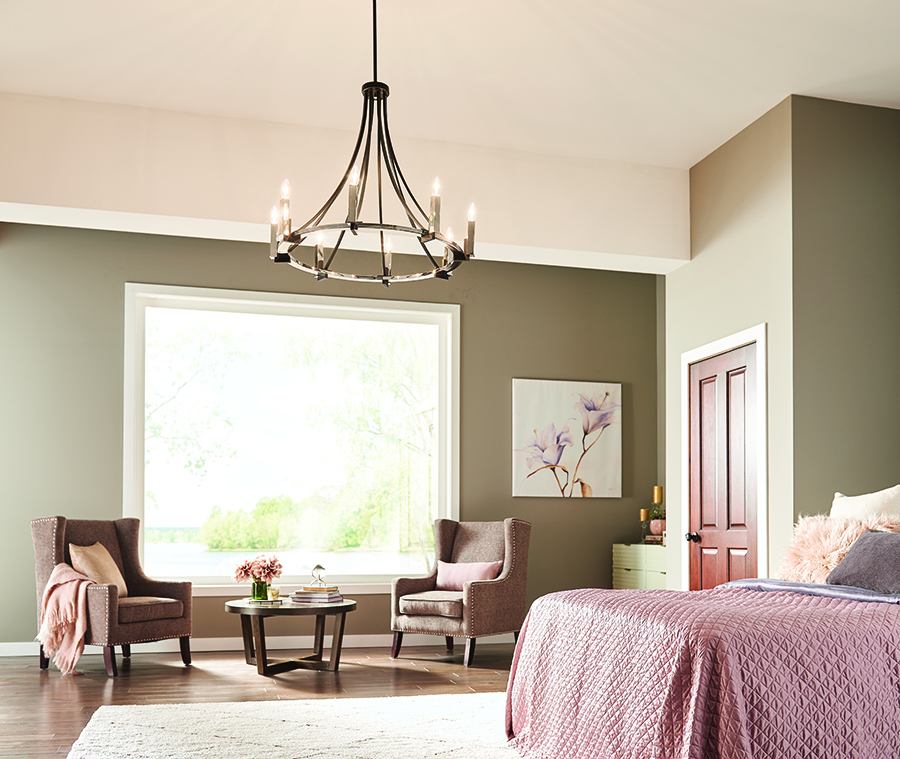 Layers of Light
It is advisable to incorporate the three basic layers of lighting (ambient, task, and accent lighting) into your design plan, however, the most important layers for the master bedroom are ambient and task lighting.
Ambient lighting is the base layer of lighting for a room which produces general illumination while creating atmosphere and glow. Traditionally, a semi-flush fixture or a ceiling fan is used to provide ambient lighting for the master bedroom.
For additional bedroom glamour, a chandelier can be used as a centerpiece and source of ambient lighting.
Task Lighting illuminates specific areas dedicated to activities and provides bright light that makes it simple to see small details. Table lamps, wall sconces, and even carefully placed mini-pendants can serve as task lighting in the bedroom. These fixtures are best used in pairs, flanking the head of your bed frame. A switched sconce or table lamp will allow a smooth transition from reading to dreaming, just make sure to turn off the overhead light before you cozy up with a good book.
Dream On
Stay posted throughout February for a whole month of bedroom blogs posted weekly! Don't forget to check out our winter bedroom sale and create the master bedroom of your dreams. Love your new lighting, show it off! Share your photos in comments or tag us (@destination_lighting) on Instagram. Can't get enough lighting? Follow us on Pinterest.