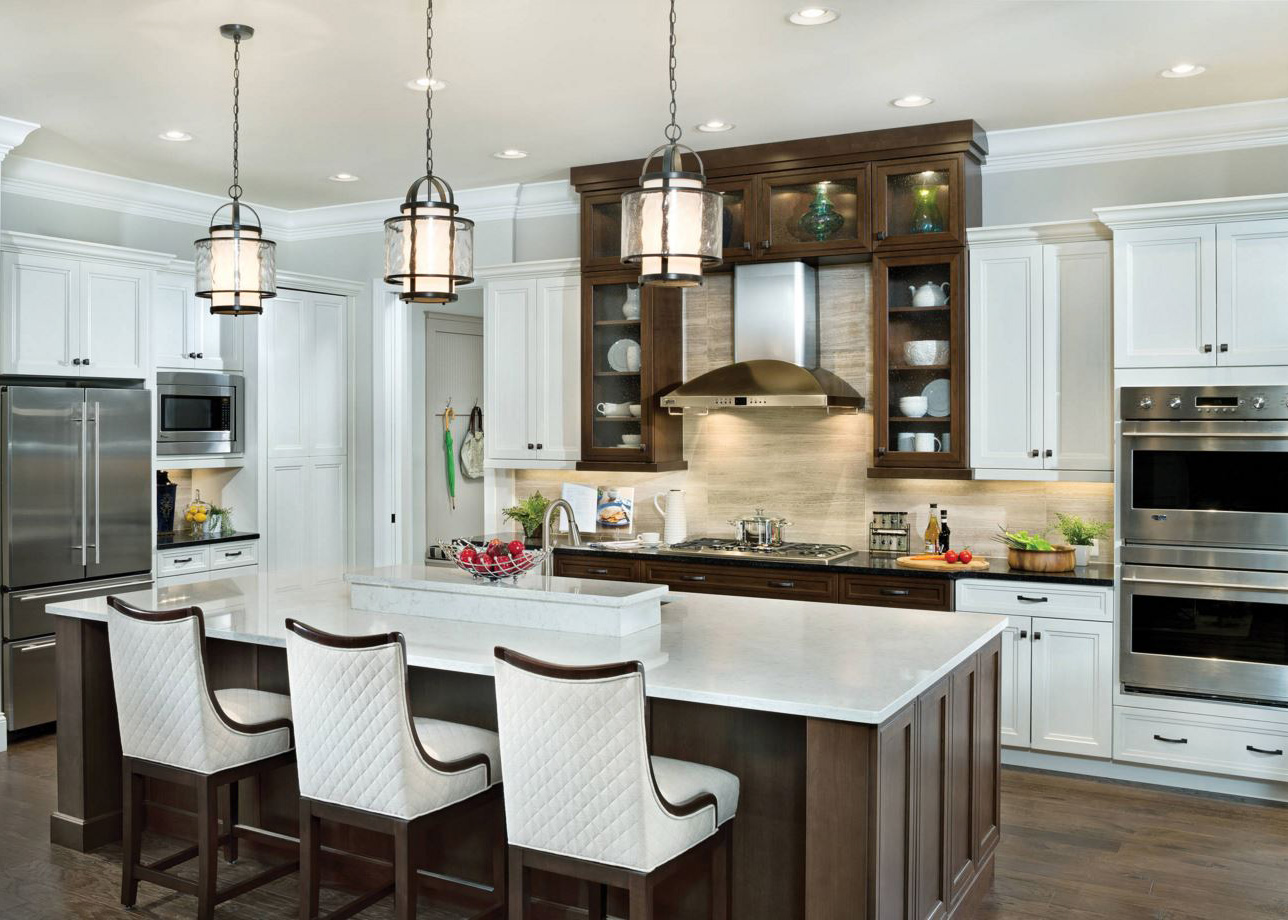 Properly layering the light sources in your home can transform it. Whether you want to highlight a stunning grouping of paintings or add light that makes reading and detailed work easier, the following lighting design basics will help you achieve the look and feel that you want in every space.
Types of Layered Lighting
Layered lighting consists of ambient, task and accent fixtures, along with decorative and wall lights that work together to create a cohesive space. Each type of lighting has its own function that helps address illumination needs and issues.
Ambient – This is the base layer of lighting that makes sure each room has illumination for performing daily activities and safety and security. The ambient light in a room helps create the overall look and feel of the space and gives a base for the other lighting types.
Task – Task lighting illuminates areas dedicated to activities like reading, grooming and food preparation that require direct light.
Accent – Show off architectural details, paintings and plant groupings by adding accent lights nearby that shine directly on specific locations to draw the eye.
Decorative – Decorative lighting adds beauty and makes the room glow. This type of lighting features fixtures that enhance the decor in the space while adding illumination.
Wall – This is directional lighting that shines on walls and other vertical surfaces. Wall lighting can make small spaces seem larger, or you can use it to highlight areas of texture throughout the room.
Choosing Fixtures for Layered Lighting
Different fixtures provide specific layered lighting effects and help address issues such as glare, too little illumination and decor that just doesn't pop. You'll want to mix and match different fixtures to create warm, inviting spaces that provide the lighting you need while making the space shine.
Fixtures for Ambient Lighting
Ambient lights provide the overall atmosphere and give the room a warm glow by providing the base layer of illumination. In most cases, ambient lighting comes from a central source in the room.
Task Lighting Options
Task lighting illuminates specific areas dedicated to activities and provides bright light that makes it simple to see small details.
Lamps – Light up seating, work and reading areas with floor, table and desk lamps. Each of these fixtures direct light onto the areas you choose and ensure plenty of controlled brightness that doesn't overwhelm the room.
Under-Cabinet Lights – Ensure food preparation areas are well-lit with under-cabinet lights. Place these small fixtures directly over counter tops and work areas to add optimal light levels when tiny details matter.
Recessed – Recessed lights fit directly into the ceiling or under cabinets to provide task lighting without sacrificing space.
Types of Accent Lighting

Accent light fixtures highlight and even create focal points in a room. Options like recessed and track lights use bulbs that produce softer light, which draws the eye to the areas of the room that you want to stand out to visitors. Add picture lights in spaces that feature artwork to draw the eye.
Tips for Layering Lights in the Home
Now that you understand lighting design basics, combine different light types to create stunning visual displays in each room. Start by adding ambient light, then move on to illuminating additional areas based on the activities or design features in the room. You can use different fixtures for each type of lighting by incorporating dimmer switches that let you control the illumination levels depending on how you're using the space.
Control the Look with Layered Lighting
Layering the light in a room lets you address lighting issues by directing illumination in different directions. Use ambient lighting to eliminate glare and improve safety and security, then add accent fixtures that make colors shine and reduce dark corners. Consider the activities you do in each room and incorporate task lighting in those areas. By following these tips, you'll use light to create a cohesive look and feel throughout the room, ensuring that the space shines.