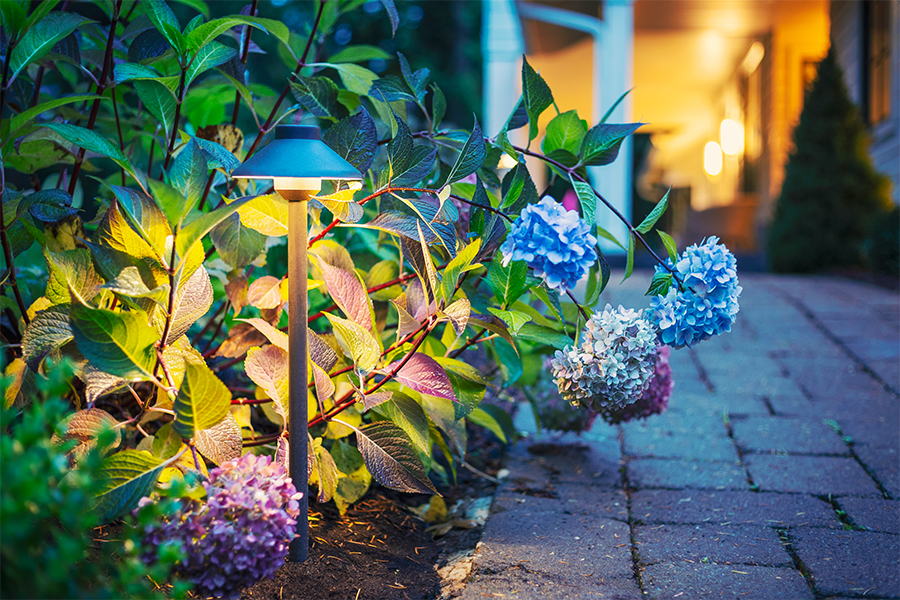 LED Path Lights by Kichler | From our Emily Henderson Portland Project

Many homes have outdoor lighting to illuminate walkways after dusk. These path lights shine over nearby areas, and they often have hoods or shields that direct light toward the ground. If you need path or yard lighting ideas for outside your home, there are a few things you should know before you purchase anything.
Time-Tested Ways to Light Your Path
Because landscape lights come in so many varieties, you may want to use one of the time-tested methods to light your path. The first is post lights, which are mounted directly beside your walkways and cast light over every step of the way. Post lights have several unique variations of their own. Some are simple, black posts with hooded shades, while others have decorative designs, which accent the garden during daylight.
Ground well lighting is another long-trusted way to light landscape features. These lights rest at ground level and cast light on vertical surfaces, such as walls or features you wish to accent in the yard. You can also pair ground well lights with post lights. A combination of both makes for a well-lit exterior, and one that can highlight your home's best features.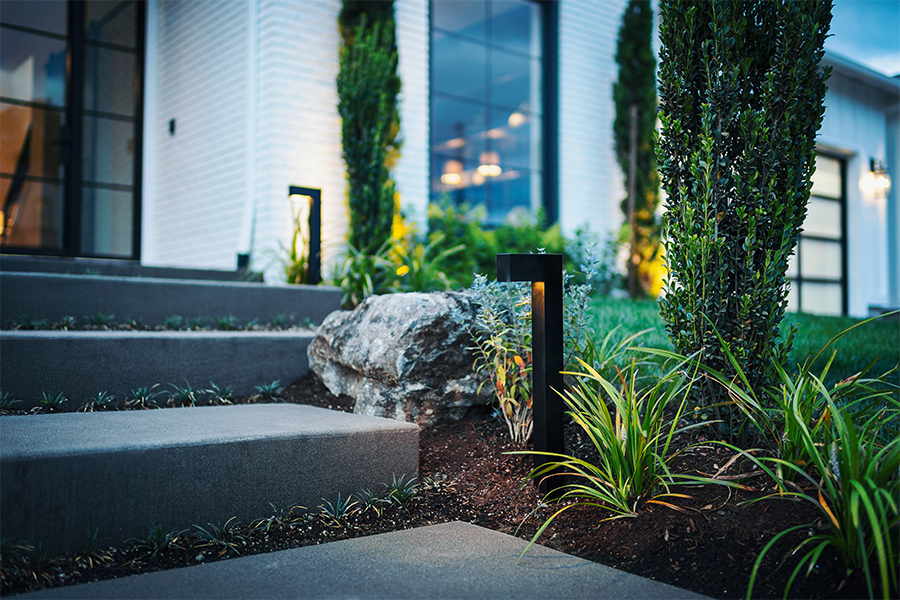 Atlantis LED Path Light by Hinkley | From our Street of Dreams 2019 Project
Unique Path Lights to Save Energy and Add Character
Path lighting can add character and charm to your yard, as well as functionality. Post lights with glass shades diffuse glare so that you can see clearly. They're also used for decoration, and they come in a myriad of styles. Choose from nautical-themed fixtures, traditional lantern designs, globes, bells and many other shapes. These versatile fixtures can provide elegant accents to paths and gardens. During the day, the sun's rays reflect off the textured surfaces of these shades, so they sparkle without any electricity needed.
Tulip shades are another common style of decorative fixture. Their stalk-shaped posts arch upward, and their ground-facing heads direct light back toward the path. During the day, these lights serve as subtle decorations along the edge of your walkways. Using these shades along garden pathways accents the natural beauty of the flowers and plants.
Ground well lighting is also available in a variety of styles. Some are set flush with the ground and create a soft, unobtrusive glow. Others come in striking shapes such as bowls, candles, wands and flowers.
Energy-saving lights such as LED's, many of which run on only 12V, offer another valuable feature for your home's outdoor lighting. LED's are available in all major forms of outdoor lighting, including posts and ground wells, making it possible to reduce energy consumption. Look for the Energy Star rating when choosing outdoor lighting.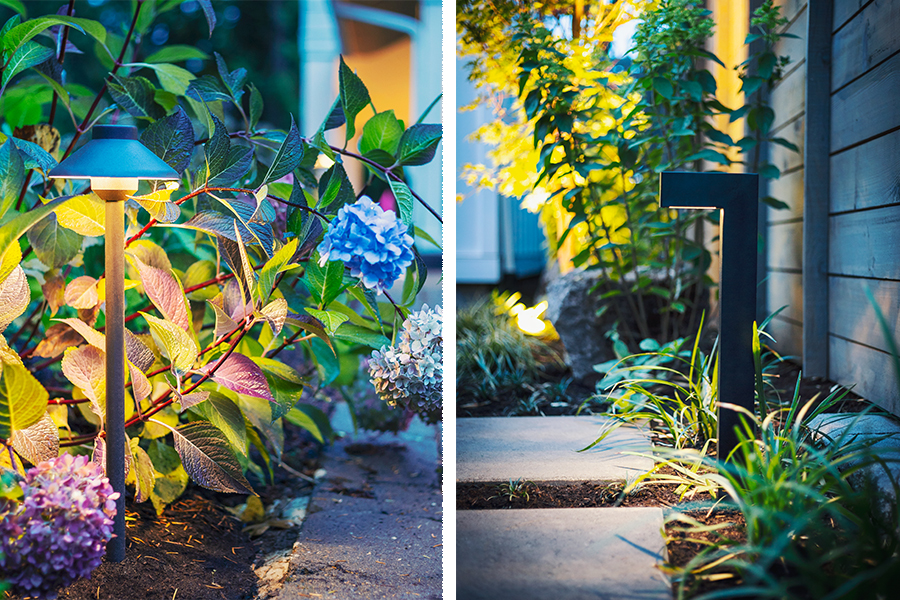 See all LED Path Lights at Destination Lighting
You Will Also Need
If you plan to use low-voltage fixtures such as LED landscape lighting, you will need to find a transformer as well. This device modifies the electrical voltage from your home for powering fixtures without a line connection. Also, you'll need cables to carry power from your transformer to each of your lights.
Photocells and motion sensors play a major role in landscape lighting as well. These devices automatically turn your lights on and off to save energy. Photocells detect light levels, so your lights will go on when the sun goes down. Motion sensors detect movement, so path lights turn on as soon as you step near them. Many landscape lights offer scheduling features as well.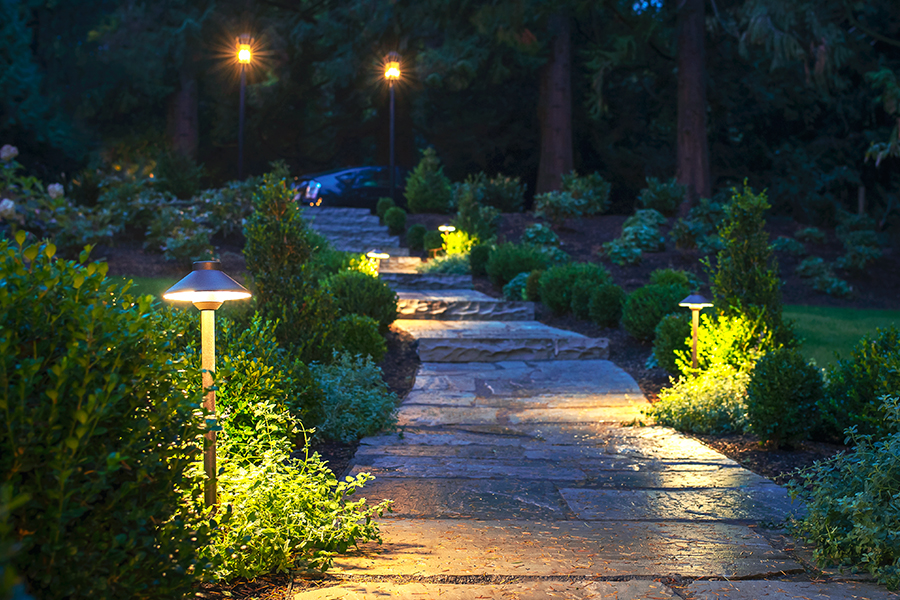 LED Path Lights by Kichler
Other Things to Consider with Path Lights
If you want to brighten up your lawn or garden, remember these tips for effective traditional landscape lighting.
Avoid glare. Light fixtures should illuminate surrounding areas and should never shine directly in your eyes. Shaded hoods and ground wells with directional shields prevent glare. If the elevation of your path changes from one end to the other, you may need to diffuse or redirect light beams to avoid glare.
Accent unique features. You may choose to accent landscapes and your home's architectural features with special fixtures that cast light across specific areas. Ground-level spots highlight walls and fences, while traditional posts can illuminate flower beds or other ground features. So long as you use compatible fixtures with the same voltage, these lights connect to the same circuit as your path lights.
Spacing. Path lights require about 10 feet of surrounding space, so be sure to plot the location of your lighting fixtures before digging holes. The distance between each fixture ensures adequate illumination and prevents ground clutter. Additional lights can be used to accent landscape features along the way.
Voltages. Landscape lighting comes in line and low voltages, and the two cannot be used interchangeably. Line landscape lighting usually requires the help of a licensed electrician, while you can install most low-voltage landscape lights yourself.
Create your unique path lighting design with the wide variety of styles available, and enjoy the glow of satisfaction that comes with a job well done.
Follow Us
For more lighting and design inspiration, follow us on Pinterest, Instagram, and Facebook.