Small Kitchen Lighting | Avery Pendant by Kichler Lighting
Best Light Fixtures for a Small Kitchen
Got a small kitchen? Kitchen lighting ideas from the pros at Destination Lighting can help you make the most of any space. Check out our small kitchen lighting ideas for galley, L-shaped and open floorplan layouts that maximize ambient, task and natural illumination.
Kitchen Lighting Ideas: Small Kitchen Edition
Lighting has the power to transform small kitchens, making a significant impact on aesthetics and functionality. Kitchens should have a pleasant glow that's not too dim nor so bright that there's a glare. The best kitchen lighting significantly improves the appearance of your countertops, cabinets and accessories. The effects are even greater in small kitchens, where appliances are wedged close together and slight changes in the light can create shadows or glare in surprising places. Our lighting ideas for a small kitchen can help you decide which fixtures to choose for your home to maximize the lighting in a small kitchen.
Size Matters: How Lighting Affects a Room's Dimensions
No matter how small your kitchen is, the right lighting can make it feel spacious and airy. A cohesive lighting layout makes the ceiling feel taller and the edges of the room feel softer, creating the appearance of additional space. The most brilliant kitchen lighting designs make the most of natural light while also providing artificial illumination that amplifies and focuses the kitchen light in useful ways. Balance overall ambient light with various types of fixtures that brighten shadowed areas, enhance work areas and provide decorative accents.
Small Kitchen Lighting in Layers
The best lighting ideas for a small kitchen are those that combine many types of light in a layered approach. Not only does this strategy provide complete coverage in the space, but it also helps create a pleasant overall atmosphere and allows customization of the lighting level in specific areas. With different lighting layers, you can customize the illumination depending on the time of day and task at hand.
There are essentially three types of lighting: ambient, accent and task. Ambient lighting from ceiling fixtures provides a diffuse glow throughout the room. Track lights and sconces are examples of accent lighting, which provides focused illumination and ties in with the design style of the room. Task lighting is specifically meant to provide the right amount of light on work areas. Directional lights above the sink, pendants over a countertop peninsula and under-cabinet lighting are all examples of task lighting. From tabletop lamps to recessed lighting, small kitchen brilliance lies in a combination of layers.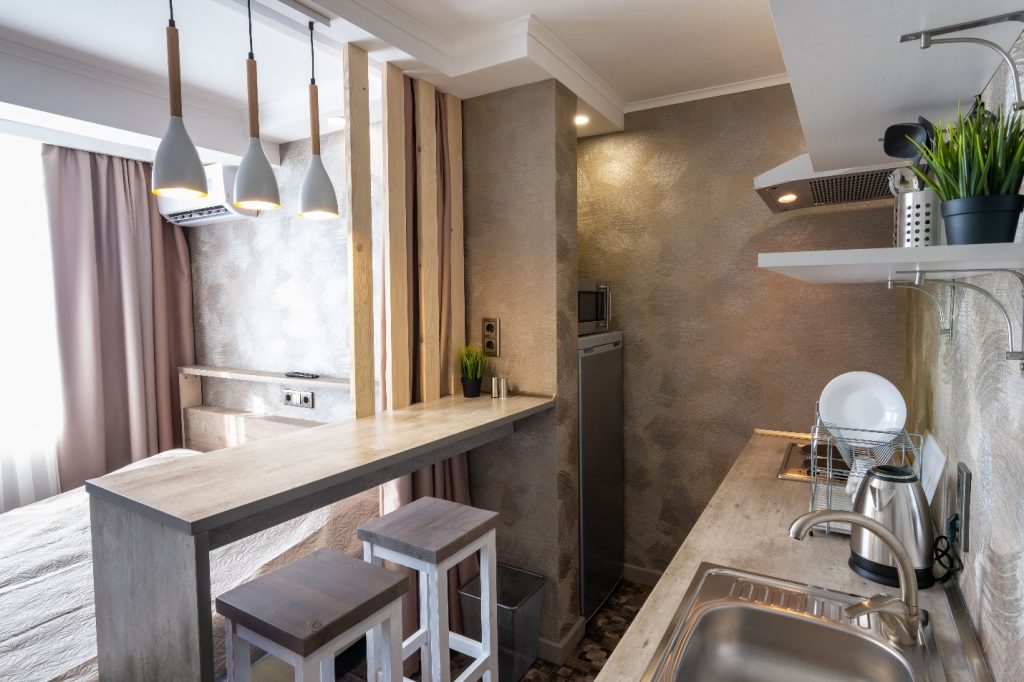 Broaden Your Horizons with the Right Kitchen Light Fixtures
The last thing any homeowner wants is a loved one kneading bread or chopping veggies in the dark, so use our kitchen lighting tips to create functional work spaces. Adding task lighting over certain work areas increases the efficiency of your kitchen. These types of kitchen light fixtures provide task lighting that helps prevent accidents and levels up meal prep.
Choose specially-designed island lights for placement above a kitchen island or peninsula. These kitchen lights are usually rectangular or oblong in shape to completely light an island from end to end. There are numerous designs of island lighting, from sleek modern styles with clean lines to fun options with colorful glass shades.
Pendant lights are another stylish option for an island area, breakfast nook or other shadowy area. You can choose minimalist pendants to blend into the rest of your décor or make an eye-catching statement with bold styles such as small crystal chandeliers. Mini-pendants are a smart choice for extremely small kitchens, as they won't overwhelm the space and can actually provide the illusion of more room due to their diminutive size. You can also use mini-pendants in areas where you don't need a lot of extra light but want to add a stylish focal point.
Under cabinet lighting is an efficient type of task lighting that's very discreet, like recessed lighting. Small kitchens really benefit from an under cabinet light. Not only does it make your countertops brighter work surfaces, but it also provides soft lighting around the edges of the room at night. This can help a small kitchen feel larger and ensure that every square foot of space is usable. LED under cabinet or cove lighting is unobtrusive and energy-efficient, perfect for a small kitchen.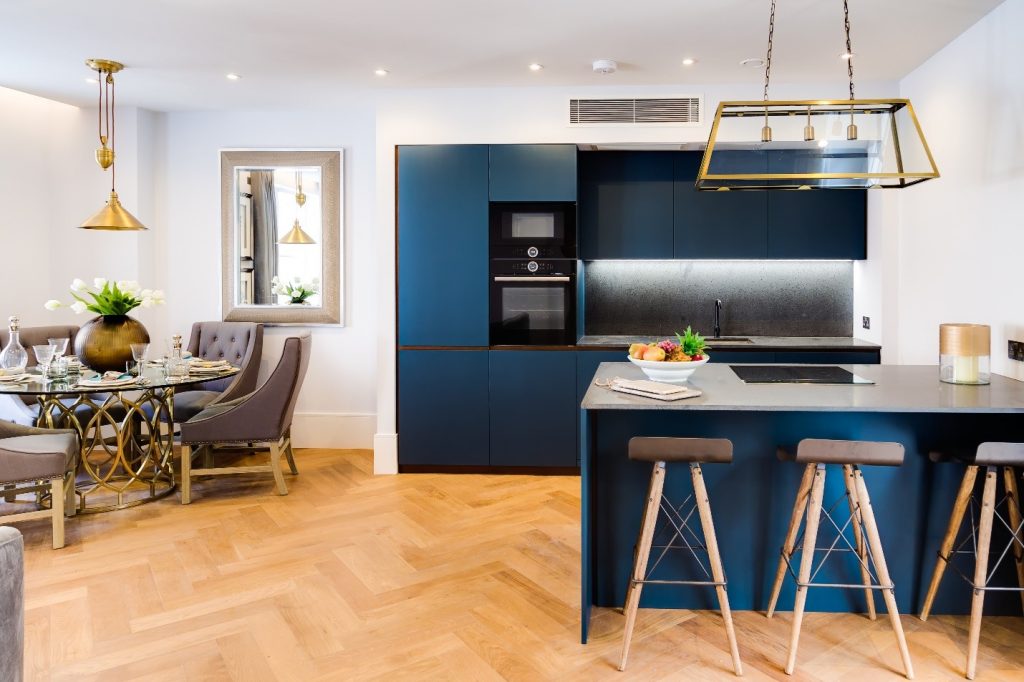 Heighten the Effects of Kitchen Lights
The best kitchen lighting configurations effectively combine ambient light from both windows and ceiling lights. There are many styles of indoor ceiling lights. If your kitchen has low ceilings, you don't want fixtures that hang far down and further reduce the overhead space because that will make the room feel even tinier. Choose subtle recessed lighting that blends the fixtures into the ceiling. Add recessed trims for a little extra style. To make more of a style statement without compromising the ceiling height, choose flushmount or semi-flushmount ceiling lights. These add decorative interest to your ceiling and provide accent lighting without making the ceiling feel lower.
If your kitchen has a small footprint with tall ceilings, use decorative ceiling lights to provide balance and a feeling of symmetry. Schoolhouse style lighting is one of the most popular kitchen lighting trends. The combination of milk glass and bronze, nickel or chrome accents matches nearly all decor and architecture while highlighting your sense of retro style. If you prefer more traditional lighting, go with a chandelier to emphasize a certain section of your kitchen.
Setting the Mood with Adaptable Kitchen Light Fixtures
The kitchen is one of the busiest rooms in the house and is often a social hub. It's important for the lighting to be easy to modify depending on the amount of natural light and the level of activity. For example, you want enough light when you're entertaining to make sure the food looks stunning, but you don't want too much light when you're enjoying a midnight snack. Installing a dimmer switch allows you to easily control the amount of light for the perfect ambiance.
Different types of bulbs can also affect the quality of kitchen light fixtures. Traditional incandescent bulbs tend to create warm light, whereas some CFLs and LED bulbs create cooler light with a bluish tint. Consider energy efficiency along with quality and color of light when choosing the bulbs for your kitchen. If you have decorative fixtures such as pendant lights, you may want to choose unique Edison style bulbs or colorful LEDs.
Bright Ideas for Your Kitchen Type
Specific kitchen lighting trends lend themselves to certain design styles and floor plans. For example, a galley kitchen is very different from an open concept space, so the lighting should be unique as well. Here are some specific kitchen lighting tips for certain design styles.
Galley Kitchen
While a galley kitchen is a very efficient use of space, it runs the risk of feeling cramped, especially when there isn't adequate light. However, the right mix of ambient, accent and task lighting can open up the space and create a pleasant atmosphere. Use ceiling lights along the whole length of the kitchen to create adequate ambient light and dispel shadows in the corners. Track lighting or a series of pendant lights are both good options. It's vital to ensure adequate lighting on galley kitchen work surfaces, which are often shaded beneath cabinets. Install under cabinet lighting and enjoy a beautiful glow over your countertops, sink, and range. Finally, add style to your galley kitchen with accent lighting. Rope lights along the top of wall cabinets make the ceiling feel higher and add visual interest. Use accent lights to draw the attention to the attractive features of the kitchen and to add a feeling of depth to the narrow space.
L-Shaped
An L-shaped kitchen may have more natural light than a galley kitchen from a window or ambient light spilling in from adjacent areas of the home. It's important to light the corner of the L adequately so it isn't constantly in shadow. Lighting should draw you further into the kitchen. Consider adding an art piece illuminated by accent lighting to brighten a perpetually dim corner. Recessed lighting works well in the ceiling, and adding above-cabinet lighting can also help brighten up that corner. Many L-shaped kitchens have an island or breakfast table on the open side. This is the ideal spot to add accent lighting that will create a focal point at the widest part of the kitchen. You'll also get the benefit of a nice glow when you're working at the island or enjoying a meal at the table. Chandeliers or multi-light pendants are both smart options here.
Open Floor Plan
Chances are, the kitchen in an open floor plan has a good amount of ambient light from windows and other areas of the home. However, one of the challenges with an open floor plan is making the kitchen feel like a defined space. First, consider the ambient lighting and make sure it moves consistently throughout the floor plan. Add recessed lights in the kitchen and adjacent dining or great rooms. Then use decorative accent and task lighting to define the space in the kitchen. Mini-pendants can go above the sink or island. Anchor the space with a chandelier in the center of the kitchen and then add under cabinet task lighting around the exterior. It's important to choose decorative fixtures with the rest of the open floor plan in mind. Either go with a similar fixture style throughout the whole floor or choose something unique to differentiate each area.
Kitchen Lights & Destination Lighting: Right at Home
The right lighting makes any kitchen feel bright and airy and creates a beautiful and functional workspace. It's especially important in small kitchens to prevent shadows and create the illusion of more room. Embrace the radiance of natural light and add artificial light where necessary. Create layers of light with ambient, accent and task lighting. Decorative fixtures add extra light and accentuate the surrounding décor. Consider your home's unique floor plan and utilize specifically-constructed kitchen lighting designs. Choose the right lighting fixtures for your kitchen and enjoy a beautiful ambiance in the heart of your home.