How to Clean Light Fixtures:
The Do's and Don'ts for Cleaning Glass, Bulbs, Fans and More
Looking for a way to gain a new perspective on your everyday life? Instantly brighten your home by cleaning your light fixtures. You'll be surprised at how much sunnier your place looks with freshly cleaned lights.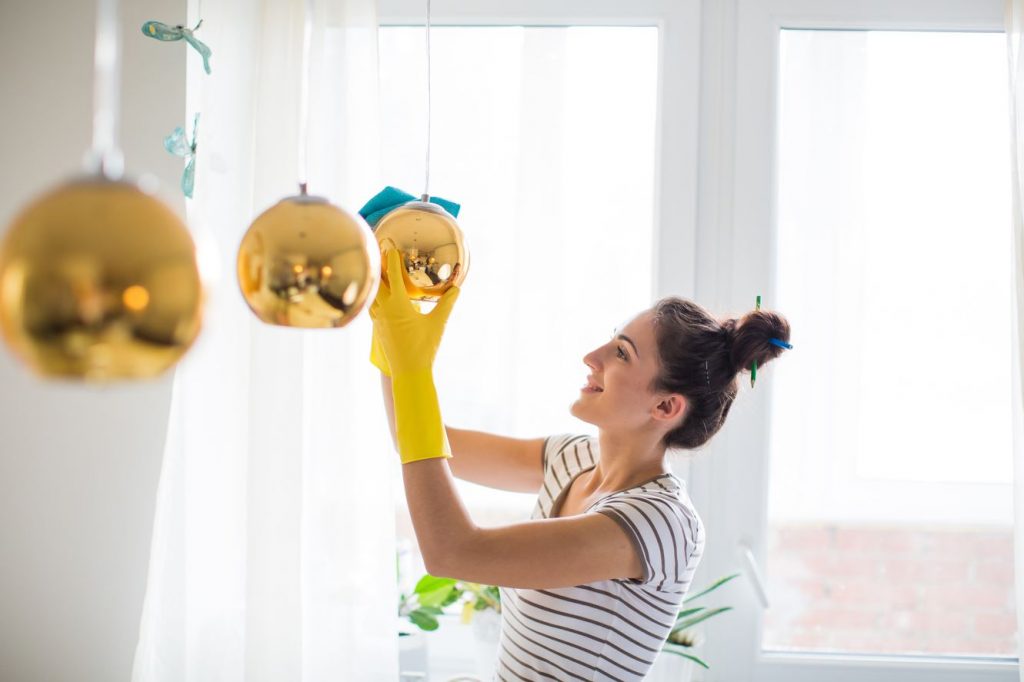 Cleaning light fixtures throughout your home ensures that your bulbs are putting out the amount of lumens they should. If you feel like things are a bit dim, cleaning your fixtures is sure to keep the ambiance bright. Built-up dust and grime can make bulbs appear up to 30 percent dimmer and if the shades or covers are dirty, too, you diminish the amount of light in your space even more.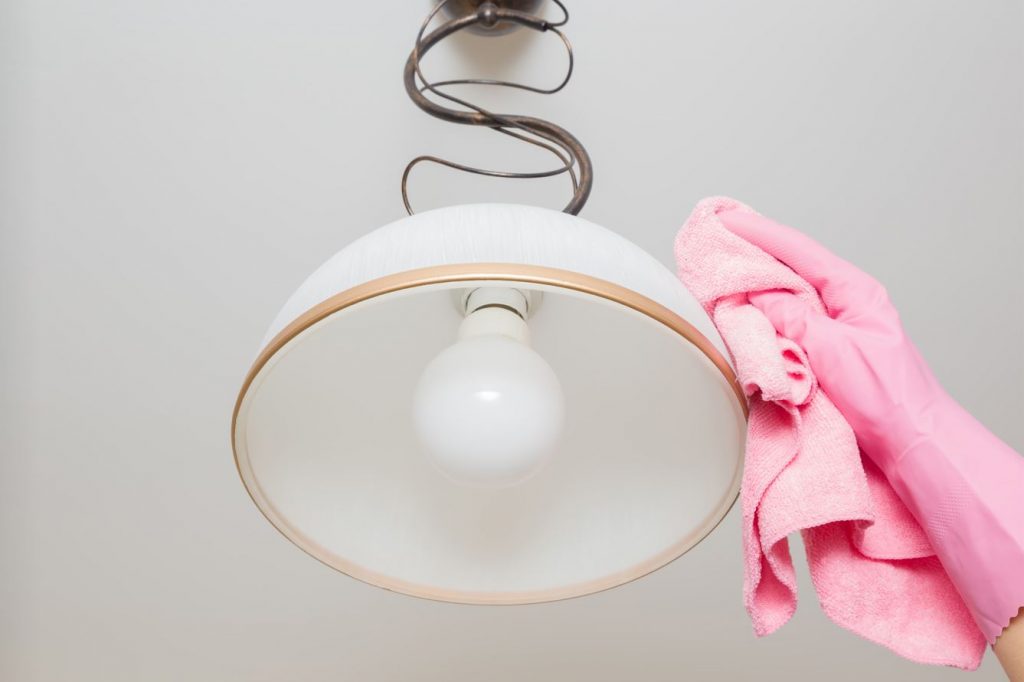 The pros at Destination Lighting have come up with the best tips for how to clean greasy light fixtures, yellowed glass light fixtures, recessed ceiling lights and more. These do's and don'ts will inspire you to make a fresh start by cleaning light fixtures in every room of your home.
DO: Be Prepared Before You Start
Cleaning light fixtures will take some time, a little preparation and the proper tools. Cleaning all the fixtures in the home at the same time may seem like a huge undertaking, but it will make sure you have everything you need handy, which ultimately makes for faster cleaning.
DON'T: Shortchange Safety
Light fixtures involve electricity, which doesn't mix well with the liquids you'll need for cleaning those light fixtures. Make sure the power to all your lights is off or they're unplugged to avoid any risk of electric shock. When cleaning ceiling light fixtures, make sure you position your ladder so the feet are flat on the floor to avoid tipping and move it as needed so you aren't stretching to reach a high-up fixture.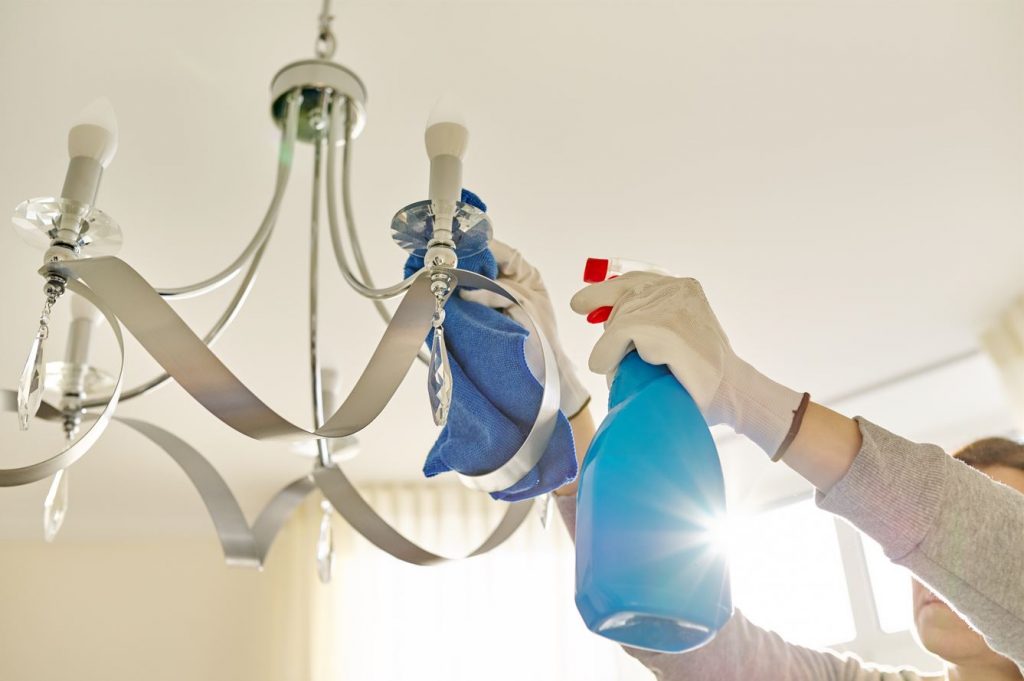 DO: Gather Your Tools and Supplies
Gather the following supplies and tools before you get started:
Soft cloth
Plain water
Mild, glass-safe detergent
Warm water
Towels
Vacuum for fabric, rattan and beaded lamp shades
Pro Tip: Certain types of glass finishes, such as Scavo, can be clouded by detergents. Test a small, inconspicuous area before using a soap on your glass hardware. Consider a soak in white vinegar if you're looking to clean yellowed glass light fixtures.
DON'T: Rush the Process
Proper and safe cleaning of the lights and bulbs in your home isn't something you can rush through. Give yourself enough time to clean everything thoroughly and safely in order to avoid accidents. When you're done, you'll enjoy the beautiful brilliance of your whole home.
DO: Know Your Fixture Type
Different types of fixtures require different care for the best results.
How to Clean: Chandeliers
Clean chandeliers with the following steps:
Remove the bulbs and wipe with a soft cloth.
Note where each crystal goes for reassembly.
Place any pendants, crystals and saucers in warm, soapy water.
Wipe each piece gently and dry quickly to avoid water spots.
Use a damp cloth to wipe down the base.
Reassemble the pieces.
How to Clean: Flush Mount Ceiling Lights
When cleaning flush mount indoor ceiling lights, remove the covers and soak them in warm soapy water. Remove and wipe down the bulbs and use a damp cloth to clean the fixture. Clean and dry the covers before reinstalling.
How to Clean: Pendant Lights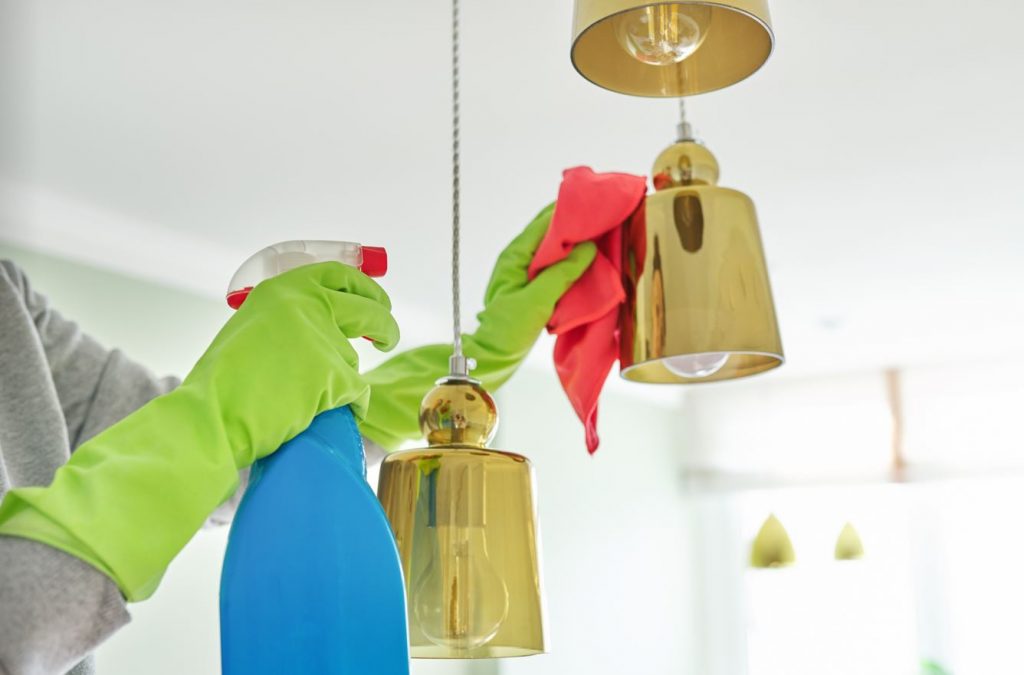 You can clean most pendant lights in place. After wiping the bulbs down, use the damp cloth to clean globes, cables and extension rods. If you have intricate fixtures, you may need to remove the globes and soak them in warm, soapy water.
How to Clean: Ceiling Fans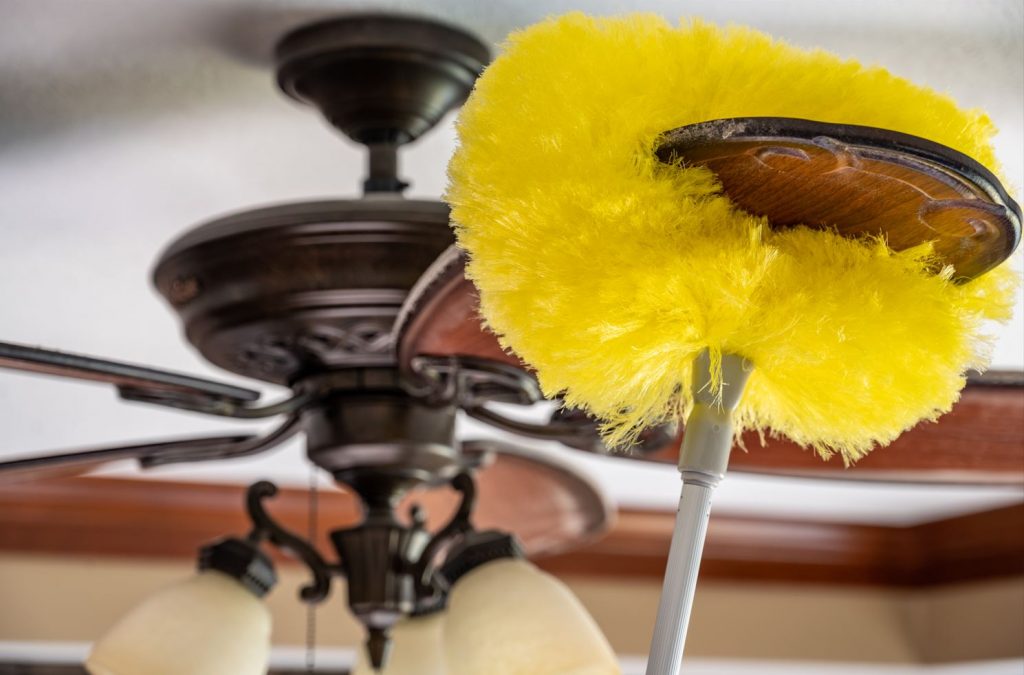 Clean your ceiling fans by removing the globes and soaking them in soapy water while you wipe down the bulbs and fixtures. Carefully clean and dry the globes. Don't try to use the fan blades to keep yourself steady while on the ladder: they can move suddenly, which can lead to accidents.
How to Clean: Recessed/Can Lights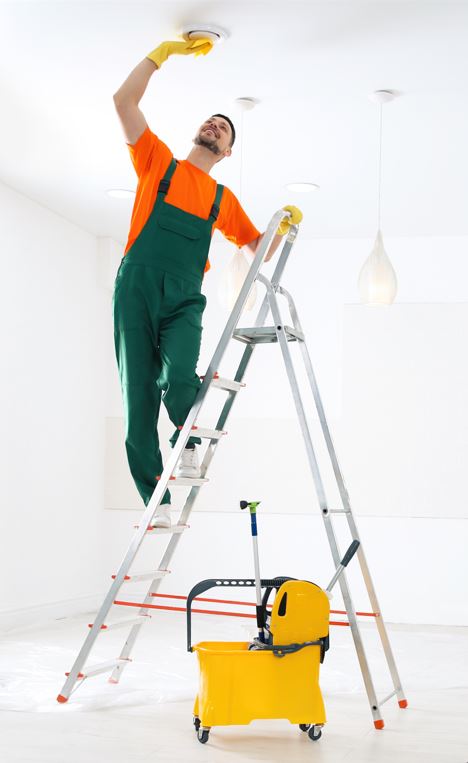 For recessed lights or LED ceiling lights, simply remove and wipe the bulbs. Use a damp cloth on the inside and outside of the canisters and dry thoroughly.
DO: Clean Your Bulbs for Brighter Lights
You can safely and effectively clean all light bulb types using a dry, soft cloth. Make sure you scrub gently to avoid shattering the bulb. Heavily dirty bulbs may require replacing.
Pro Tip: DON'T apply force to a tight bulb. Instead, cut a long section of duct tape, twist it into a loop and apply it to the bulb so there is a handle on each side for easier removal.
DO: Treat Each Shade with Care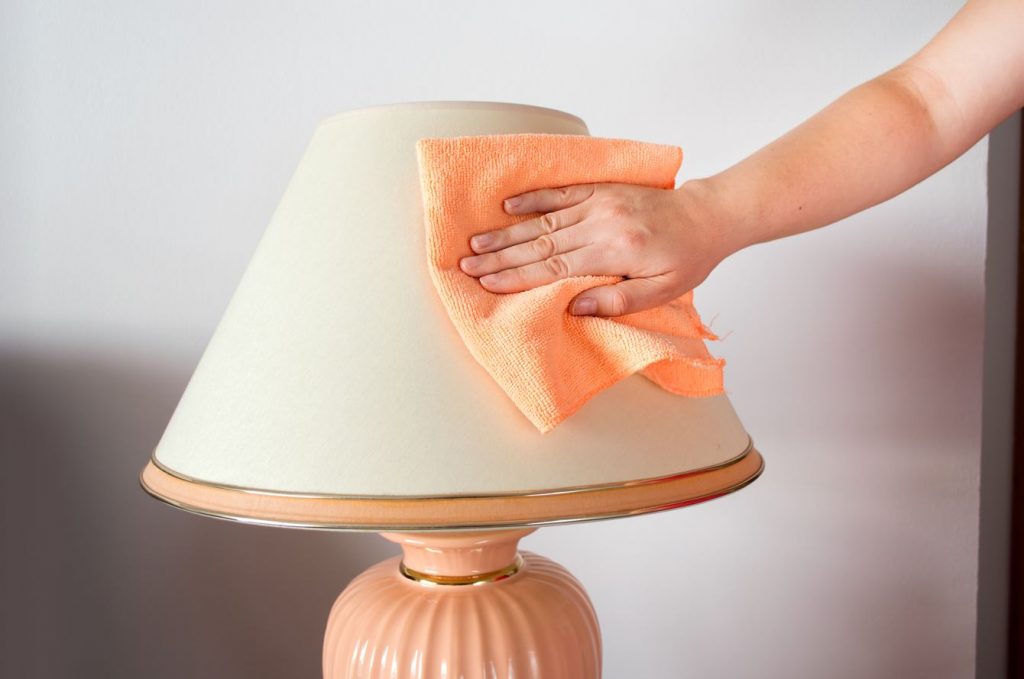 Use the following tips for cleaning light fixtures with shades:
Glass Shades – The best way to clean glass light fixtures is to use a soft damp cloth for light cleaning. A gentle glass cleaner or soapy water eliminates tough grime.
Fabric Shades – Most fabric shades can be vacuumed gently to remove excess dirt. For serious stains, consider a dry cleaning product that you can use at home.
Beaded Shades – Vacuum beaded shades frequently to avoid dust buildup. Use a damp cloth to remove stubborn spots, making sure to wipe gently and avoid rubbing too hard on the beading.
Paper Shades – In many cases you'll be able to simply wipe paper shades with a dry cloth. If the dirt and dust become thick, you'll need to replace the lampshade.
Pro Tip: DON'T put shades in a dishwasher or washing machine. Doing so may warp the shape and damage the material. Improper cleaning solutions can also cloud the glass and soldering points.
DO: Help Your Finishes Shine a Little Brighter
Light fixtures have different finishes and there are plenty of home remedies to keep them clean. A challenge for many homeowners is cleaning metal light fixtures without causing tarnish. While most can be cleaned with a damp cloth, you can keep brass and painted bases looking great with a solution of mild soap and water. Wipe bases made of metal or brass with a damp cloth. Metal and wood bases also benefit from a quick polish with lemon oil for added luster.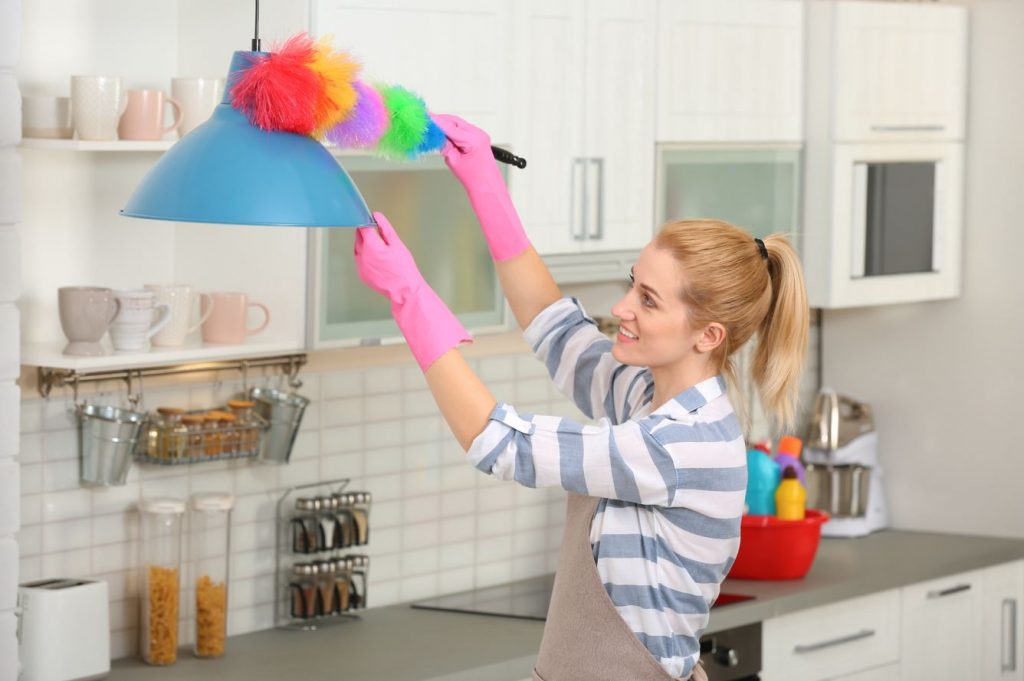 DO: Keep Your Home Bright
Hopefully, this list of how to clean light fittings in various settings has shed some light on the task. The combination of clean bulbs and shades will enhance every room of your home and you'll get more light and longer use from your bulbs. Easily accomplished in an afternoon, cleaning light fixtures is a DIY project that will brighten your home and your mood for weeks.