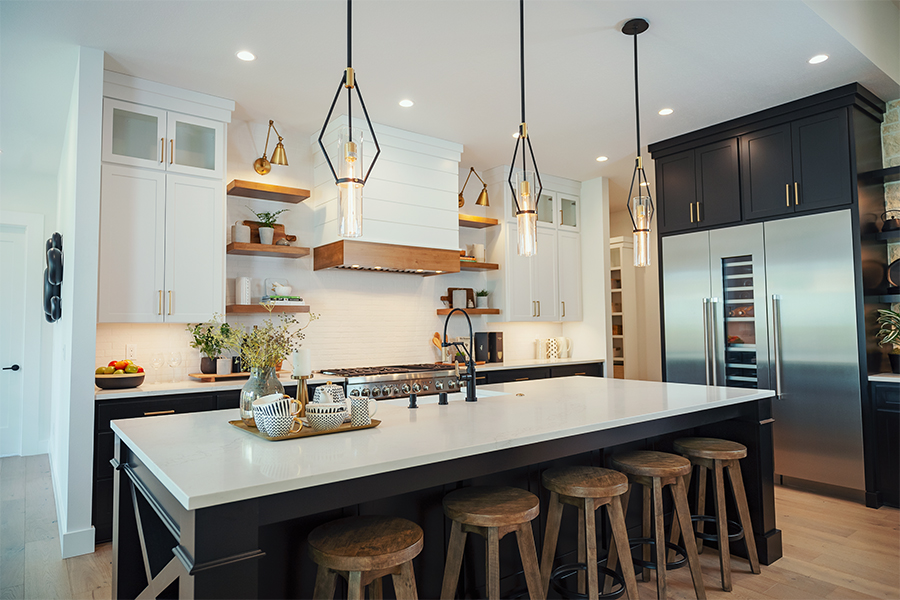 Parade of Homes | Xavier by Troy Lighting 
2018 Parade of Homes
The Northwest Natural Parade of Homes is an annual event that draws visitors from all over the Pacific Northwest. This year, ten gorgeous homes were built for a brand new subdivision, The Parklands at Camas Meadows, in Southwest Washington.
Each impressive, $1 million+, home is constructed and outfitted by local builders, interior designers, and retailers. Our sister company, Globe Lighting, was responsible for lighting eight out of the ten show homes for the 2018 Parade of Homes.
If you weren't able to make it to the event this year, or just want to relive the memories, we've got you covered with photos and featured lighting. Highlighted show homes were built locally by Axiom Luxury Homes, Cascade West Development, Gecho Construction, Generation Homes Northwest, and Soaring Eagle Homes.
Axiom Luxury Homes
2018 Parade of Homes: Vista on the Green & The Arcadia
Scott Benedetti, owner of Axiom Luxury Homes, is a retired professional soccer player who now builds award-winning, luxury custom homes. Axiom Luxury Homes strive to exceed the dreams of their customers and believe in the importance of honesty and integrity above all.
Vista on the Green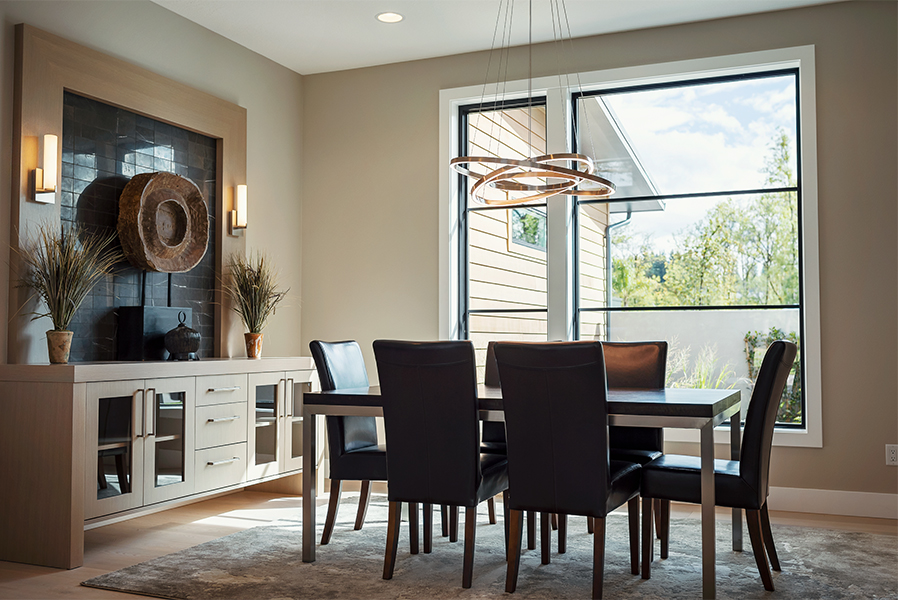 This spacious modern home is built with family in mind. With plenty of room to entertain and two master bedrooms, Vista on the Green can support family get-togethers and comfortable multigenerational living. While modern materials and finishes are used throughout, the home is able to maintain a warm and welcoming feeling.
Featured Lighting
The Arcadia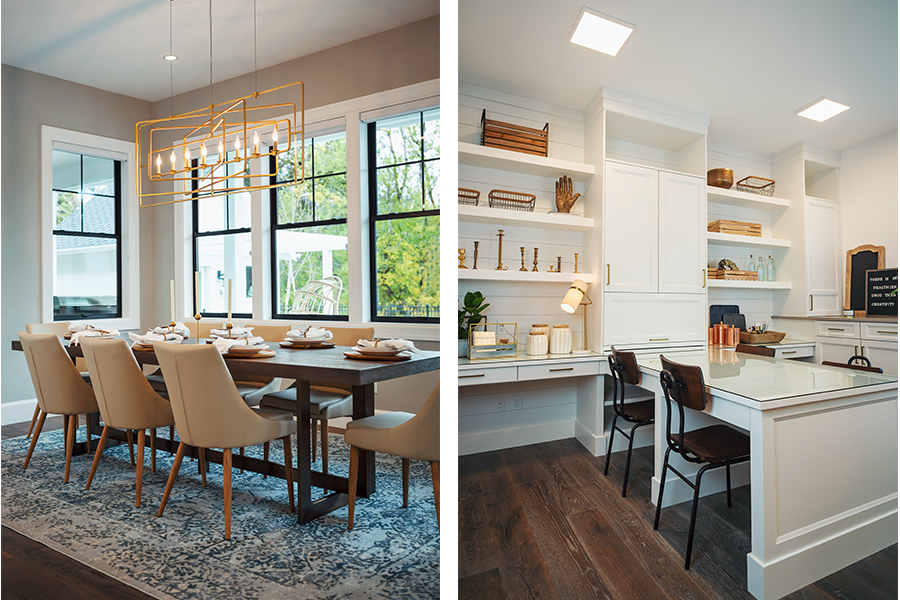 Metro by Currey and Company | Gem by Design Classics
Arcadia means "an idea of life in the countryside that is believed to be perfect".  This dreamy modern farm home lives up to its name with its traditional country touches like shiplap walls, a spacious kitchen, and double-hung windows. Adding to its perfection, The Arcadia boasts an inspiring craft room and a sublime outdoor living space complete with swimming pool and outdoor kitchen.
Featured Lighting
Cascade West Development
2018 Parade of Homes: The Cadence & Eagle Peak
Cascade West Development is a leading homebuilder with 25 years of experience in the Pacific Northwest. While they are known for their large, luxury houses, Cascade West Development builds a full spectrum of homes based solely on the needs of their clients.
The Cadence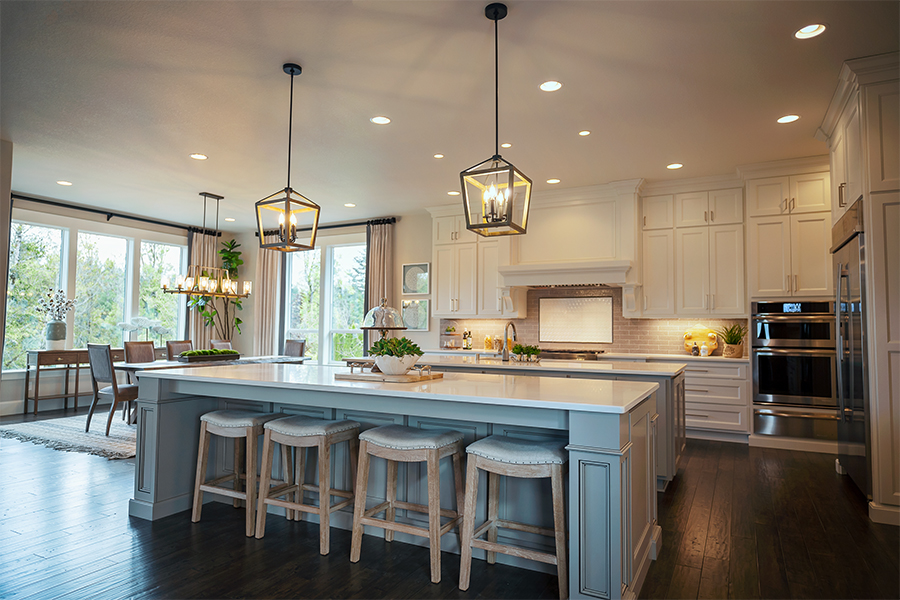 Angelo by Feiss | Gannet by Feiss
This home was built for an active family and the open design is meant to create flow and support a busy routine. Cascade West Development designed this home with an L-shaped footprint, large open-concept rooms, and plenty of spaces to gather or to escape for some alone time.
Featured Lighting
Eagle Peak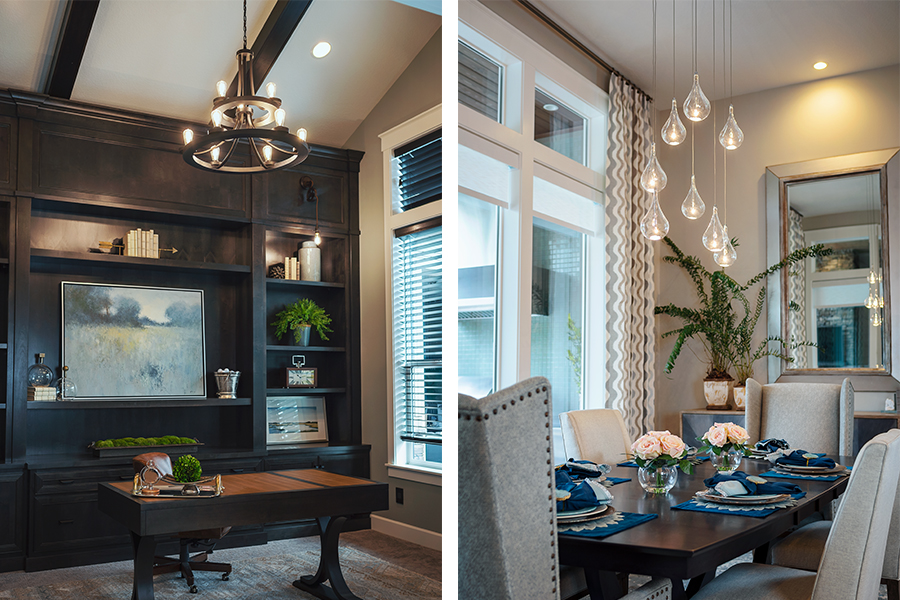 Rio by Design Classics | Shop the Look: Larmes by ET2
Everything about this home is grand, from 12ft ceilings to a walkthrough double shower. Eagle Peak was designed by Cascade West Development to pay homage to the Cascade Mountains and is meant to inspire the homeowners and their guests.
Featured Lighting
Gecho Construction
2018 Parade of Homes: The Maldivian
Peter Gecho of Gecho Construction has been designing and building unique and gorgeous homes throughout Washington and Oregon for 27 years.  Gecho Construction is known for their attention to detail, creative vision, and high-quality construction.
The Maldivian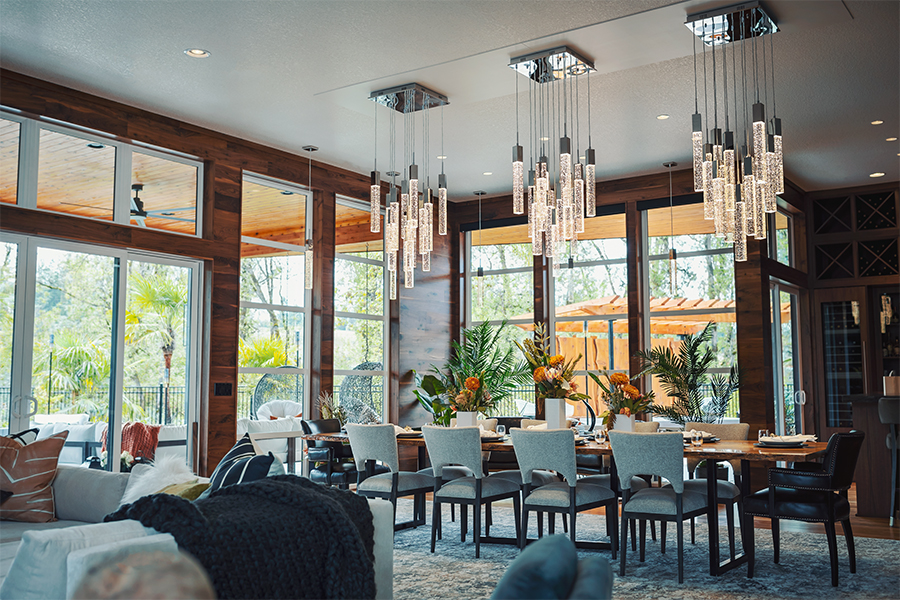 The Maldivian takes inspiration from Gecho's honeymoon in the Maldives. Tropical touches can be seen throughout the home and on the meticulously landscaped grounds. This home is a stunning and unique oasis complete with luxury finishes.
Featured Lighting
Our SKU: 674621 *| Our SKU: 693459* | Mist by Hinkley
*Some featured lighting in The Maldivian is not available online, please contact our customer service department to purchase.
Generation Homes Northwest
2018 Parade of Homes: The Madison
Aaron Helmes and John Colgate, owners of Generation Homes Northwest, have been designing and building for over two decades. Their mission is simple: to provide the best products, design, and customer care.
The Madison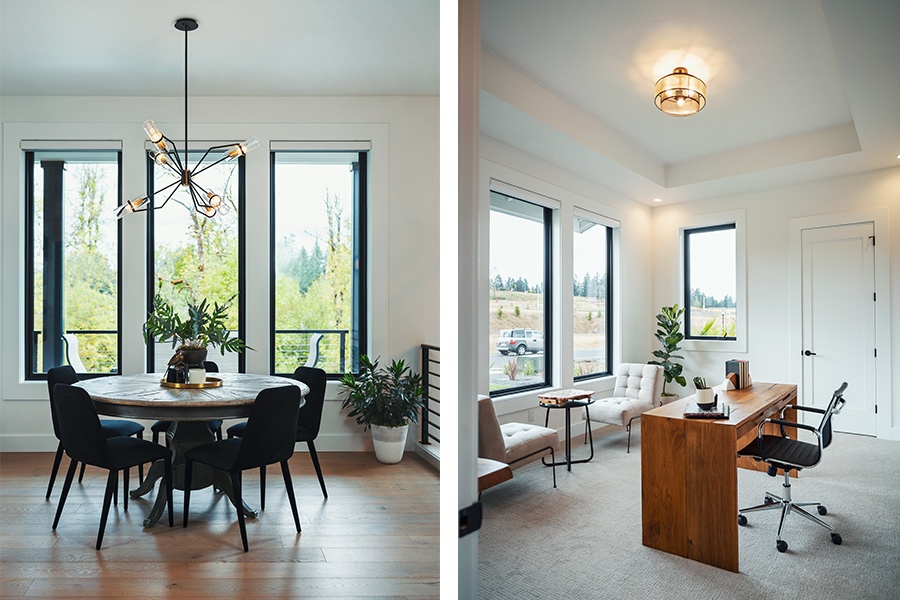 Raef by Troy Lighting | Alessandra by Kenroy Home
The Madison is a luxurious take on the modern farmhouse, with an emphasis on modern. This home was designed for entertaining with features that were built to impress, including a custom kitchen, an indoor/outdoor bar, in-home gym, a sauna, steam room, hot tub, and outdoor pool.
Featured Lighting
Soaring Eagle Homes
2018 Parade of Homes: The Maker & The Black Pearl
Soaring Eagle Homes has been building in Clark County for over two decades. their belief that "homebuilding is a blend of art and science" comes through in their beautiful, carefully crafted homes.
The Maker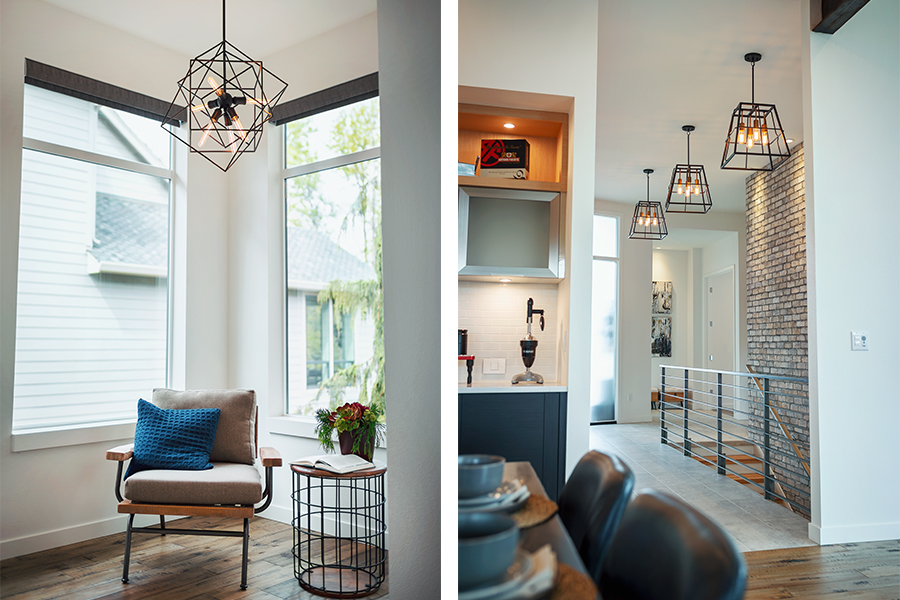 Geometric Pendant by Design Classics | Keeley Calle by Minka Lavery
By collaborating with the home buyers and Blondino Design, Soaring Eagle Homes created the perfect space for a family to transition from housing a teenager to their next stage as empty-nesters. Design inspiration and aesthetic for The Maker can be described as "urban industrial chic" with exposed brick, distressed hardwood floors, concrete style tiles, and metal stair rails.
Featured Lighting 
Black Pearl
The Black Pearl is a single-story home that draws design inspiration from the West Indies. Large windows and tall ceilings are responsible for the home's open, spacious look and feel. Usable space expands beyond the home with a detached Accessory Dwelling Unit for guests and an outdoor entertaining area complete with a beverage bar and BBQ.
Featured Lighting