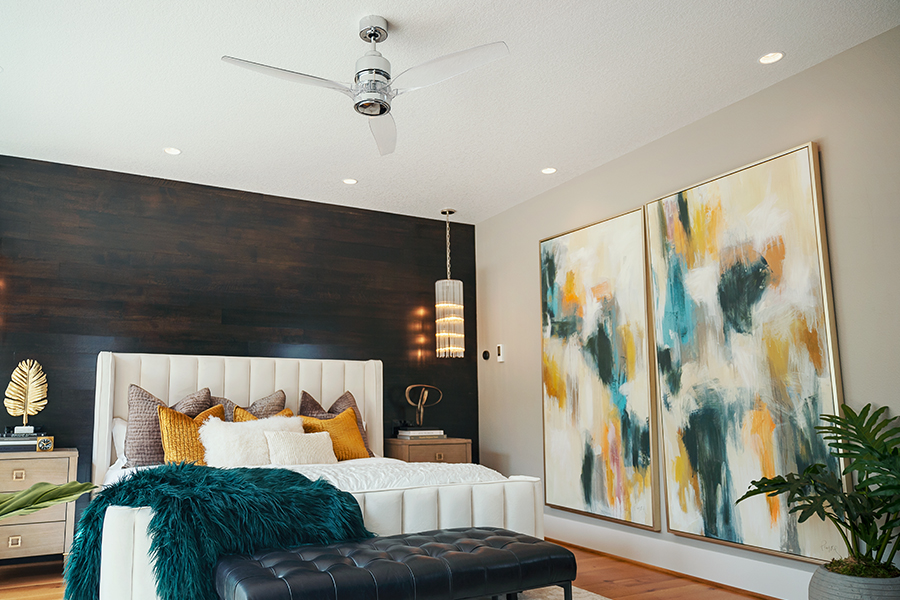 Ceiling Fan: Sonnet LED by Craftmade
Style and function are not mutually exclusive – Ceiling fan design has evolved, resulting in beautiful fixtures that are energy efficient and powerfully cool. With a wide variety of styles and sizes and the help of a few simple guidelines, choosing the perfect fan for your home is a breeze.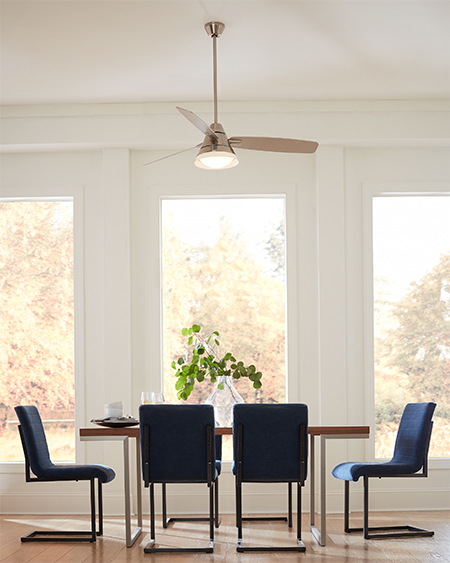 Maverick Super Max by Monte Carlo Fans | Nord by Monte Carlo Fans
Ceiling Fan Benefits
Climate Control
No matter the temperature, in winter or summer,  it's always nice to have air circulating throughout your home. Fans are most often used in the summer to create air flow and cool off. While fans don't change the temperature of a room, they do create a "wind chill" effect that helps to dry sweat and lower body temperature. During the summer, fans should run in a counter-clockwise direction so the air can be felt as you are standing directly under it.
During the winter, fans can be used in reverse to recirculate hot air that rises the top of the room. For this function, the blades will run in a clockwise motion and should be set at a low speed. This will pull air from the room up to the fan and push the warmer air down and out towards the walls, filling the lower area of the room with warm air without creating a breeze.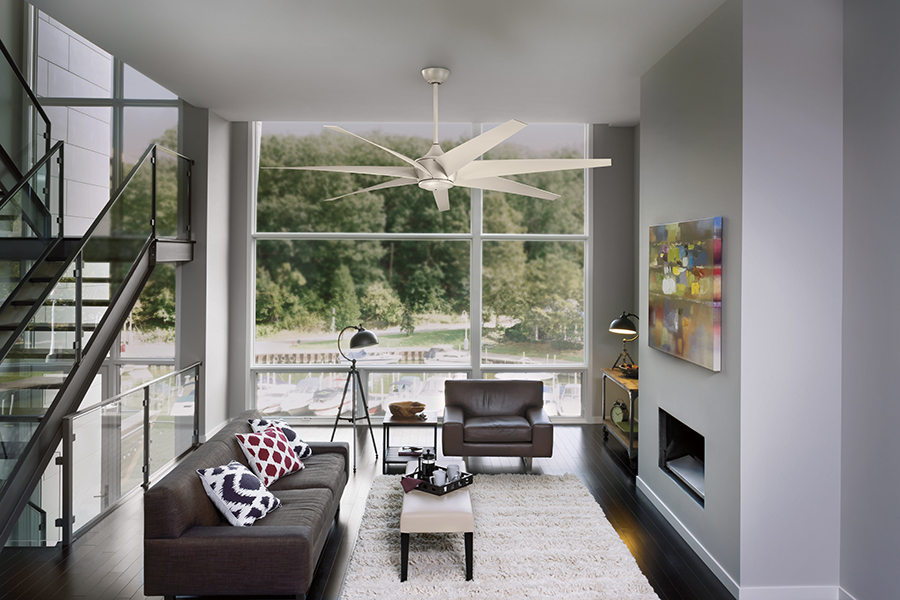 Improved Airflow
Cubic feet per minute (CFM) is a standard measurement required for every fan that tells how much air it is able to move on its highest setting. CFM is dependent on the fan's motor combined with the length, pitch, and shape of its blades. The higher the CFM, the better the airflow. You can find the CFM for any fan marked directly on its box or listed under product specifications online.
Hanging height is another important factor of ceiling fan airflow. According to the American Lighting Association, "the optimum mounting height for a ceiling fan is 8 to 9 feet above the floor". Placing your fan any higher than 11′ from the ground will decrease airflow and hanging any lower than 7′ is a safety hazard. If you have high ceilings, you can use a down rod to hang your fan at the appropriate height.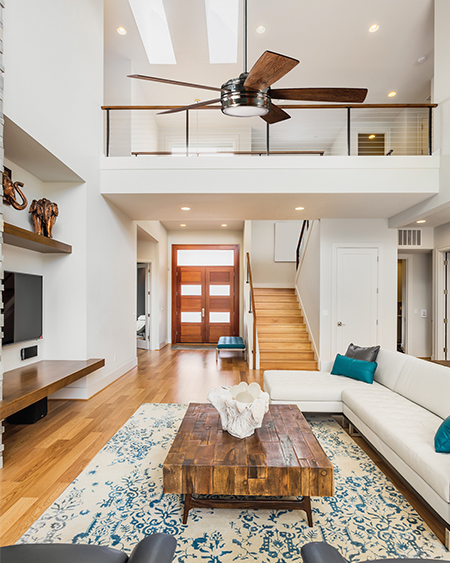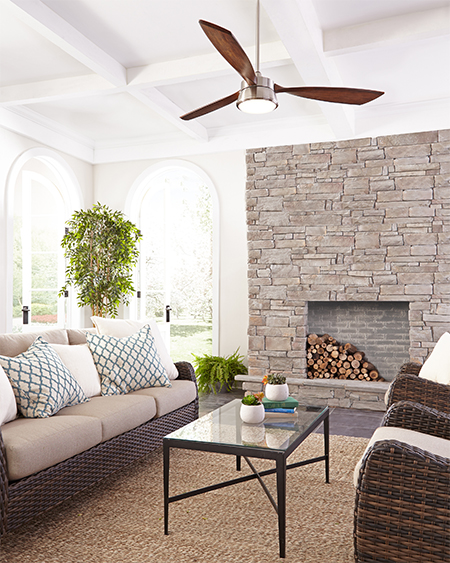 Braxton by Craftmade Lighting | Destin by Monte Carlo Fans
Energy Saving
Thanks to their warming and cooling benefits, fans reduce the need for excessive air conditioning and heating. By using a fan for climate and comfort control, you should be able to adjust your thermostat and save energy. Keep in mind, fans do not change the temperature of the room, they only change the way the room feels. Conserve power by turning the fan off when no one is in the room to enjoy it.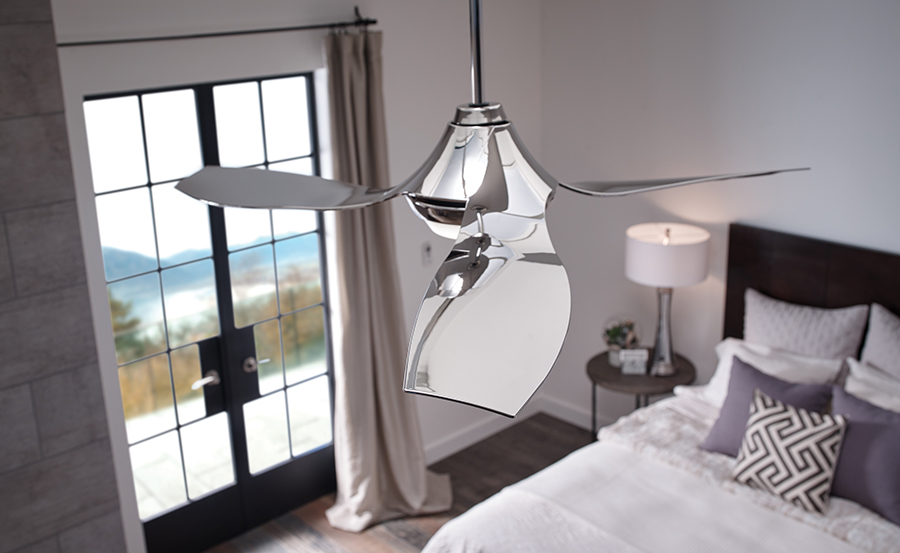 Selecting Your Fan
Whether you are looking for a statement piece or a fan that blends into the ceiling, there are plenty of options for your space. With so many different ceiling fan sizes, styles, and types, it can be intimidating to make a choice. Luckily, the size of the room you want to install your ceiling fan in can help to narrow your search.
Use these American Lighting Association guidelines to select an appropriately sized fan for your space:
| Size of Room | Recommended Ceiling Fan Size |
| --- | --- |
| Up to 75 Sq. Ft. | 36 in. or smaller |
| Up to 144 Sq. Ft. | 36 in. to 42 in. |
| Up to 224 Sq. Ft. | 50 in. to 54 in. |
*Larger rooms may need fans with as much as a 72 in. span.
Pictured Above: Zudio LED Ceiling Fan by Casablanca
Our Favorites
Indoor Fans with Light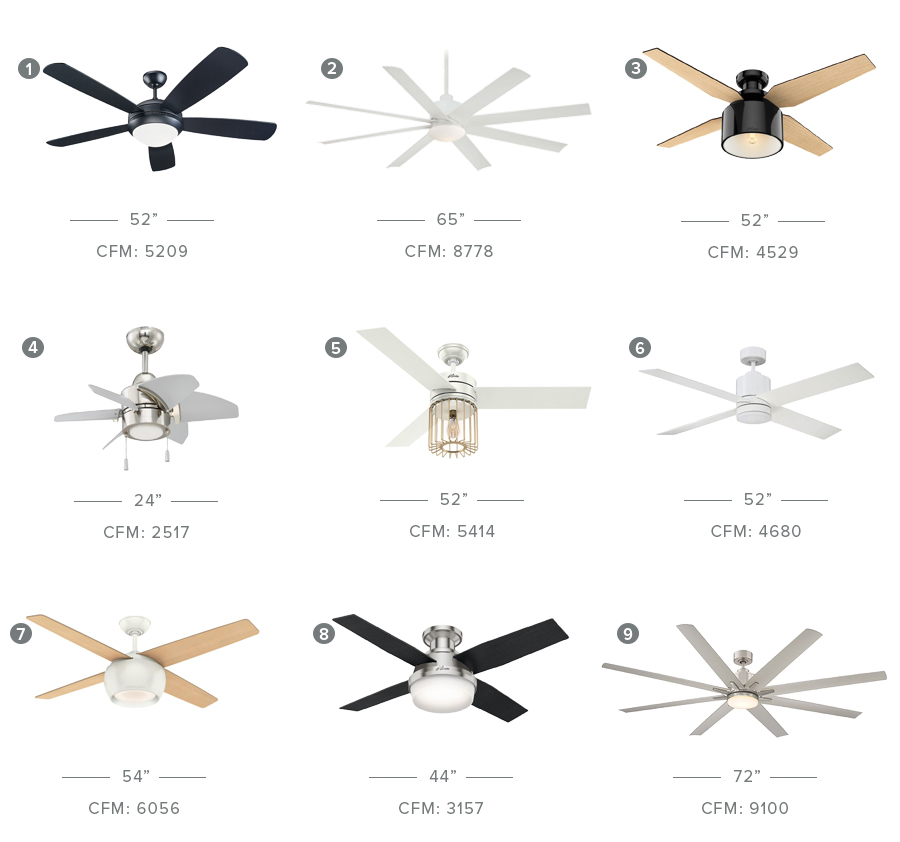 Indoor Fans with Light: 1.Discus by Monte Carlo | 2.Slipstream by Minka Aire | 3.Cranbrook by Hunter Fan Co. | 4.Propel by Craftmade Lighting | 5.Ronan by Hunter Fan Co. | 6.Dayton by Savoy House | 7.Valby by Casablanca Fan Co. | 8.Dempsey by Casablanca Fan Co. | 9.Bluffton by Savoy House
Indoor Fans without Light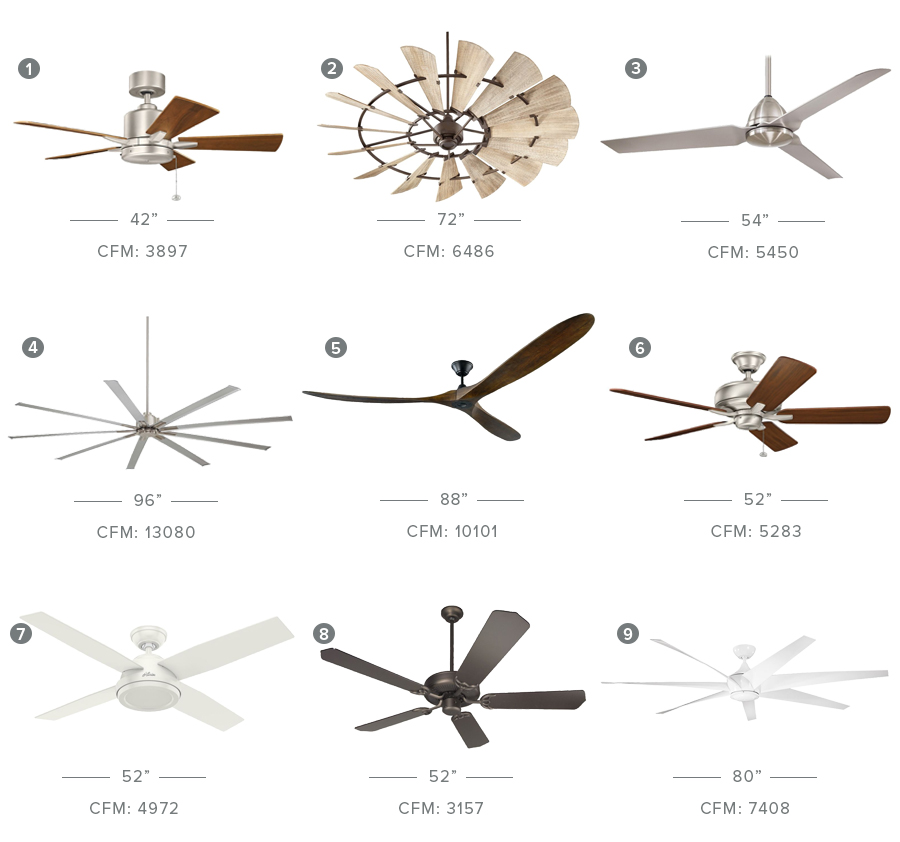 Indoor Fans Without Light: 1.Bowen by Kichler Lighting | 2.Windmill by Quorum Lighting | 3.Java by Minka Aire | 4.Xtreme by Minka Aire | 5.Maverick Super Max by Monte Carlo Fans | 6.Terra by Kichler Lighting | 7.Dempsey by Hunter Fan Co. | 8.by Craftmade Lighting | 9.Lehr by Kichler Lighting
Outdoor Fans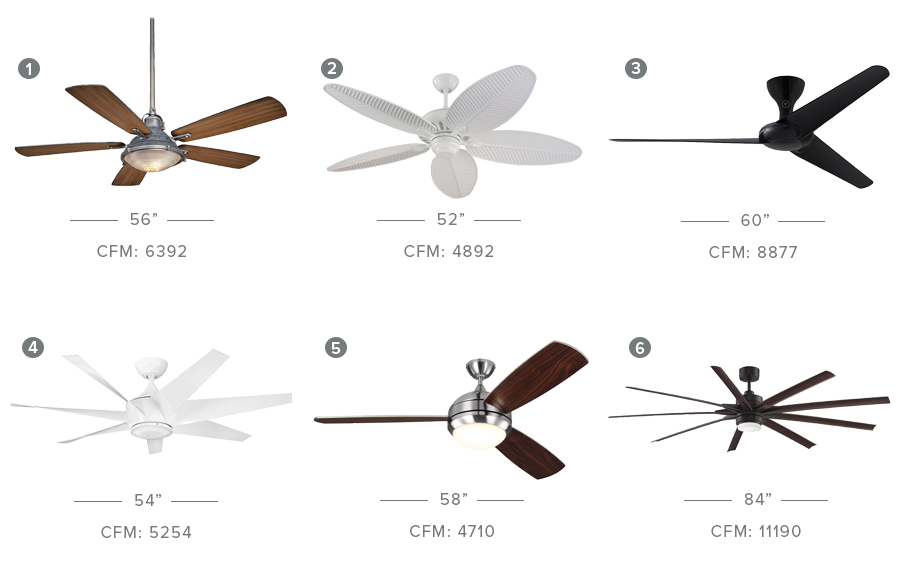 Outdoor Fans: 1.Groton by Minka Aire | 2.Cruise by Monte Carlo Fans | 3.Drone by Fanimation Fans | 4.Lehr li by Kichler Lighting | 5.Discus Trio Max by Monte Carlo Fans | 6.Odyn by Fanimation Fans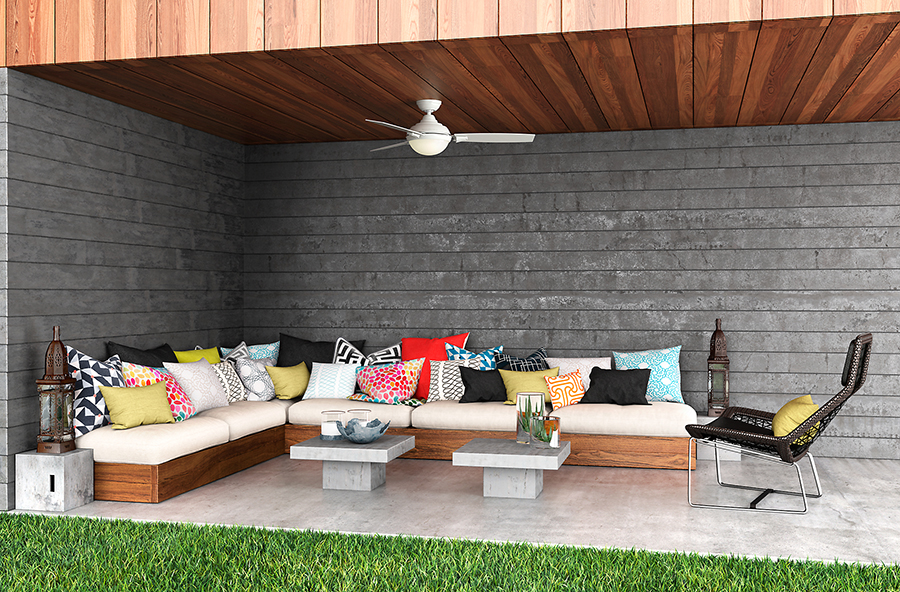 *Outdoor fans should be rated for damp location when used in an enclosed space, such as a covered porch or verandah, and wet location in an uncovered area, like a deck or gazebo. 
Stay Connected
Can't get enough lighting? Follow us on Pinterest, Instagram, and Facebook!