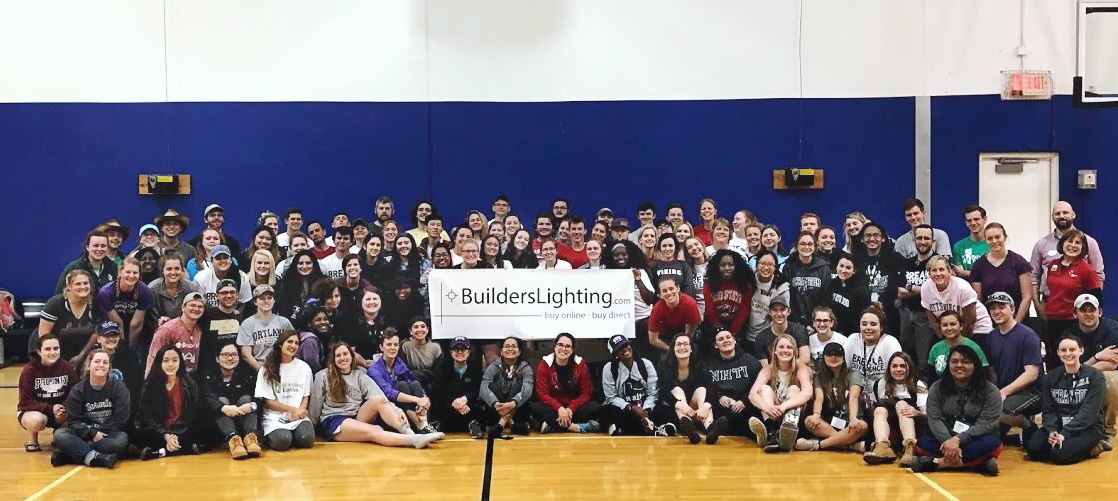 Hurricane Harvey Recovery – Break A Difference Volunteers in Houston, Texas
Hurricane Harvey touched down in Texas on August 25, 2017. The storm caused $125 billion in damages and created a historic housing crisis in the United States. Over 200,000 homes were damaged, 13,000  of which were completely destroyed, leaving tens-of-thousands of people displaced.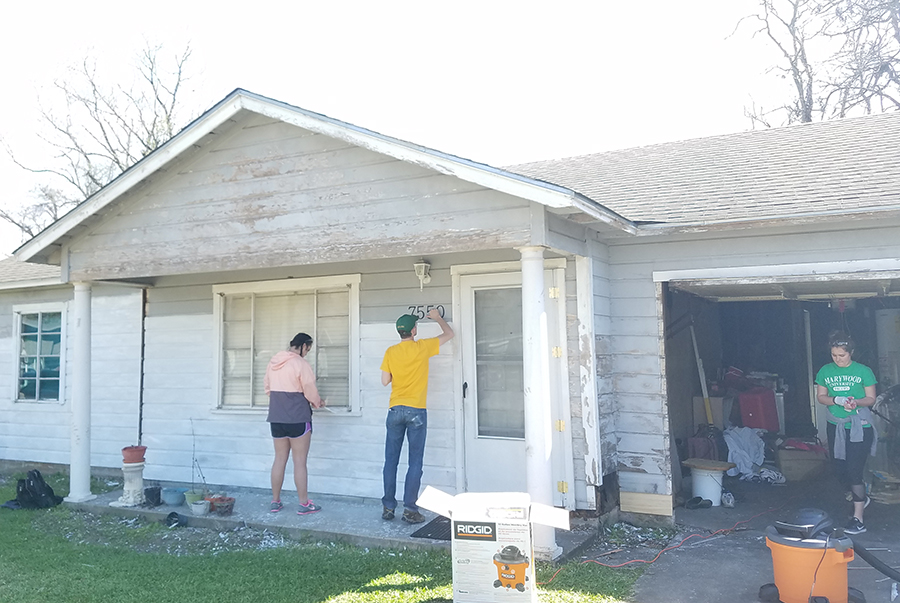 Our Need to Act!
As a lighting company who works with homeowners across the country, we felt a close connection to the homes that were lost and the people who lost them. We needed to help out! In October 2017, DestinationLighting.com provided discounted lighting to customers in Hurricane-affected areas. At the same time, our trade-focused sister-site, BuildersLighting.com, raised and donated thousands of dollars to support Break A Difference volunteers.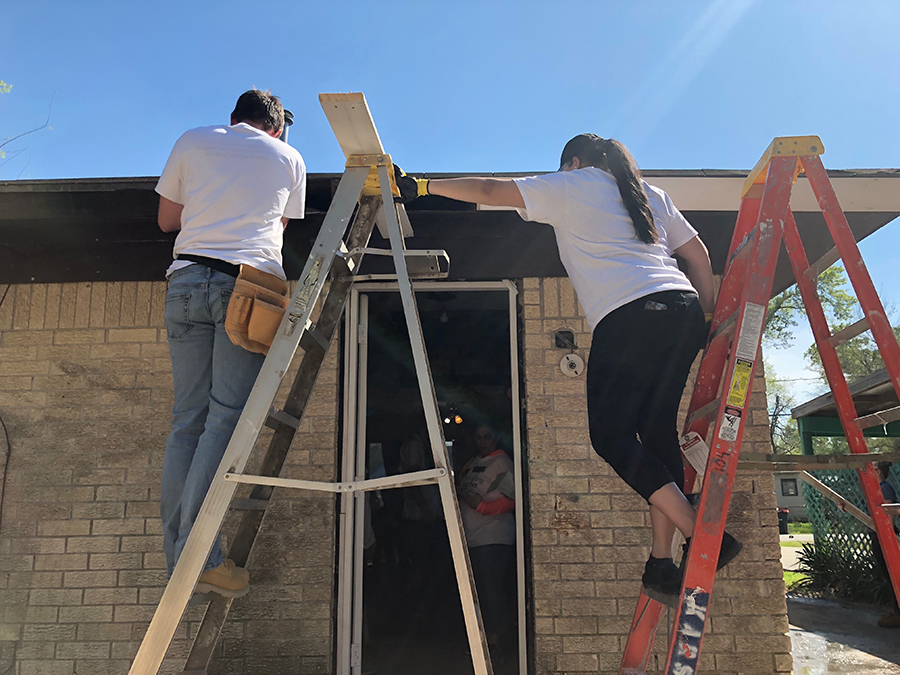 Break A Difference & BuildersLighting.com
Break A Difference (B.A.D) is a non-profit organization that brings college students together over spring break to provide meaningful community service across the country. Throughout the month of March, B.A.D hosted and mobilized hundreds of students for Hurricane Harvey recovery projects. The donation from BuildersLighting.com helped to lower the cost of participation for volunteers who could not fundraise or pay the $450 cost of their trip.
Hurricane Harvey Recovery
Due to my experience with hurricane relief, I had the privilege of volunteering and representing BuildersLighting.com in Houston as a team leader for Break A Difference.
During the week of March 11th, my team and I gutted a home that had been destroyed by flooding. From the interior, we removed all water damaged material including sheetrock, floor tiles, doors, ceiling fans, etc. Exterior work involved replacing damaged fascia and siding, framing and hanging new exterior doors, pressure washing, painting and priming, and debris removal. Later groups of volunteers will complete the project by hanging drywall, installing new lighting and hardware, interior painting, and adding finishing touches.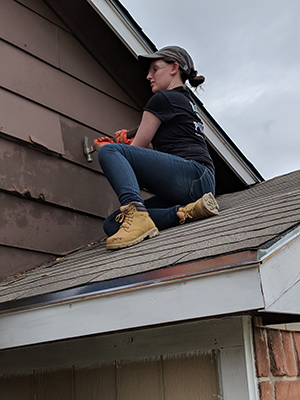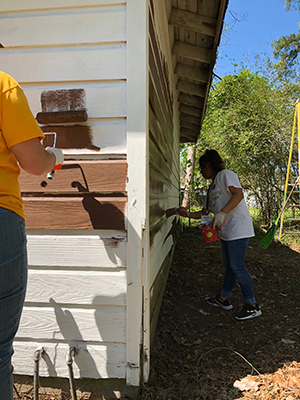 Throughout our project, we were visited by the homeowner who, like many others who lost their homes, has been living in a hotel since the hurricane. Before the storm, she shared her house with her disabled brother and cared for her young grandchildren during the days. She was so excited to see the work that was being done to her home and told us of her daydreams of returning and hosting "the best welcome home party" with all her family and friends. We all felt extremely lucky for the opportunity to connect and to be part of her journey towards a grand homecoming.

Building Community
Accommodating weekly groups of 100+ volunteers is a community effort – Organized by B.A.D, the Boys and Girs Club of Greater Houston opened their doors as volunteer housing, cots were loaned by the local Red Cross, Corner Bakery donated and delivered daily lunches, and Rebuilding Together Houston provided service sites, project leaders, and building materials.
Thursday nights during Alternative Spring Break are reserved for programming called "Break Beyond" where B.A.D participants learn about other opportunities to continue community service throughout their lives.  On Thursday, March 15, BuildersLighting.com hosted Break Beyond and provided a catered dinner from Freeb!rds for 160 volunteers, service partners, and community members. One Break Beyond attendee was so moved by the opportunity to provide dinner and support to volunteers that she inspired her employer to match the donation of BuildersLighting.com to B.A.D – Proving that good influences more good!
Get Involved!
Are you interested in Hurricane Harvey recovery? Check out these organizations: Break A Difference, Rebuilding Together Houston,  SBP Houston, Habitat for Humanity Houston, AmeriCorps. Want to add an organization to our list or tell us about your hurricane recovery experience? Comment below! We'd love to hear about it.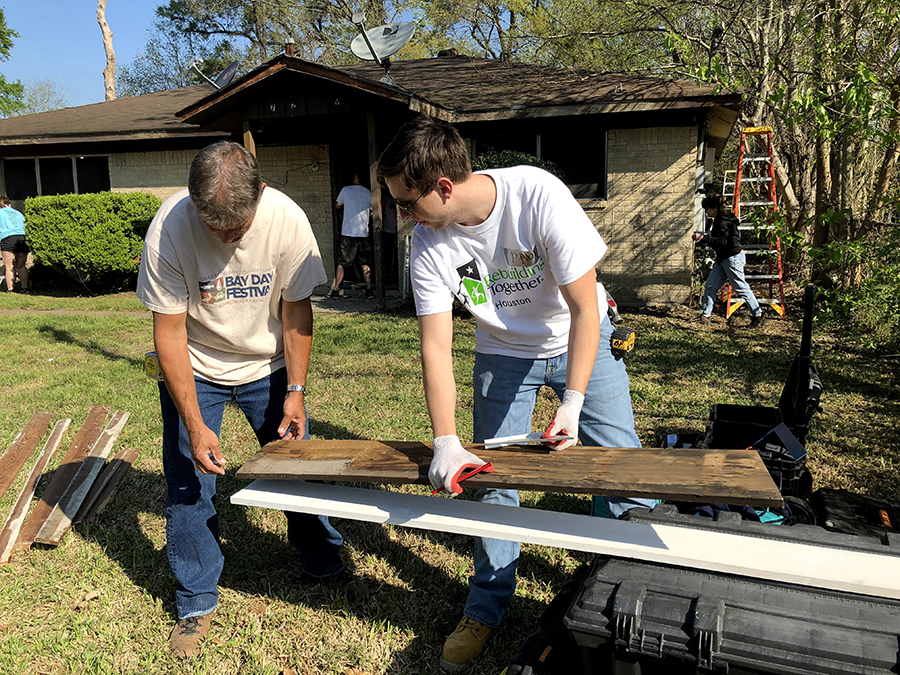 Stay Connected
Love lighting? Follow us on Pinterest, Instagram, and Facebook!