Home for the Holidays:
Lighting Tips for Holiday Dinner Parties
Spending time with family and friends during the holiday season is essential. It's the perfect time of year to let others know how much you care, as well as the perfect time to create lasting memories and share some great food. If you're planning on having guests over for holiday dinner parties, not only do you need to make sure you're offering the right dishes, but you need to have the right holiday lighting.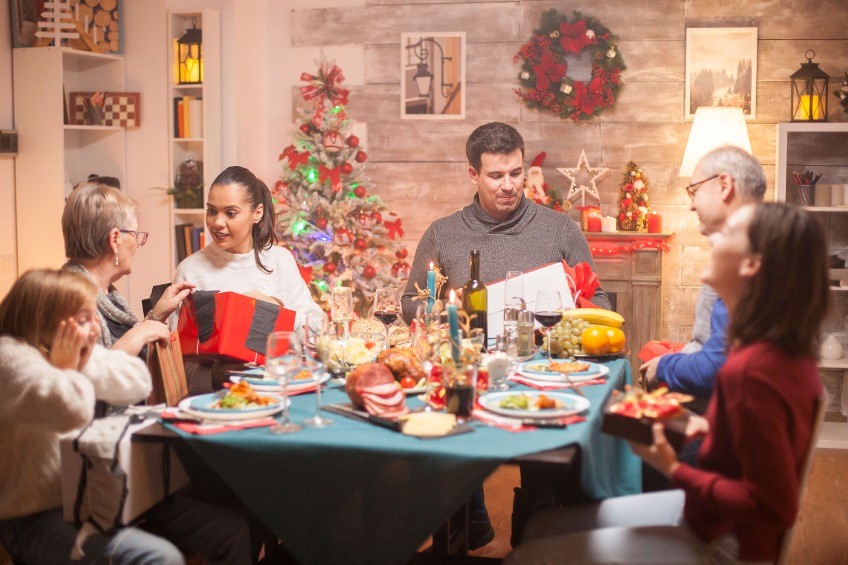 The lighting in your home can have a huge impact on your and your guests' moods, and it can make or break the festive atmosphere. It doesn't take much to create a comfortable, inviting space with the right dining table lighting, but it will take some thought. Here are some things to consider:
You Need the Right Amount of Light
When it comes to holiday dining, you want people to be able to see each other and the food they are eating, but you want to create a relaxed atmosphere as well. In other words, you don't want lighting that's too bright or too dark; finding a balance in the middle is essential.
Having a dimmer switch on the light above your table can help you achieve the perfect light level. You might also consider putting lighting options around the table. Layering your lighting will allow you to add or subtract light to create the perfect ambience.
Best-Selling Dimmable Chandeliers at DestinationLighting.com
Candles Aren't Always Bright Enough
If you're like most people, you probably plan on adding some candles when it comes to lighting for the dining room. Candles can certainly add something special to the atmosphere, but they don't give off a lot of light. In addition to candles on the table, you'll also need some other lighting options around the room. Adding wall lights or table lamps are a great option for ensuring that you set the right mood for your holiday gathering.
Don't Forget to Illuminate Your Other Spaces
You may be spending most of your time together seated around the table, but before and after dinner, there may be times when you and your guests venture to other parts of the house. Again, you want to make sure the lighting in these areas is inviting and creates the right mood. The overhead lighting may be too much in these spaces for the occasion, so using floor lamps or table lamps can be a good solution. Since it's the holidays, you might even consider adding some LED holiday lighting to various places around your home.
Keep Entrances and Exits Bright
While you can use dimmer lights throughout the rest of your house – especially in the dining area – you need to make sure you keep your entrances and exits well lit. Your guests may be tired or may have had a bit too much to drink with dinner, and for safety, they should be able to see where they are going as they enter and exit your house. Having brighter lighting at doors and outside can help keep you, your family, and guests safe and illuminate their path from space to space.
Bold, Impactful Entryway Fixtures at DestinationLighting.com
A Holiday to Remember
Lights and holidays go hand in hand, and if you're looking to create a festive environment for dinner with family and friends, you need the right lighting. Whether you need to upgrade your current fixtures or want to add some additional lighting to your home, we have what you need at Destination Lighting. Shop our selections today!