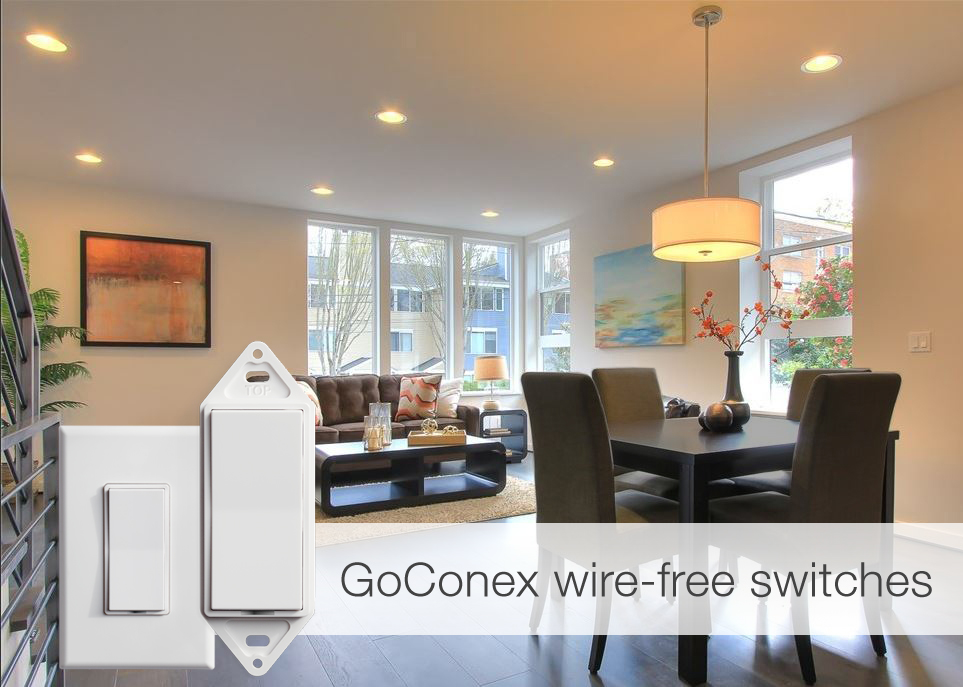 GoConex Wireless Switches paired with Milo Pendant by Design Classics
GoConex is a Game Changer for Homeowners
Need to add or change a light switch? These seemingly simple switches are the solution to any light switch problem in both new and old homes. With such a versatile and easy-to-install product, the applications are endless.
The wire-free switches and controllers can be paired in any combination. One DestinationLighting.com customer used the switches to create this advanced lighting setup:
"I have 4 recessed task lights & a large general illumination light that share than the main dimmer controlled power switch. The GoConex wireless switch is set to turn off the large general illumination light while the recessed lights stay on. One of the wall switches is located with the main switch, while the other is near the sink for convenience. Compared to other wireless switches I have looked at, GoConex is an excellent value and the wall switch does not require an in-wall box. More at, this switch mounts COMPLETELY flush to the wall surface under a standard Decora wall plate." – Brian, a DestinationLighting.com customer
We've come up with a few other ways that a GoConex wireless switch can simplify your life:
Convert a Pull-Chain Fixture
Pull chain fixtures can be great for aesthetics, however, they are not always the most convenient. If you have a pull chain fixture with no light switch and wish to convert it to a switched fixture, GoConex is your solution. Simply connect a GoConex controller in the junction box behind your fixture, then place the switch wherever you'd like.
If you'd like to get rid of your pull chain fixture and replace it with a switched fixture, there's no need to do any wiring to add a wall switch. Disconnect the old fixture, install the controller in the junction box, connect the wires to the new fixture, and install the wireless switch anywhere on the wall.
Create Accessibility
Standard light switches are installed at a height of 48 inches. Wireless switches can be placed at any height, making them an easy way to accommodate those who cannot reach. Since the GoConex switches do not require any wiring or cutting into the wall, temporarily placing a switch lower on the wall for young children or wheelchair-bound individuals can be done without causing damage to your home.
Correct Existing Switch Position
Have a poorly placed switch in your home? A switch hiding behind a door or in the wrong room is a common household issue. Correct this problem by adding a GoConex switch to a location that actually makes sense.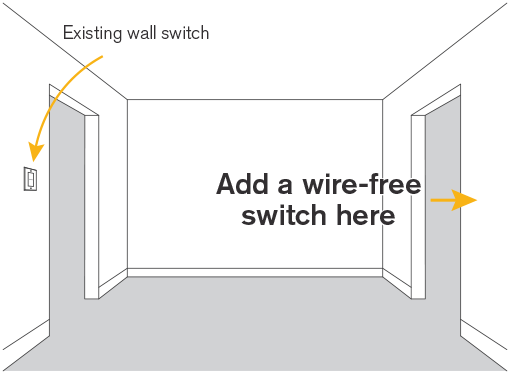 Child-Friendly
A GoConex switch would make a great add-on to your child's top bunk or lofted bed. Attach the switch to the side of the bed and your child no longer has to climb a ladder in the dark. Up to three different lights can be controlled by one switch. One helpful combination would be your child's bedroom, the hallway, and closest bathroom.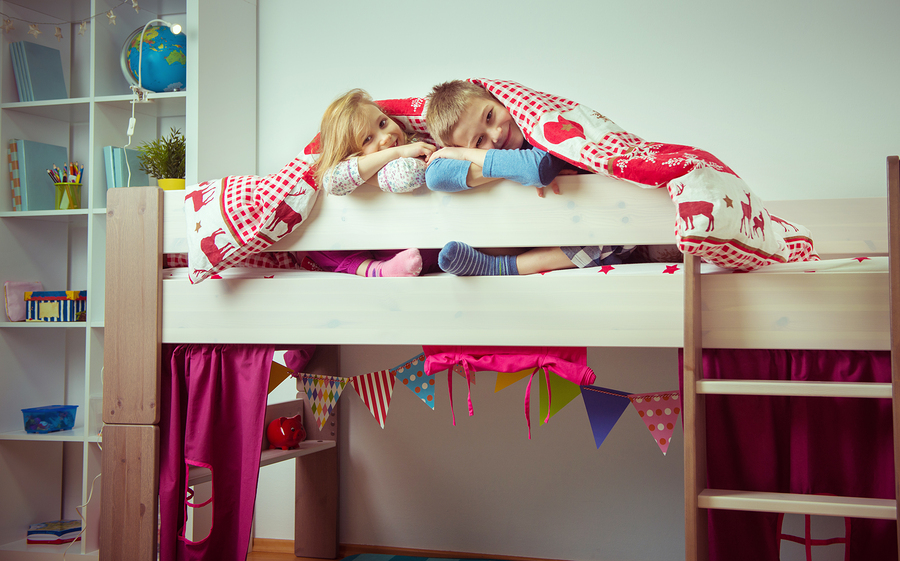 Convenience and Safety
Have a detached building like a garage,  guesthouse, boathouse, or barn on your property?  A wireless switch allows you to control the lights from the comfort of your home before walking across the yard at night. GoConex wireless transmitters have a range of 250 feet or 75 meters, dense materials like brick will decrease this range. If the distance between your home and detached structure is greater than 250 feet you will want to keep the wireless switch as a remote rather than fixing it to a wall.
Simple Wireless Switch Installation
Whether you want to add a switch, switch multiple lights, or control your lighting with a portable switch, GoConex makes switch installation simple. There is no need to cut holes, pull wire in the wall, or switch boxes to install. The switches can be mounted on any surface, including brick, tile, concrete, glass, and painted drywall.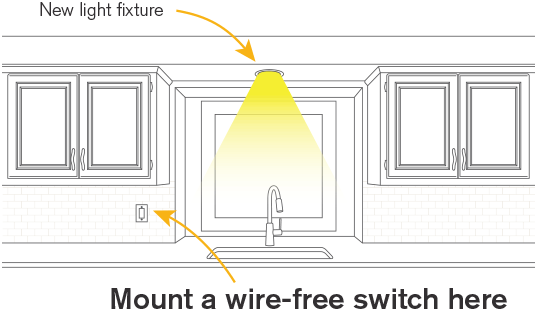 Click here to learn how to install a GoConex controller and switch!
Stay Connected
Have a great application of your own? We'd love to hear about it! Can't get enough lighting? Follow us on Pinterest and  Instagram (@destination_lighting).
Diagrams courtesy of GoConex goconex.com