Featured Image: Julie Neill Talia Linear Chandelier in Gild by Visual Comfort
Modern Dining Room Chandeliers
Chandeliers are a must-have for any modern home. They provide warmth and a sense of elegance that's hard to achieve with other lighting fixtures. There are so many different styles and designs out there, it can be hard to know which one is right for your home.
Chandeliers are not only stylish but versatile. The most popular use of a chandelier is as a focal point over the dining room table — overhead lighting makes a big difference when it comes to seeing your food. These fixtures are also key for creating a certain ambiance, so consider installing a dimmer switch along with your chandelier for even more options. Whatever your needs may be, the pros at Destination Lighting have it all.
Edison Bulb Island Light Chrome 38-Inch by Minka Lavery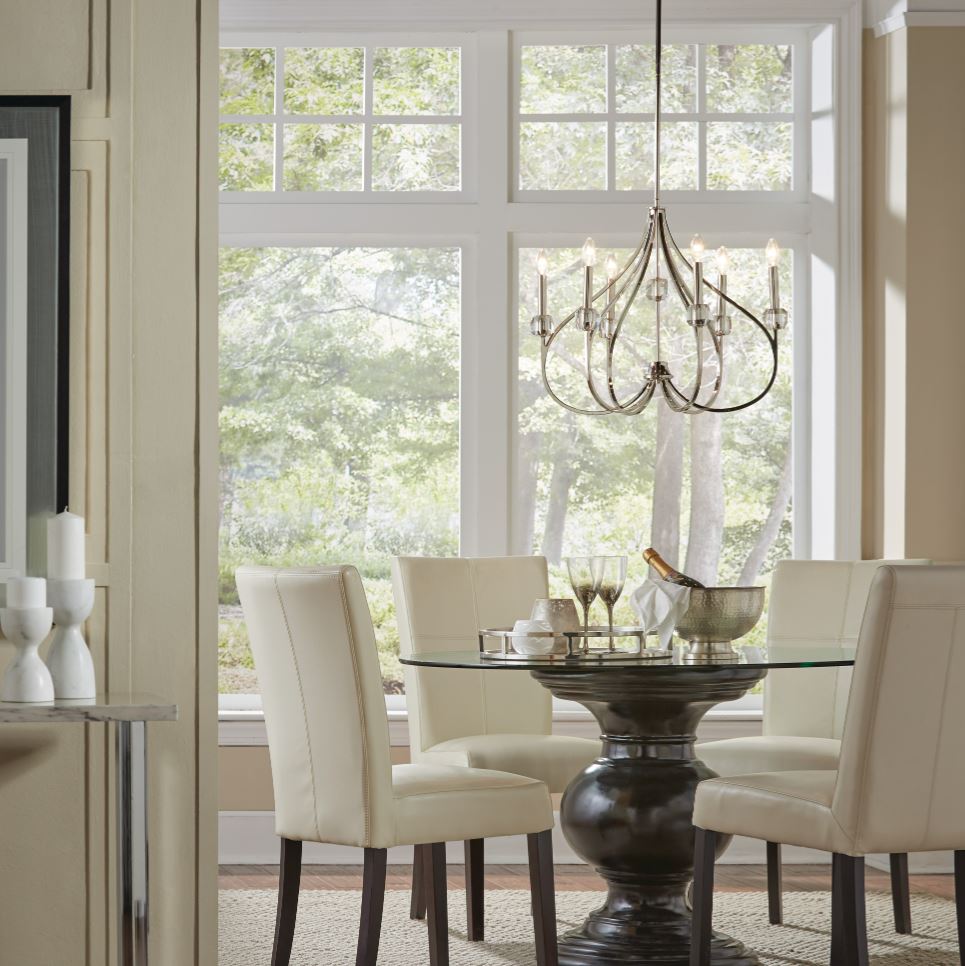 Eloise Polished Nickel Chandelier by Kichler Lighting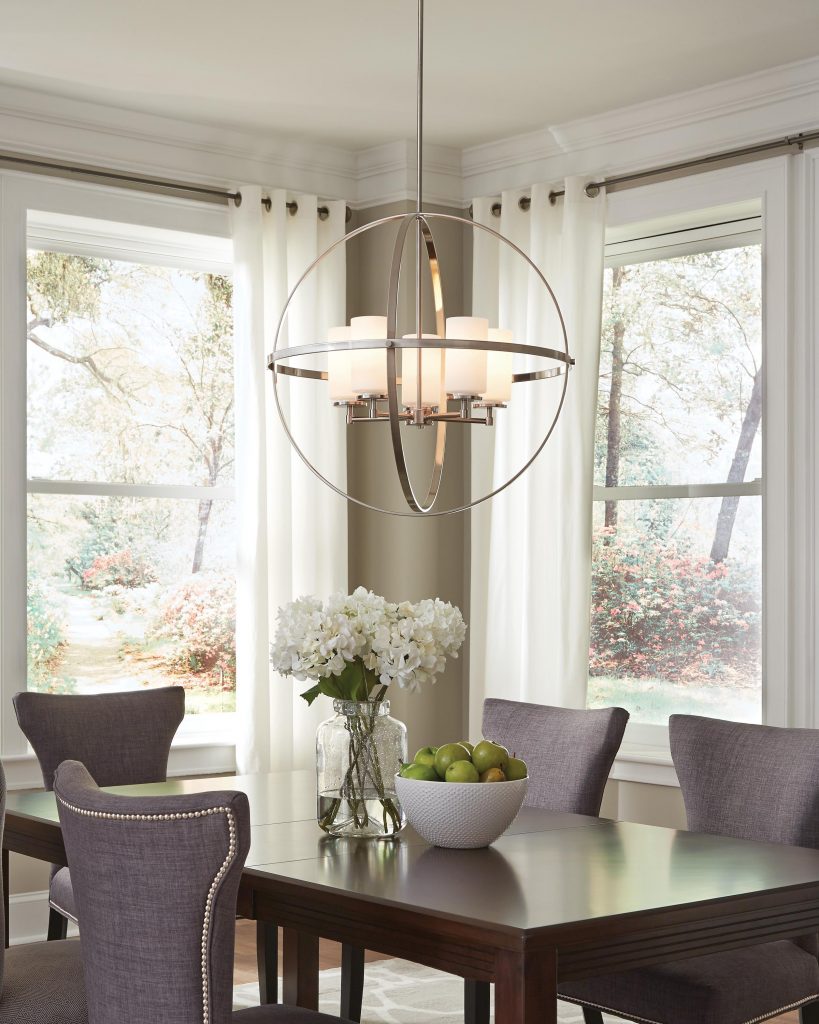 Alturas 27.25-Inch Orb Chandelier in Brushed Nickel with White Glass by Generation Lighting
Different Chandeliers for Modern Tastes
Our Alturas Five-Light Orb Chandelier (above) in brushed nickel with white glass is a fantastic option for just about anyone. Made by Generation Lighting, this chandelier effortlessly blends traditional and contemporary aesthetics. A five-light, mini chandelier ringed by three sleek, circular bands is a great twist to the traditional globe orb look. The brushed nickel finish complements the etched white glass shades for a clean, polished look.
The City Lights Halogen Chandelier was designed by the good folks over at Kichler Lighting. Featuring modern classic pewter, this elegant seven-light chandelier has an elevated and industrial vibe that is a perfect addition to any modern home.
At Destination Lighting, we have a broad range of modern chandeliers such as these, so you're sure to find the right fixture to light up your home.
Best-Selling Modern Dining Room Chandeliers at DestinationLighting.com
Chandelier Lighting for the Dining Room
When deciding on the right size for your dining room chandelier, remember that there should be 2.5 inches of chandelier height per one foot in wall height. If your room is 9 feet tall, for example, then your chandelier should be 22.5 inches in height.
It's also important to keep your table in mind, so the chandelier is scaled appropriately. If you have a round dining room table, then the chandelier should be about one third of its width. For rectangular and oval tables, it's best to divide the width by two, then add six inches to get a sense of the chandelier's ideal width. Make sure to leave about 32 inches of space between the table and the bottom of the chandelier to avoid feeling crowded.
Marilyn Polished Nickel Chandelier by Kichler Lighting
Additional Recommendations
The Napa Six-Light Chandelier by Design Classics Lighting has a bold and modern design that's clean and simple. The black matte finish is sharp and stands out against the glass shades. Retro meets modern with this solid centerpiece.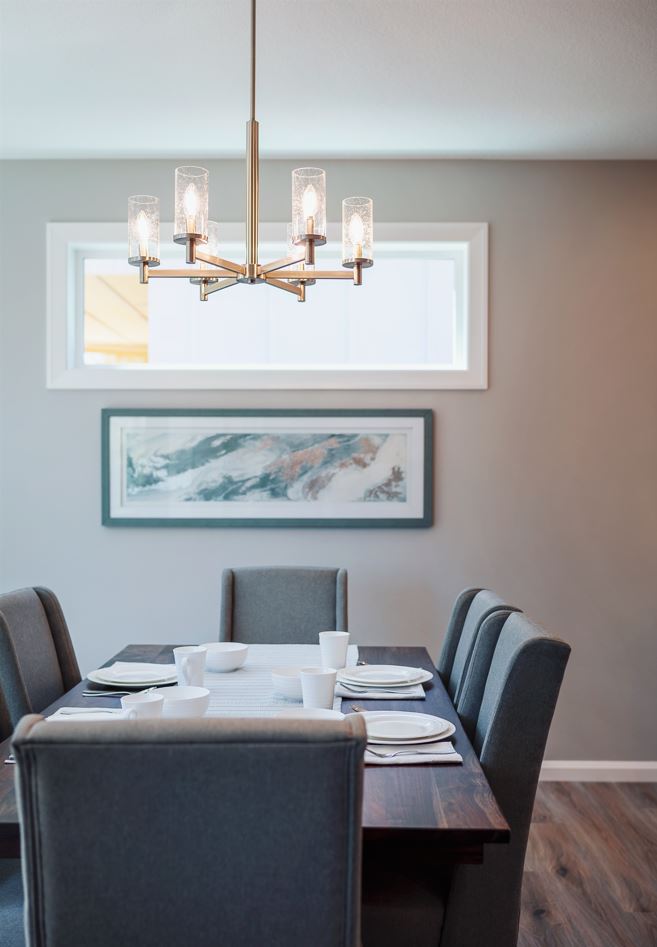 Napa 6-Light Chandelier in Satin Nickel with Seeded Glass by Design Classics Lighting
For something that blends modern with a curvier aesthetic, try this 26-Inch Edison Bulb Chandelier in Chrome by Minka Lavery offers a 6-light design in a style that is both contemporary and an alternative to the straight lines that some modern looks can offer.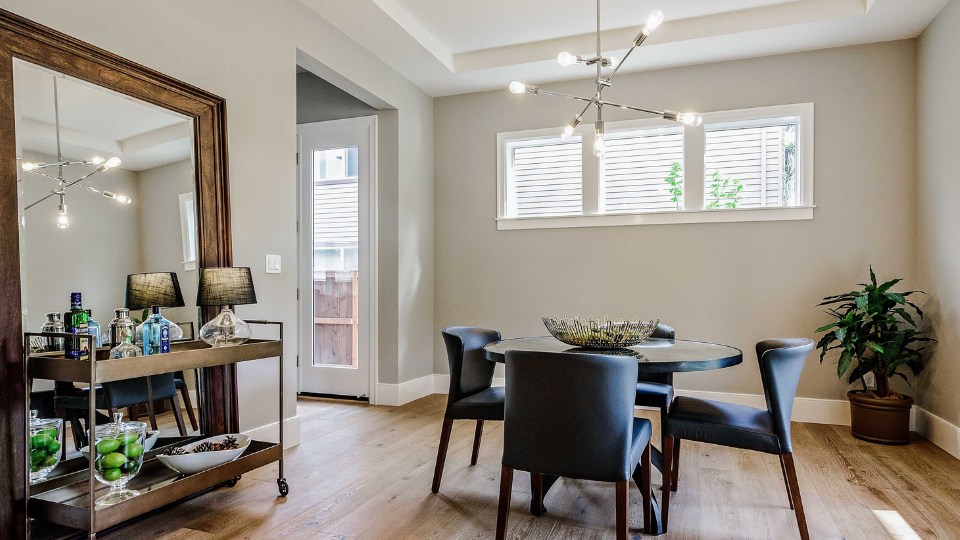 Raev 6-Light Pendant in Satin Nickel by Design Classics Lighting
Find More at Destination Lighting
These are just a handful of the many options you can find at Destination Lighting. Feel free to browse all of our modern chandeliers at your convenience to find the piece that will tie your dining room together.