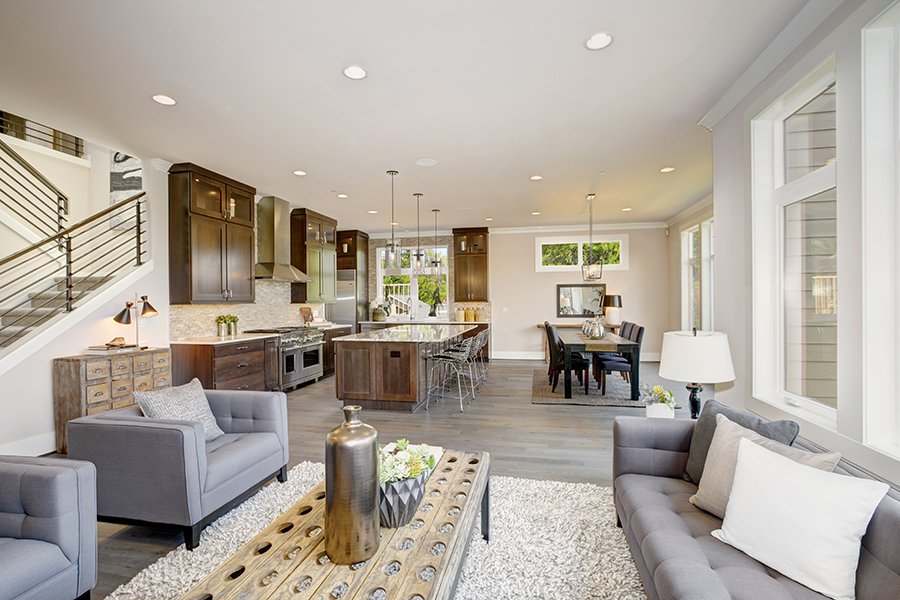 Recessed Lighting by Recesso
Updated 2.7.2019 – Recessed lighting is a type of fixture that can be built into walls, ceilings, or floors of a structure. Most often, recessed lighting is used to provide ambient illumination, highlight unique decorative elements, or provide task lighting to work surfaces. Each fixture has three main components; housing, trim, and light bulb. Understanding what each part does and the terminology used to describe the many types of recessed lighting will help you choose the right fixture for any room.
Recessed Housing
Recessed housing, more commonly known as a can, consists of the fixture's socket, electrical hardware, a protective shell, and brackets or clamps for secure mounting.
Remodel or New Construction?
Your first consideration when choosing a recessed light can is the access you have to the installation location. If you're placing lights in an existing structure, remodel housings slip into a small opening and have adjustable arms that provide a secure fit. New construction fixtures attach directly to structural supports, making them an excellent choice for installation in unfinished walls or ceilings.
Pro Tip: It's a good idea to measure each fixture location and check it for obstructions such as pipes or air ducts before you finalize your lighting plan.
IC or Non-IC?
Before installing recessed lighting, you should always check for insulation in the installation area. If insulation is present, you must use a can with an insulated ceiling (IC) rating. Insulation can trap heat inside a fixture, and IC-rated cans reduce the risk of overheating. You can use non-IC cans in other locations. Insulated walls typically form a barrier between the climate-controlled sections of your home and areas exposed to outdoor temperatures. Using airtight IC housings in these locations can reduce drafts and save money on your energy bill.
Line or Low Voltage?
There are two ways to power recessed lights. Line voltage fixtures connect directly to your household electrical system and use 120-volt power. Low voltage lights connect to a transformer that, in turn, connects to a household circuit. Low voltage systems typically run on 12-volt power. Most low voltage recessed lights come with an integrated transformer. Line voltage lights have more stringent installation requirements, but many use regular light bulbs and work with standard dimmers. Both types of recessed lighting offer plenty of stylish fixture options.
Trim Types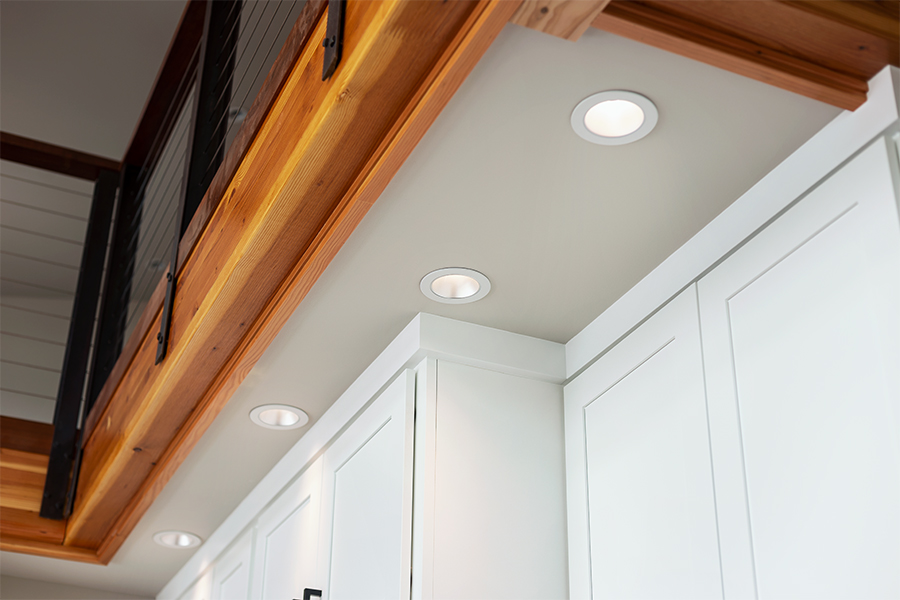 Recessed Light Kit by Juno Lighting 
Recessed light trims are the visible part of the fixture. They include products that blend into walls or ceilings or make bold decorative statements. The right lighting trim can also change the direction and type of illumination provided by the light bulb.
Selecting Recessed Light Bulbs
The broad range of light bulbs available today makes it easy to find a light source that matches your personal tastes. When choosing a recessed fixture, check the type of bulb it uses to avoid surprises. If you have existing recessed lighting, retrofit modules let you use energy-efficient LED bulbs in incandescent fixtures. Many of these products also work with standard dimmers.
Application Ideas
Recessed lighting offers a broad range of lighting solutions for almost any room in your home. Consider adding adjustable trims to a workshop or kitchen to provide focused light where you need it most. Dimmable fixtures let you create a particular mood in the bedroom or dim the lights when watching a movie in the family room. Lighting accessories simplify DIY lighting projects, and recessed light kits include everything you need to install a new fixture.
The many types of recessed lighting available make them an excellent option for almost any lighting project. Enhance the illumination in any room in your home using your new understanding of these flexible fixtures.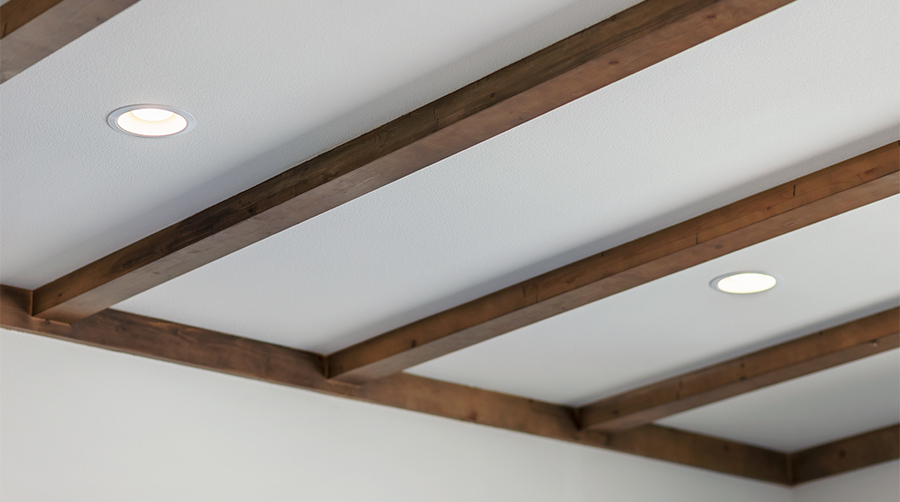 Recessed Light Kit by Recesso 
Connect With Us
For more lighting and design inspiration, follow us on  Pinterest, Instagram, and Facebook.