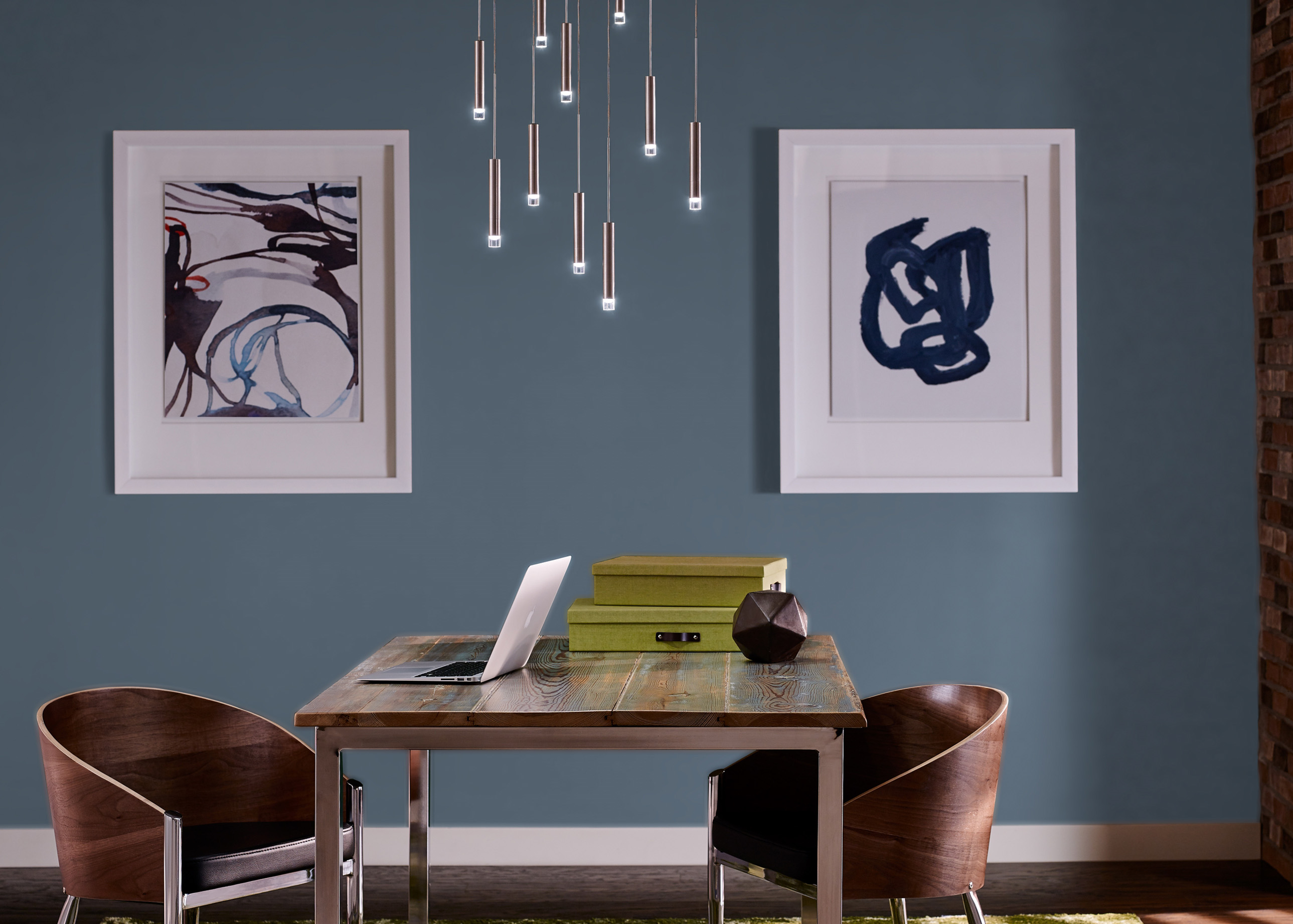 Pendant lights are fixtures that hang from an overhead support, and mini pendants are scaled-down versions of these versatile and attractive fixtures. Because they hang in mid-air, unique mini-pendant lights are an excellent way to set the mood for an entire room. They're also small enough to work in almost any space.
Where to Use Mini Pendant Lights
The broad range of unique mini-pendant lights available makes it simple to find products that solve a variety of lighting challenges and add personal style.
Suspend a row of vintage mini pendants above a counter or island to add retro style and practical illumination to your kitchen. Consider staggering the fixture heights to create additional visual interest.
Multi-light pendants feature several fixtures that are connected to a single power feed. Used in the dining room, they create a warm and inviting pool of light above the table.
Use well-spaced crystal mini-pendant lights to add a little flash to a hallway. The small fixtures provide plenty of illumination without obstructing the walkway.
Choosing the Best Mini Pendant Light for Your Room
Mini pendants are versatile, but there are a few things you should consider before you make your fixture selection. Use lights with trim that matches existing room finishes to create a uniform look, or choose a unique style, such as rustic mini-pendant fixtures to add an eclectic touch to your room. When using pendants as task lighting, hang them 28 to 34 inches above work surfaces and space them about two feet apart to provide even illumination. A minimum height of 84 inches (7 feet) from the floor to the bottom of the light is a good rule of thumb for pendants in open areas or walkways.
Mini Pendant Placement Ideas
Because they're fairly small, mini pendants can be used in a variety of locations. Group several together to create a bold impression, or use a single unobtrusive pendant to illuminate a work or reading area. When clustering pendants, consider their relative positions. Lights placed in regular grids or lines have a formal feel, while staggered heights offer a casual look. Designer mini-pendant lights can establish a room's style. Transitional mini pendants blend with existing furnishings to complement decor.
Shades for any Style
The many shades available make it easy to find unique mini pendant lights that match your design goals. Clear glass shades provide bright light and incorporate the exposed bulb into their appearance. Frosted glass provides soft illumination. Decorative glass or fabric finishes allow you to add unique textures to existing decor. Painted metal or art glass shades are an excellent way to inject color into a kitchen. Pendants require support, and the chain, cord or rod used to connect these fixtures to the ceiling offer additional ornamental options. Use a small ceiling medallion with each light to add a finishing touch.
Mini pendants are flexible fixtures that can provide task, ambient or accent lighting. Use them alone or with other styles of lighting to bring your decorating ideas to life and add warm ambiance to any room in your home.