Zudio LED Ceiling Fan by Casablanca
Beat The Summer Heat
You need a cost efficient way to cool off your home without the added expense of an Air Conditioner — we get that! Whether you're looking for an indoor ceiling fan or an outdoor ceiling fan, we have you covered.
Choose from different styles such as craftsman, contemporary/modern, traditional, transitional, casual, art deco, classical, country/cottage, eclectic, French country, lodge/rustic/cabin, marine/nautical, mission/mackintosh, old world, tropical, or vintage/retro/industrial. Different sizes of blade diameter, blade amount, or whether or not you want a fan with a light are also important factors when choosing your new ceiling fan. We also have a wide selection of energy efficient ceiling fans that will allow you to spend even less!
The 411 on Ceiling Fans
In the hot summer months turning on a ceiling fan costs about as much as turning on a 100-watt light bulb, even less if it is Energy Star Qualified (that's pennies per month compared to AC!).
Buying a new ceiling fan not only saves you money on cooling down your home, but it is also a great energy saving alternative to Air Conditioning.
Ceiling fans can make you to feel as though the room is 10 degree cooler than it actually is.
Where To Put Your Fan
People are installing ceiling fans everywhere these days: bedrooms, living rooms, play rooms, kitchens, great rooms, recreation rooms, bathrooms, patios, even garages — and designers and manufactures have branched out to create ceiling fans for every space. This makes sense if you think about it; it's more practical to cool a room with a fan rather than shelling out hundreds on AC each month.
Another practical use for a ceiling fan is installing one in your laundry room. This allows the moisture content in the air to balance and the room to not heat up when your washer and dryer are running.
Which Fan Is Best For Your Space?
With so many different ceiling fan sizes, styles, and types, we understand that it may be hard to differentiate one from another.
One thing to keep in mind is that the size of the room you want to install your ceiling fan in is an important factor in searching for a fan to fit. Check out this guideline from the American Lighting Association:
| Size of Room | Recommended Ceiling Fan Size |
| --- | --- |
| Up to 75 Sq. Ft. | 36 in. or smaller |
| Up to 144 Sq. Ft. | 36 in. to 42 in. |
| Up to 224 Sq. Ft. | 50 in. to 54 in. |
*Larger rooms may need fans with as much as a 72 in. span.
The question of whether or not the amount of blades a fan has matters, or if the style of fan makes a difference, is much more of a question of aesthetics than it is of effectiveness and efficiency. Even though most ceiling fans have five blades, the lesser the number of blades on a ceiling fan the more air it moves. However, fans with fewer blades are usually used in warehouses and places where the ceilings are very high and more air circulation is the goal. A fan with four to five blades is what is usually used in the average home.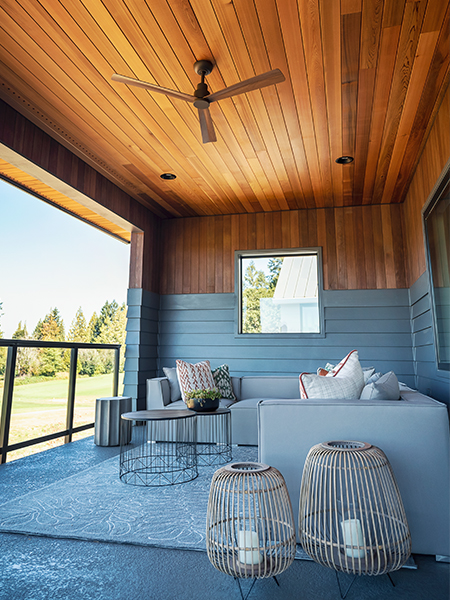 How Much Do You Want To Spend?
Now that you have determined what size ceiling fan you'll need, consider your budget. Fans with larger motors typically cost more but they also last longer, they're more efficient and they circulate the air better. Ceiling fans are often sold as complete sets and there are a wide selection of options available – check the outside of the box. Components which can be purchased for many fans include integrated light kits, sophisticated remote systems and elaborately carved wooden blades. These items can increase the purchase price but add to the enjoyment of the ceiling fan you choose.
Another consideration which can potentially impact cost is mounting and switching. If you install the fan yourself, make sure it's mounted to an electrical box rated for ceiling fans. Consult a qualified electrician who understands the local codes and can share switching options and pricing information with you.