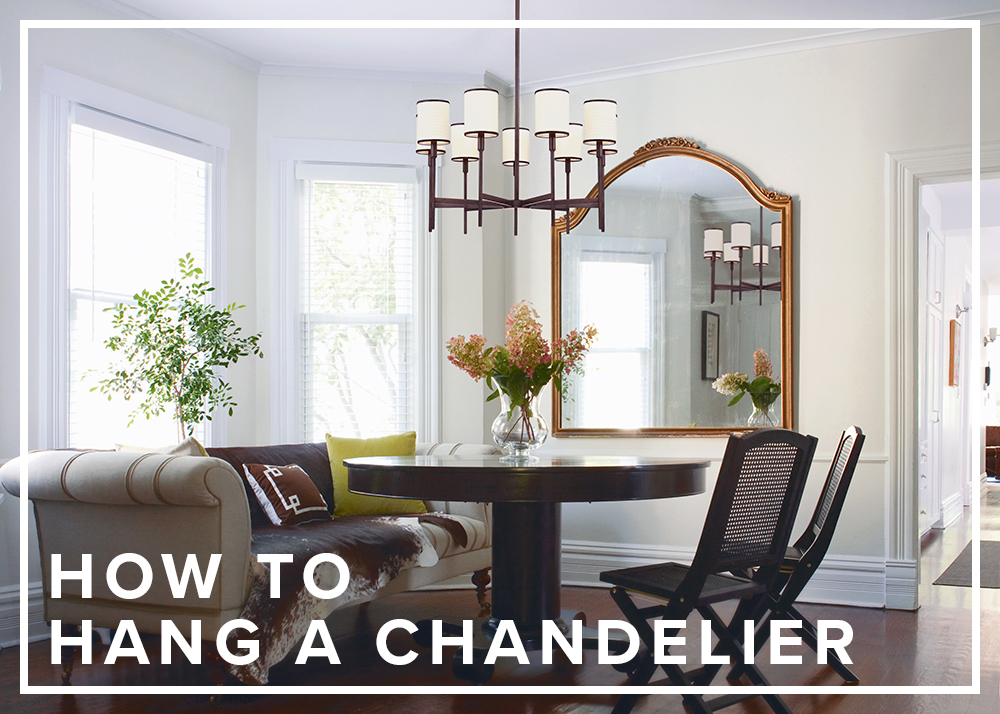 How-to-Guide: Chandelier Hanging
The good things in life never go out of style. Chandeliers have been a classic mainstay in the lighting world, embodying the classic ideals of a sophisticated home. Even today, there is still no better way for decorating an open space than a well placed, visually captivating chandelier.
But there's more to pulling off the chandelier look than just selecting one that looks nice. You'll want to find a chandelier that fits the contours of your home, as well as a style that matches your decor.
A proper dining room chandelier should follow some basic concepts for a well-balanced home. When people think of chandeliers, they often think of the design and color, but SIZE is an underappreciated but important consideration to make when picking out your future centerpiece. We're here to help you get started by following these basic principles.
1. How big should a chandelier be?
Before you go off falling in love with that dreamy chandelier you found on Pinterest that would look great in your dining room, you'll want to make sure that it not only looks right but fits right. While correct size can be somewhat subjective, it ultimately depends on the dimensions of your room and the height of your ceiling.
Sizing according to the room
Perhaps the best way to find the right chandelier size is to simply measure your room.  
Add up the space in your room to get the proper diameter of your fixture in inches. Say, for example, that your room is 12 feet x 15 feet. Adding 12 + 15 equals 27 feet. Convert that to inches, and your chandelier should be 27 inches in diameter. Pretty simple, right?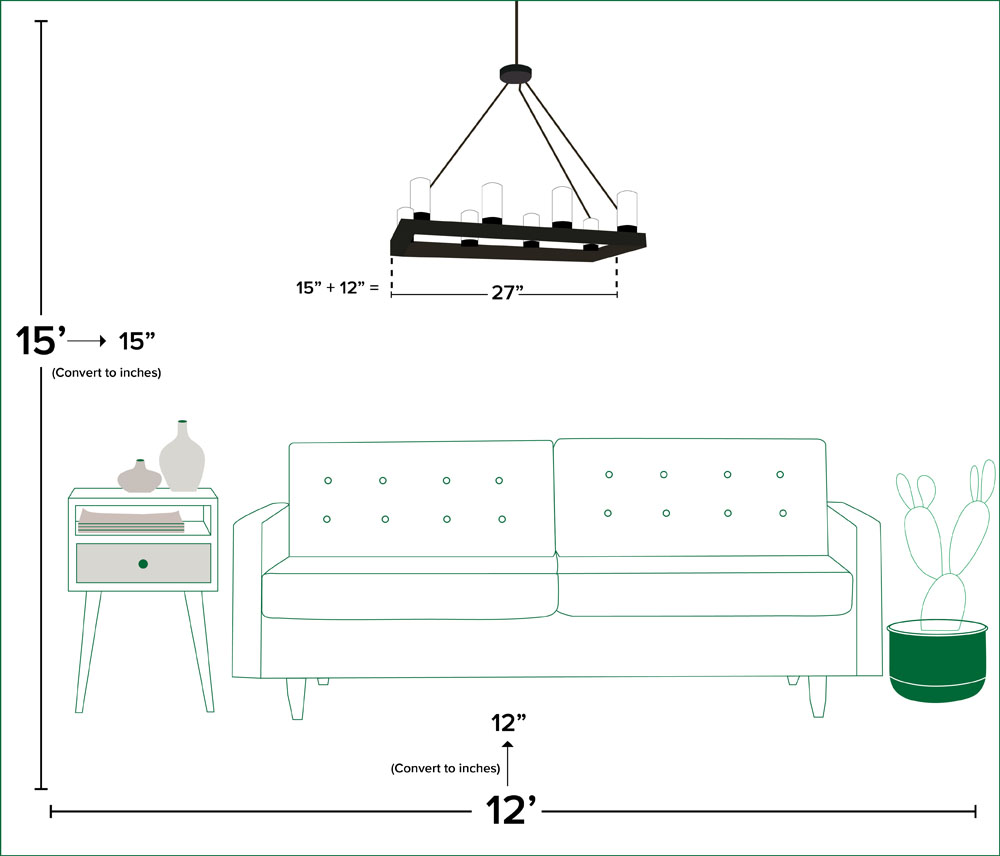 Let your table do the sizing
Another option for sizing is to simply measure it against your dining table. A proper chandelier to dining room table ratio will make your room feel evenly balanced.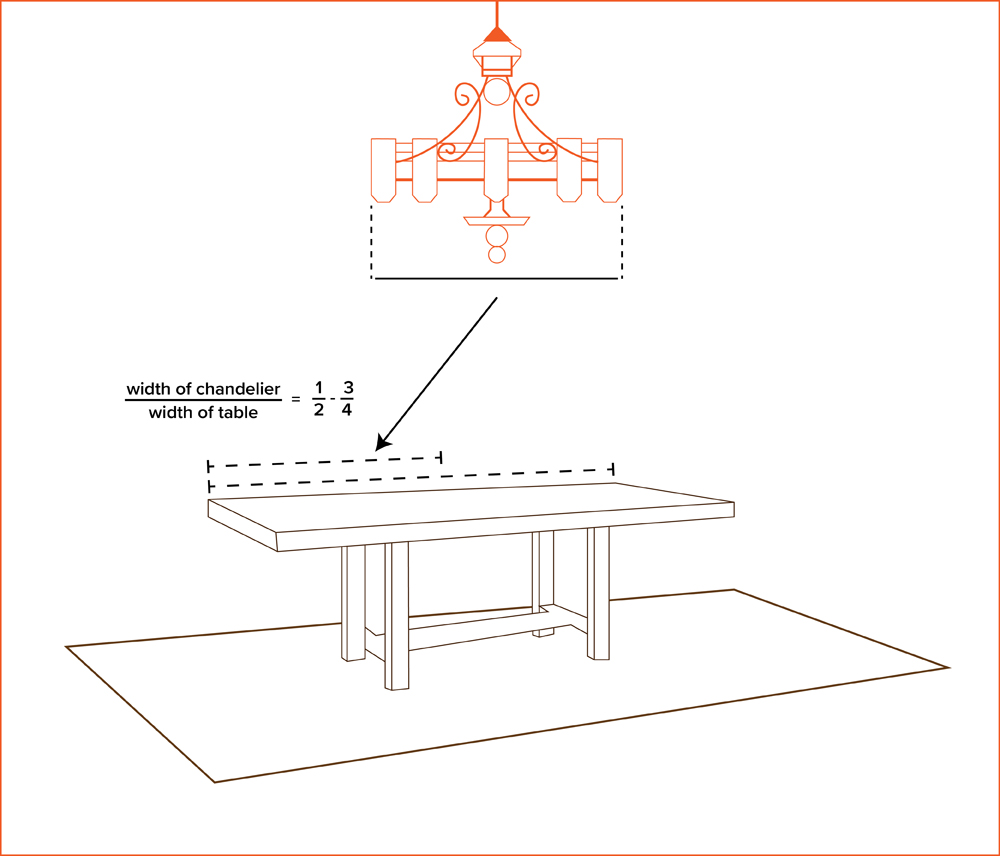 A good ratio is a fixture that is half to three-quarters the width of the table.
2. How high should I hang it?
How high should a chandelier actually hang?  The dining table is a good place to start.
A chandelier's longest point should hang about 30 to 32 inches above the surface of the table to provide optimal lighting. If you have vaulted ceilings, look for a tall chandelier that has plenty of hanging length.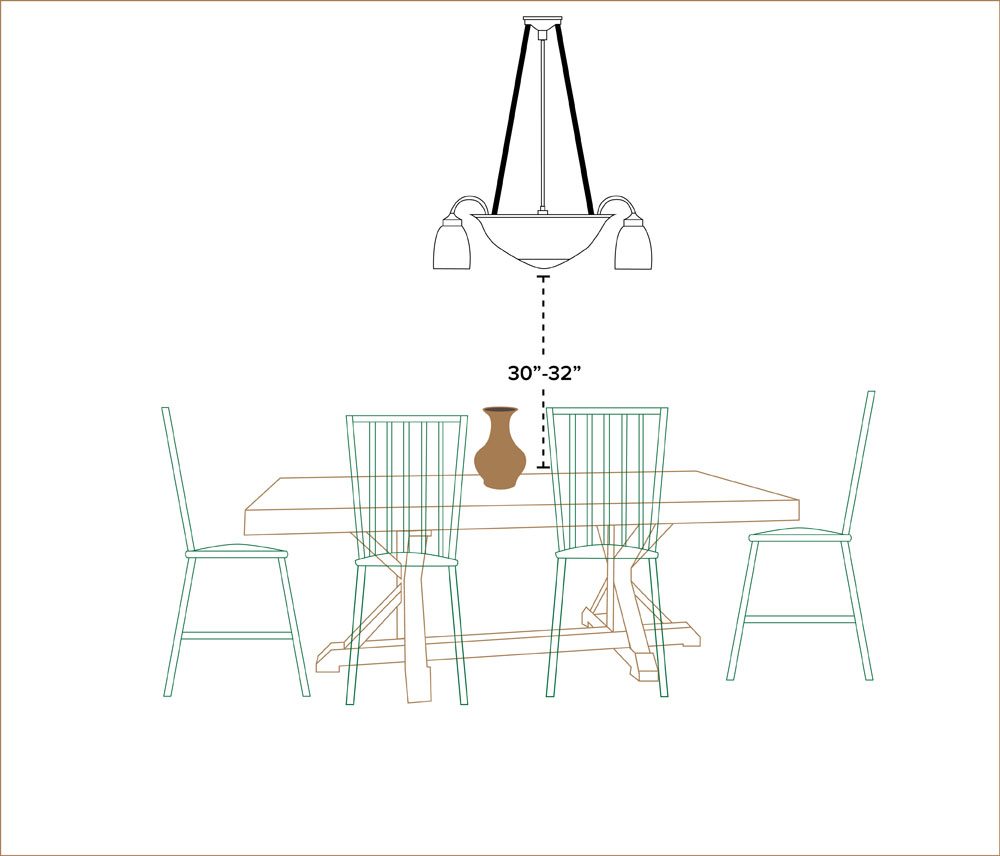 3. How bright does it need to be?
Let's not forget what chandeliers were meant to do in the first place, and that's to be a main source of light. We know, that sounds like common sense, but keep in mind that some chandeliers yield a soft, glowing mood light, while others create a bright light for a stronger effect. It comes down to a matter of your personal preference.
You can have the best of both worlds by installing a dimmer switch, an upgrade that we highly recommend, as you can adjust the lights depending on what the mood calls for. A soft glow light would be great for a party, but stronger, bright lights would be better for cleaning up after it. Check out our recent article about modernizing your light switch. 
4. Match the rest of your room: dining room chandelier design styles
Speaking of personal preference, there are a lot of different choices out there in terms of style. What looks good to one person may look off putting to another. We're not judging.
The best chandelier is the one that complements your home, as well as your own personality. To each their own, and remember there is no one right answer. However, if you're looking for some ideas and inspiration, here are some of the more popular design styles out there you may want to consider: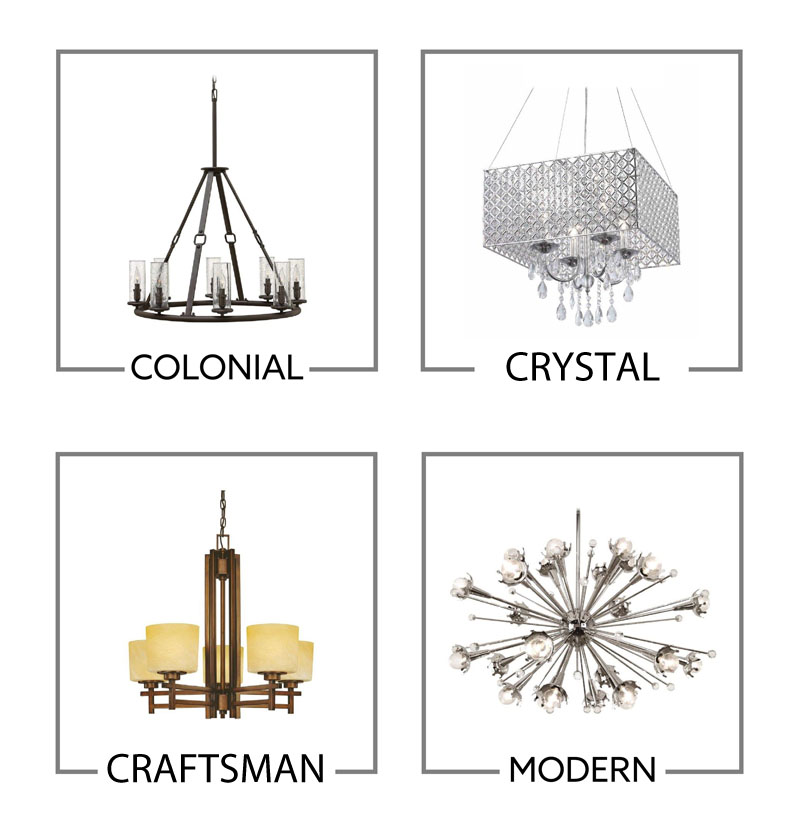 Crystal Chandeliers– The classic elegance of the crystal chandelier is the most popular and standard for all chandelier types.
Modern Chandeliers-A vibrant mix of old and new, the modern styles of chandeliers blend vintage and modern elements to make for some truly timeless pieces.
Colonial Chandeliers-A nod to the days of early Colonialism, this style of chandelier looks well placed in a home where the decor exudes history and tradition.
Craftsman Chandeliers-Craftsman styles were a popular pick in the early century, and have remained so even to this day.
Got questions? We have answers. 
Lighting can be tricky. But it doesn't have to be. Leave us a comment or contact us to get answers to your questions, no matter how big or small. We can take the hassle out of lighting.