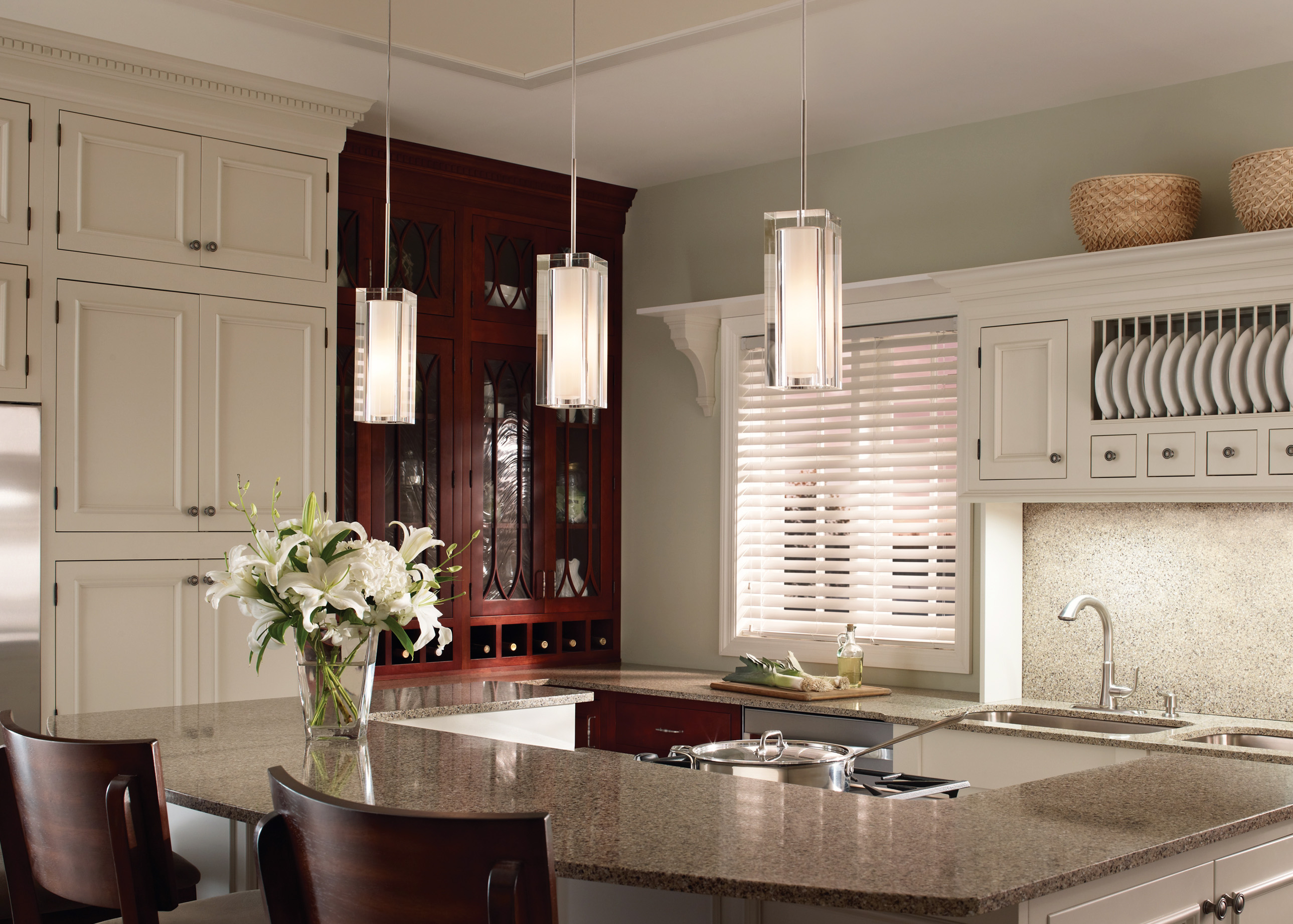 Looking for unique pendant lighting ideas to incorporate into your design scheme? We've put together a helpful guide to help you choose the right lighting for your space.
Types of Pendant Lights
Pendants are hanging light fixtures that provide ambient or focused lighting depending on the type of shade chosen. Because they hang overhead or above work surfaces, pendant lights are very visible and often set the mood for an entire room. The wide selection of finishes and styles available reflect this prominence. They may also offer more flexibility than flush mount or recessed ceiling lights because you can adjust their height.
Pendant Shades
Modern ceiling lights use many different shade materials, giving you dozens of style choices. Fabric shades provide a soft, textured look that's ideal for a bedroom or living room, while easy-to-clean clear or frosted glass shades provide bright light for kitchens or hallways. Pendants with chandelier trim add an ornate, formal touch to any room.
Hardware Finishes
Pendant light trim and mounting hardware can serve as a point of contrast for the shade or tie the light to room elements such as doorknobs or plumbing fixtures. Pendant hardware includes brushed or polished metallic finishes in bronze, iron and nickel as well as colorful painted finishes. When installing a pendant light, consider adding a ceiling medallion. This disk-shaped accessory adds a finishing touch to the fixture and covers the overhead electrical connection.
Choosing Pendant Light Fixtures
While there are hundreds of unique pendant fixtures available, most are either down lights or up lights. Down lights focus illumination on the area beneath the fixture. They often have conical shades with reflectors and open bottoms. Place them over kitchen islands or counters to supply clear and bright task lighting. Up lights provide soft, unfocused ambient illumination that's ideal for living areas. Many use the ceiling as a reflector or have translucent shades. Ambient fixtures above a furniture grouping in your living room create warm light that invites conversation, while crystal or glass pendant lights in a hall or entryway add practical illumination and dramatic style.
Pendant Positioning
As you develop your pendant lighting ideas, there are a few practical considerations you should keep in mind. One of the most important is fixture placement. Pendants should be 24 to 30 inches above work surfaces and should not block sight lines of people seated at a table or island. In open spaces, make sure fixtures are high enough that people won't bump into them, but not so high that they disappear from view. Pendant light fixtures use chains, cords, cables or rods for support. You can almost always adjust the length of these connections to achieve proper positioning.
Fixture Size
When picking lights, you should compare the size of the pendant to the area it will illuminate and the overall dimensions of the room. Use several mini pendants over an island or counter to provide bright, even lighting above the entire area without overwhelming the room, or place a single larger light over a dining room table to focus attention on this central feature. When using multiple fixtures, remember that an odd number of design elements often creates a more balanced look.
Six Places to Use Hanging Light Fixtures
These fixtures offer plenty of options when it comes to installing them in your home. Here are five pendant lighting ideas that illustrate their flexibility.
Task lighting – Place one or more mini-pendant lights above a kitchen island to provide bright illumination.
Entryways – Use a single large fixture to create a welcoming space for visitors.
Dining Room – A pendant fixture with a translucent glass or fabric drum shade provides relaxed illumination when placed above the table.
Hallways – Add unobtrusive lighting with a row of mini-pendant lights.
Bedrooms – A cluster of mini-pendants hung at staggered heights over the bed creates soft, romantic lighting.
Living / Family / Great Rooms – Mini-pendants are an excellent way to highlight seating areas and illuminate reading nooks.
Proper illumination creates an inviting and comfortable atmosphere within your home and hanging fixtures are a versatile lighting option that works in almost any room. Use these pendant lighting ideas to transform your kitchen into an efficient work area or create a cozy space for entertaining guests in your living room.