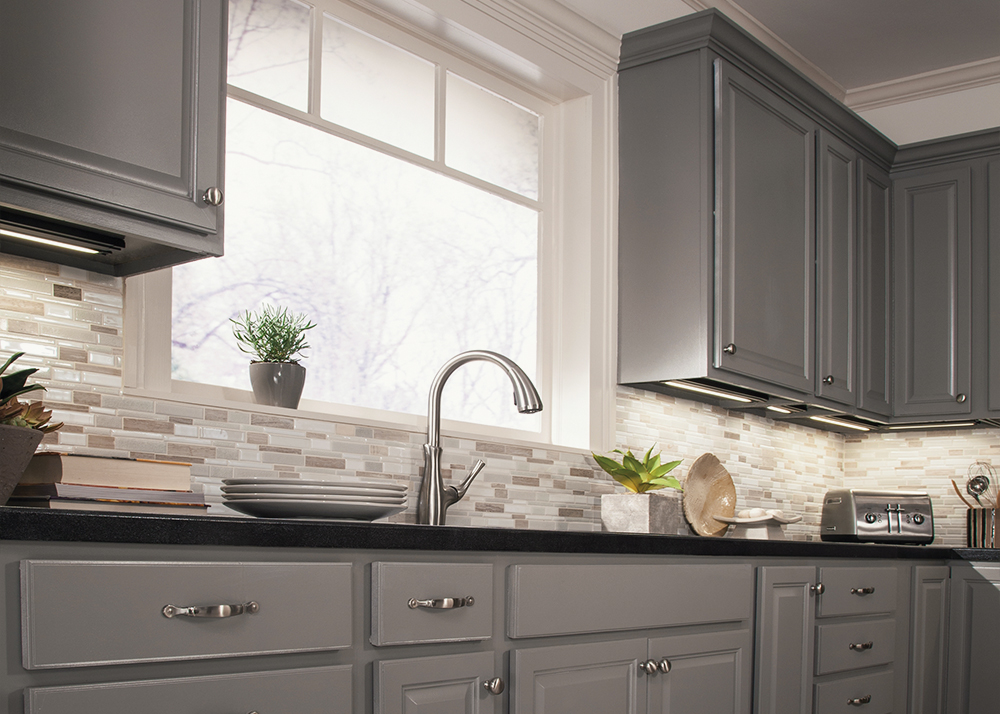 Under Cabinet Lighting Options
There are about as many under cabinet lighting options as there are benefits to installing them. Under cabinet and cove lighting illuminate spaces that are shadowed by ceiling lights making the whole room feel larger and brighter. Each of the different types of under cabinet lighting has unique benefits. Consider the pros and cons before shopping so you can find the best under cabinet options to suit every area of your home.
The Highlights
There are many under cabinet lighting ideas for the kitchen, bathroom and study. These unique light fixtures add a subtle glow around the edges of the room that makes small spaces seem more open. It can also make rooms with tall ceilings feel cozier by adding a layer of light at the vertical center of the wall.
Another advantage of under cabinet lighting is that it makes your work surfaces more functional. You'll enjoy the benefits of focused task lighting on your workspaces. In most kitchens, the perimeter countertops are constantly shadowed by the upper cabinets. Under cabinet lighting makes those counters bright with a pleasant quality of light that isn't too harsh or glaring. You can find battery-powered options if you don't want to deal with electrical wiring during the installation.
Create the ambiance you want by installing dimmer switches. During the day when there's more natural light, you can keep the lights dimmed, then turn them up as evening falls. Under cabinet lighting makes an ideal night light in your kitchen or bathroom. Simply turn it to a dim setting with all the other lights off and you'll have just the right amount of light. You won't have to turn on the ceiling lights and risk waking fully during a midnight trip for a glass of water.
Choices, Choices
Under cabinet lighting options are vast and diverse with unique features and bulb types. Having a good understanding of each one's benefits and challenges means you won't be in the dark when it's time to choose the best under cabinet lighting for your own home. It's important to consider the type of bulb as well as the details of the lighting fixture. LED under cabinet and cove lighting is energy efficient, long lasting and doesn't produce heat. Some versions are dimmable, and the initial cost is easily recovered during the years of use. There are also colorful LEDs to add a bit of flair. Fluorescent bulbs are energy-efficient as well and easy to source. They're inexpensive and run cool, so they're a good all-around choice. Halogen bulbs produce a pleasant light quality but can create quite a bit of heat so they're best used in open locations. Xenon bulbs run cooler than halogen ones and produce warm light similar to incandescent bulbs.
Light Bars
Light bars, also called linear lights, come in several lengths and bulb types. They attach to the underside of your cabinet and are either wired directly into the electrical system or plugged into an outlet. Some models are convertible and can switch from a plug-in connection to hard-wired installation. You can find light bars that use a variety of bulb types: LEDs, halogen, xenon and fluorescent. Each type creates a different amount and quality of light so you can choose the one that will work best with your home. It's easiest to install light bars that match the dimensions of your cabinets and to link them together, if possible, so that one switch controls them all.
Puck Lights
So named because they look like hockey pucks, these little lights can fit just about anywhere to provide a focused beam of light. Many styles use LEDs and are battery powered. They're the simplest to install, last a long time, and don't heat up when they're operating. There are also wired options that use LEDs, halogen or xenon bulbs. Puck lights work well for specific locations that need extra light, such as a reading corner or stairwell. Some people prefer puck lights to light bars in the kitchen to create pools of light that highlight the backsplash. They're available in a wide variety of colors, including white, black, bronze, silver and copper.
Rope Lights
These are aptly named: they're literally clear ropes that glow from internal LEDs or incandescent filaments. They're somewhat flexible and extremely thin, so they're a bright choice for places without standard cabinet designs. They generally give off less light than bar or puck lighting options, so they work well to accent areas that already have adequate ambient light. Rope lights are available in multiple lengths from 2 feet to 75 feet.
Tape Lights
Similar to rope lights, tape lights are even slimmer and more flexible. The vast majority use LEDs for their small size. They're extremely energy-efficient and can fit almost anywhere. You can find tape lights in black or white tones and in both plug-in and hardwired options. Some brands are dimmable, and there are sizes ranging from 4 inches to over 16 feet long.
What is Cove Lighting?
Rather that attaching to the underside of a cabinet and creating light in a downward direction, cove lighting is installed in ledges or other recesses and directs light upwards toward the ceiling. In some cases, cove lighting can also direct light down the wall adjacent to the ledge. It's a wonderful addition to rooms with decorative ceilings because the light draws attention to the features of the ceiling. The cove fixtures are often completely hidden so only the light emitted is visible, creating a warm glow and a cozy atmosphere. Cove lighting increases the ambient light in the room unobtrusively and it's a popular style choice for homes with modern decor.
Cove lights are generally very similar to under cabinet options: light bars, puck lights, and rope or tape styles. You can also find several bulb types such as LED, halogen and fluorescent. One of the biggest aspects is the placement of the lights. Cove lights can be installed in any horizontal recess such as a valance or ledge, and also above cornices or anywhere on the upper part of the walls, as long as there is an architectural feature to hide the source of the light.
Underneath it all
Under cabinet and cove lighting can be installed in various locations in your home. The kitchen is one of the most common places for additional lighting. It's the area of your home where people spend a lot of time at various parts of the day. Under cabinet lighting can add a directional beam to your counter tops so you have adequate light when you're cooking. It also highlights your backsplash and counter tops aesthetically. If you have tall ceilings, adding under cabinet or cove lighting can help the room feel warm and cozy rather than cavernous. If you display collectibles or other decorations on top of your cabinets, cove lighting is a stylish addition.
Some people also use under cabinet and cove lighting in a bathroom. It's a bright choice that creates a luxurious, spa feel to a master or guest bath. Kids' bathrooms also benefit from under cabinet lighting, especially a dimmable model that creates a built-in nightlight. If you have a separate laundry room, you could add under cabinet lighting there as well. It's especially useful over a counter and sink area so you can have adequate light to check clothing for spots and stains.
Cove lighting is a brilliant addition to display cases such as china cabinets, hutches and built-in shelving units. Nothing helps your collectibles and valuable heirlooms stand out like the proper lighting. Pools of light created by cove or puck lights mimic the effect of gallery lighting, adding a beautiful touch to your display. If you're installing fixtures in an enclosed cabinet or hutch, remember to choose a bulb type that runs cool, such as LED or fluorescent.
Choosing the Right Under Cabinet Lighting for Your Home
If you want to add new lighting fixtures to your home to increase the ambient light or highlight certain areas and objects, consider customized under cabinet lighting ideas. Under cabinet fixtures add light in a completely different way than overhead ceiling lights or floor lamps. Consider the amount and quality of light you want and choose the best bulb type. LED and fluorescent bulbs are energy efficient, while xenon bulbs create a warm light that complements many surfaces and colors.
Light bars, puck lights, rope and tape lights each have unique benefits. Most styles require a plug-in or hard-wired connection, but there are some battery-powered options as well. Some versions are dimmable, which is a nice feature if you plan on using them for night lights. Cove lights can add visual interest to a decorative ceiling or items displayed on shelves and hutches. Find the right under cabinet lighting options for your kitchen, bathroom and built-ins and enjoy a beautiful upgrade to your decor.