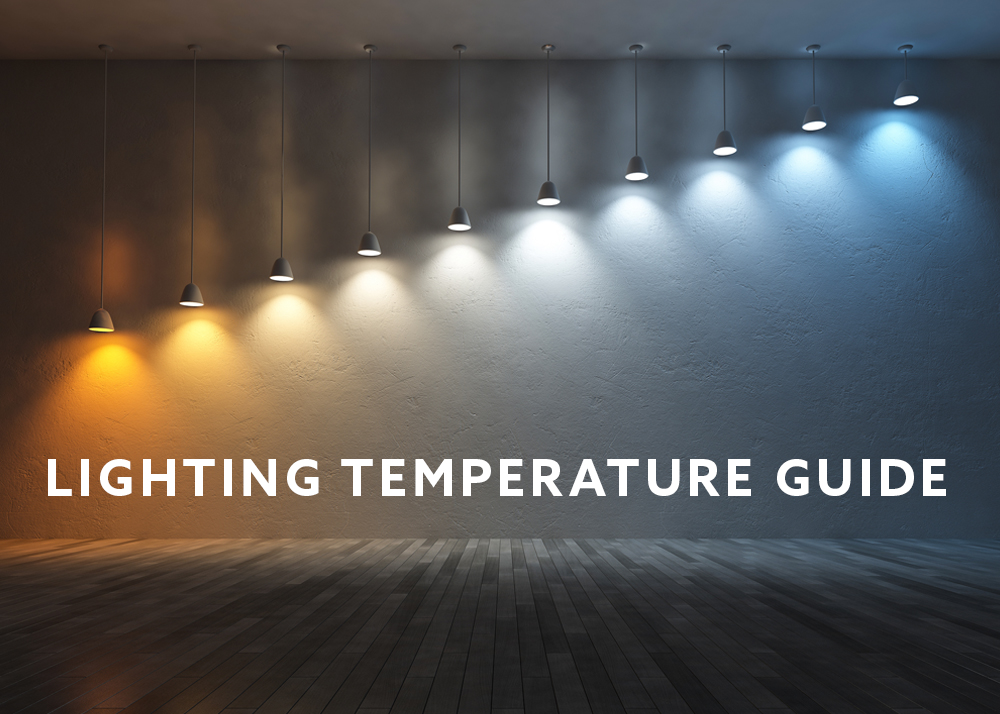 Lighting Temperature Guide
When you're choosing a lighting scheme for a room, there's more to consider than the wattage of a bulb. Lighting temperature plays a significant role in the mood you create, and you can alter it with the right light bulbs. Understanding lighting temperature gives you the chance to craft a lighting plan that achieves the desired ambiance in every room of your home.
What is Lighting Temperature?
Lighting temperature refers to the color that is produced by a light source at a specific temperature. It's measured in Kelvins, an homage to scientist William Kelvin, who heated carbon and discovered how the emitted light changed at various temperatures. Most modern light bulbs don't use heat to emit light, and so instead are measured by their Correlated Color Temperature (CCT), which visually matches a bulb's emitted light to the Kelvin chart.
Kelvin measurements correlate directly to the color spectrum, using a scale called the Color Rendering Index (CRI). At lower temperatures, light has a warmer hue. Lights at low temperatures let off hues from dim red to yellow. In the middle of the temperature range, light takes on a cooler color scheme. When heated to high temperatures, light mimics daylight, with bright, bluish-white colors.
Color Temperature Lighting Chart
1900 kelvins: Candlelight; warm and orange-reddish in color
2500 kelvins: Tungsten light; warm with orange-yellow colors
3000 kelvins: Early sunrise; warm yellow color
4500 kelvins: Electronic flash; transitioning from warm to cool tones
5000 kelvins to 5500 kelvins: Noon sunlight; bright with mild cool hues
6000 kelvins: Overcast daylight; very bright and cool
10,000 kelvins: Blue sky; extremely bright and cool
Choosing Bulbs Based on Temperature
Each type of light bulb conducts light and uses energy in a different manner, leading to various color temperature ranges. To choose the optimal light bulb for each light fixture, consider the mood you aspire to create and which bulb gets you into the proper color range.
LED bulbs have a wide range of color temperatures. Most LED bulbs fall between 2700 kelvins and 7500 kelvins. Low temperature LED lighting creates a warm white temperature, while those on the higher end of the scale emit a cool, crisp tone. LED ceiling lights emit several types of ambient light.
CFL bulbs are similar to LED bulbs in their temperature range. Bulbs have a soft white hue at 2700 kelvins. For a cooler white, a 6500-kelvin CFL bulb closely recreates overcast daylight.
Many homes use incandescent bulbs, which have a much softer white color than other options. Incandescent bulbs weigh in at approximately 2800 kelvins, yielding a warm yellow color.
Rooms with xenon bulbs benefit from the cool, bright colors produced by these bulbs. Most xenon bulbs have correlated color temperatures of 4500 kelvins to 5000 kelvins.
Using a dimmer is a convenient way to adjust the ambiance of a room to suit different times of day, events and tasks. When using a dimmer, the color temperature depends a lot on which type of bulb you use. Certain dimmer switches are designed to span a range of color temperatures, so consider those switches if color temperature is a priority in your lighting plan. With color temperature shifting accessories, you can adjust color temperatures to suit various tasks and times of day by adding and removing simple filters.
Shining a Light on Real World Applications
Now that you know all about correlated color temperatures and what lights at different temperatures look like, you can use the lighting temperature guide to give your home an inviting feel.
Warm lights, which fall at the low end of the correlated color temperature scale, give off a cozy, relaxing vibe. They are ideal for ambient lighting in bedrooms and living rooms. Warm lighting is also ideal for decorative lighting and outdoor fixtures. Low temperature LED lighting options include rope string lights, which are commonly used for outdoor ambient lighting.
As you move into the cooler part of the temperature spectrum, you find bright white tones. Lights in this range create a vibrant, energetic mood. They provide greater contrast than warm lights, making them a suitable choice for bathrooms, kitchens and basements. Cool lighting is a popular choice for task lighting, particularly for detail work. Late night kitchen work is easier with LED under cabinet and cove lighting that casts a bright light on prep work.
At the bright end of the temperature spectrum, lights create the same effect as natural daylight. These colors are crisp and rejuvenating. Bulbs in this range are commonly used in garages, display lighting fixtures, security lighting and spot lights.
The fixtures you select work with different light temperatures. A fixture that leaves the bulb exposed and uncovered maximizes the amount of light created, while a frosted glass light fixture carefully filters the amount of light in the room.
Every mood has a time and place. With your new knowledge of lighting temperature, you can shift the mood in your home throughout the day and within each room. Use lighting temperature to select bulbs that are tailored to the ambiance of a room. With carefully chosen bulbs and fixtures, your home becomes the perfect place to prepare for the day, enjoy time together and unwind for the night.