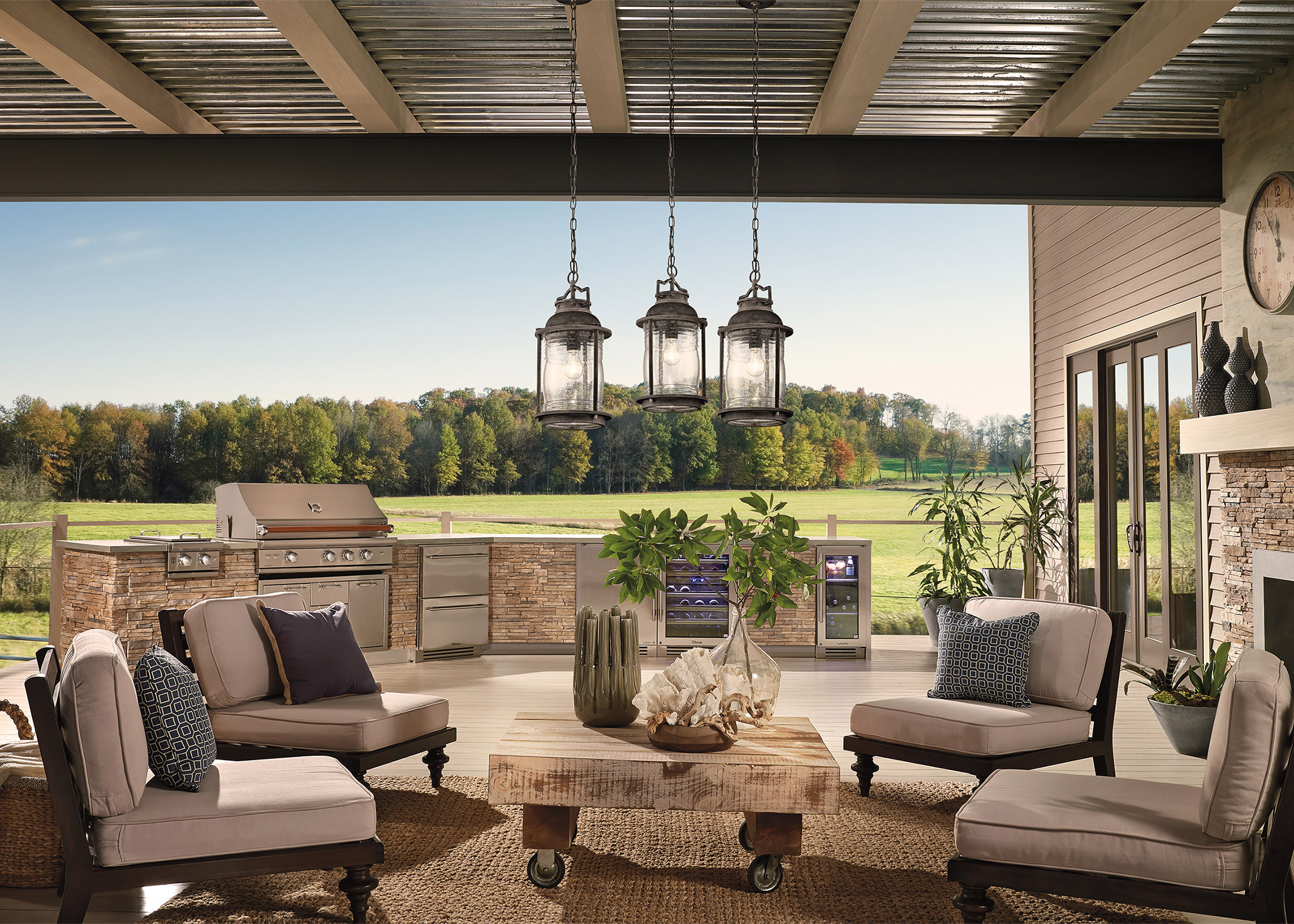 Light up your deck with outdoor lighting
Outdoor lighting turns patios and decks into an extension of your home's interior spaces, creating an inviting place to entertain guests, watch the sunset or enjoy a meal with your family. It can also improve the appearance of your house and enhance safety. Deck lights brighten walkways and stairs, accent unique garden and home features and provide functional lighting for work surfaces or grills. Learn to create a lighting plan and choose fixtures that meet your needs and turn your outdoor deck lighting ideas into a beautiful and practical reality.
Fixture Options
There are many types of exterior lights you can use to implement your outdoor deck lighting ideas. Overhead and hanging lights are an excellent way to add ambient light, but they do require support. Flush-mounted recessed deck lights provide unobtrusive illumination, and you can mount them on walls or posts. You can even install some recessed lights in stair risers or floor surfaces, making them an excellent choice for walkway lighting.
Post deck lights mount on top of deck railing posts. They add a decorative touch by day and highlight the edges of the deck and nearby landscaping at night. Small spotlights focus attention on unique features of your yard or provide bright lighting for work surfaces. If you need additional light for a special occasion, here's a deck lighting tip: weave flexible rope lights along railings or string party lights overhead. They provide festive illumination and are easy to set up and take down. You can also give the chef a clear view of steaks and burgers on the grill with a barbecue light.
Complement Your Home With the Right Finish
As you select lights, consider both the size of the fixture and its finish. Smaller lights in colors that match the surrounding walls or floors are an unobtrusive choice for practical illumination along walkways and stairs. Deck post lights and overhead fixtures are a very visible lighting option, so choose finishes that complement your home's exterior or existing lights.
Weathering the Weather
Unless you live in a desert, outdoor lights are exposed to moisture, rain, snow and wind. Use fixture ratings and these deck lighting tips as you make your light selections.
Use damp-rated fixtures in protected locations such as under porch or deck overhangs. They can withstand moisture, but shouldn't come into contact with rain or snow.
Place wet-rated lights in exposed areas such as walkways or deck railings. These fixtures can handle direct exposure to water.
Choose lights rated for harsh or marine conditions if you live in a coastal area, since these fixtures withstand the corrosive effects of salt spray.
Practical Lighting Considerations
Almost all deck lights use either line-voltage or low-voltage power. Line-voltage lights are often brighter, but require professional installation, since you must use waterproof conduit and junction boxes and bury underground wires below the frost line. Low-voltage systems run off a transformer that converts 120-volt household current to 12-volt power. They're an excellent option for the DIY enthusiast since cables can be surface mounted. Electrical sources for both kinds of lights should include a ground fault circuit interrupter, which reduces the risk of electrical shocks. A third option, solar deck lights, require no wiring at all. However, solar fixtures must receive sunlight during the day.
Light Bulb Options
There are five kinds of bulbs commonly used in deck lighting, each with advantages and disadvantages.
Incandescents are the least expensive bulb and produce a warm light, but they're energy hogs compared to other bulbs.
Halogen lights create bright and natural light, but they're hot to the touch. You shouldn't use them in fixtures with exposed bulbs.
Xenon bulbs have similar lighting characteristics to halogens but operate at cooler temperatures and often have a longer service life.
Compact fluorescent lights are energy efficient, and many are compatible with incandescent fixtures. They contain trace amounts of mercury and used bulbs should be recycled instead of thrown away.
LED deck lights are the most energy-efficient option and produce bright white light.
Controlling Your Outdoor Lighting
Once you've chosen your light fixtures, consider adding lighting controls that let you adjust the illumination level to match changing outdoor conditions. Timers turn on accent lights on a fixed schedule, while motion sensors activate walkway, porch or security lights when they detect someone approaching your home. Dimmers let you increase illumination for your guests as the sun goes down, and extra switches for task lights let you turn them on only when needed.
Adding lighting to your patio or deck enhances the appearance of your home and creates a delightful outdoor area for dining al fresco or entertaining guests. Explore the many exterior fixtures available and use your outdoor deck lighting ideas to create a relaxing private retreat right outside your door.
Build a Lighting Plan
As you learn how to install deck lighting, you'll quickly discover there are many fixture types and placement options. One of the best ways to keep a project like this organized is to create a lighting plan, a detailed drawing that shows the existing space and lets you visualize the changes needed to bring your outdoor deck lighting ideas to life.
Start by listing your lighting goals. Whether you're adding a few stair or walkway lights to enhance safety or turning your deck into an outdoor living room, knowing what you want to accomplish simplifies the rest of the process. Next, create a scale drawing of your deck or patio and nearby landscaping. Be sure to note railings, stairs, elevation changes and overhangs that may affect where you can put lights or how you and your guests use the area. You'll also want to mark doors and windows that connect to interior rooms. A tape measure and graph paper can simplify this part of the job.
Once you've created an accurate map of the outdoor space, record the locations of all existing light fixtures. Be sure to include sources that may illuminate the area but don't appear on the plan, such as garden or street lights. Note the style and finish of each fixture and check its condition, since you may want to replace mismatched or damaged lights to achieve a consistent appearance. Review your home's overall style and exterior finishes so you can choose fixtures that match.
Light Things Up
With a list of goals and an accurate picture of your outdoor space in hand, you can start planning your new outdoor lighting installation. At this stage, focus less on actual fixture placement and more on overall lighting needs. You may want to use colored highlighters to denote the kind of illumination you want in each area.
Place practical lighting along heavily traveled areas and entryways to ensure visitor safety. Add ambient light around tables and seating so people can see each other as they talk and consider using post deck lights to outline the available space. A spotlight above work surfaces such as a gardener's bench or grill simplifies outdoor tasks after dark. Spot and accent lights are also an excellent way to highlight the architecture of your home or garden features such as ponds, fountains or specimen plants.
As you develop your plan, consider these deck lighting tips that can enhance the look of your deck or patio:
Place fixtures low to the ground or above people's heads to avoid glare.
Separate security lights from the rest of your outdoor lighting. These fixtures are quite bright and can cast harsh shadows.
Use recessed light fixtures on stairs or walkways to provide illumination without adding obstructions to these busy areas.
Extend lighting beyond the edges of the deck and integrate your house and yard into your outdoor living area.
Remember that your plan is a living document. Make changes if a new outdoor deck lighting idea sparks your interest.
Review Existing Fixtures and Challenges
Now that you've decided what you want to do, it's time to figure out how to install the deck lighting needed to implement your outdoor deck lighting ideas. Before laying out fixtures, it's a good idea to add existing wiring, switches and outlets to your lighting plan. Be sure you take appropriate precautions when tracing wires; turn power OFF at the main breaker panel anytime you work with electrical system components. You'll also want to note potential obstacles such as plumbing and gas pipes or in-ground hazards such as cables or irrigation systems. If your plan calls for below ground installation, contact your utility companies and have any lines marked by a professional.
Finalize Your Plan
With an understanding of the physical characteristics of your outdoor space and a plan that outlines your outdoor deck lighting ideas, you can start placing fixtures. The illumination provided by individual lights varies, so you may need to decide placements as you shop. Mark the position and type of each light you select on your lighting plan and keep an inventory of all fixtures as you add ambient, task, accent and safety lighting to each area of your deck.
As you complete your plan, remember each light must be connected to a power source, either a junction box or a transformer. Draw lines indicating wiring paths and adjust your overall design to simplify connections when possible. You may want to group lights into several independent circuits, so you can turn on walkway and entry lights separately from deck fixtures or security floodlights.