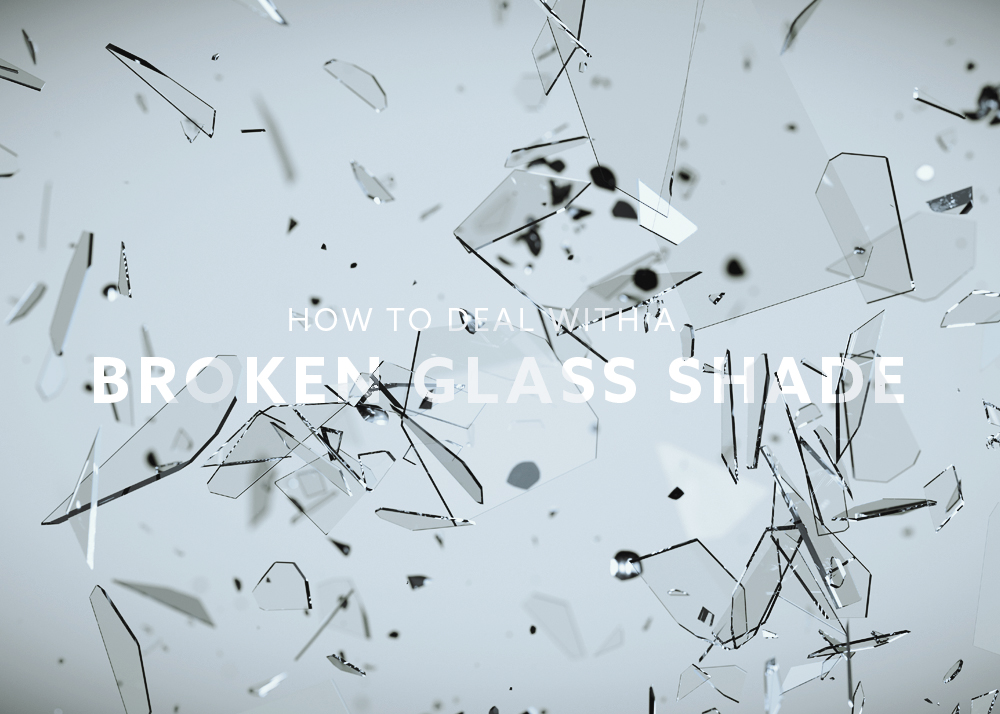 How to Deal with a Broken Glass Shade
Replacing a broken glass shade is a simple DIY project that takes only a few minutes and doesn't require any special tools or know-how.
The first step is removing the broken shade. You'll need:
Heavy duty gloves
Screwdriver
A bag or waste bin
A ladder, if the fixture is above your head
First, turn the light switch for the fixture to the OFF position. If it's a floor lamp, unplug it from the outlet. Protect your hands from broken glass with heavy duty gloves. You may also want to lay down a towel or trash bag under the fixture to catch any shards. Remove the light bulb from inside of the fixture. Most glass shades are held in place with a few screws. These screws don't need to be fully removed. Simply loosen them and the shade will slide out. Some shades are held in place with a ring, called a socket collar, that screws over the light socket. To remove this type, carefully reach inside the shade and unscrew the ring. Once you've removed the shade, dispose of it safely in a bag or bin.
Look for Model Number on Light Fixture
This is typically on the backside of a fixture. If your light fixture is on a ceiling or wall, you may need to slightly move or potentially remove it first to find the number.
If you do find the model number, you can contact a lighting specialist and see if the vendor has glass shades available for sale. If not, there may be one in similar size and shape that could fit your needs.
Determine Your Fixture Type
The method used to remove the broken shade will tell you what type of fitter your fixture uses. If your shade was held in place by screws, it is a "lipped" fitter type. If you had to unscrew a socket collar, your shade uses a "straight" or "neckless" fitter. When choosing replacement glass shades for floor lamps or ceiling fixtures, be sure to order the correct fitter type.
Sizing the fixture
The most important consideration when selecting a replacement shade is the fitter size. Measure the inner diameter of the shade holder on your fixture (from inside edge to inside edge). You'll also want to consider the width and depth. The new shade should be wide and deep enough to cover the bulb(s) while maintaining a practical size for the fixture and space.
The most common fitter sizes for lipped shade holders are 2 1/4-inch, 3 1/4-inch, and 4-, 6-, 10- and 12-inch.
Straight fitter shades are named by size:
Hurricane shade fitters measure 1 5/8-inch
Ball shade fitters are 4 inches
Astral shades have 6 1/4-inch fitters
Student shade fitters may be 7, 10, or 12 inches in diameter
Hanging lamp and dome shade fitters are typically 14 inches
Pro tip: If you're ordering a replacement glass shade online or by phone, be sure to have your measurements at the ready.
Types of Glass Lamp Shades
Now comes the fun part: Choosing a new shade. You can replace your old shade with an exact replica, or you can take this opportunity to update your decor and add some excitement to your lighting. Glass shades come in a wide variety of shapes, colors and styles. As long as the dimensions are a match, you can choose any style you like. Consider a tinted Tiffany or Art Glass shade to add interesting dimensions of color to your lighting. Frosted shades soften harsh lights, while clear glass can brighten a dim space. Shapes include cylinders, domes, bells, bowls and globes. Unique geometric shapes such as squares and hexagons add a modern touch.
Replacement Glass Shades for Floor Lamps
Floor lamps are often used to provide spot lighting for reading or other tasks. When choosing replacement shades for floor lamps, consider the light's purpose. The color of the shade will affect the mood of the lighting. Cool hues will promote relaxation and calm, while warmer tones can help to energize a space. Lamp shades that enclose the bulbs create soft ambiance, while open shades can direct light to areas in need of more illumination.
Replacement Glass Shades for Chandeliers and Ceiling Fans
Hanging shades such as those found on chandeliers and ceiling fans are also available in a variety of styles. Chandeliers often include multiple shades. You can choose a replacement that matches the remaining shades, or update the entire chandelier with a new set of shades. Pendant lights are common as replacement glass shades on chandeliers. These shades come in a variety of shapes and colors to add drama to overhead fixtures. Unique fan glass shades can turn your ceiling fan into an art piece. Fluted, square or Tiffany shades add a decorative touch to overhead lighting.
Made in the Shade
Installing your new shade is as simple as setting it in place and tightening down the fixture screws or socket collar. Replacing a broken shade only takes a minute, and provides the opportunity to enhance your lighting and your decor with a new style or shape.