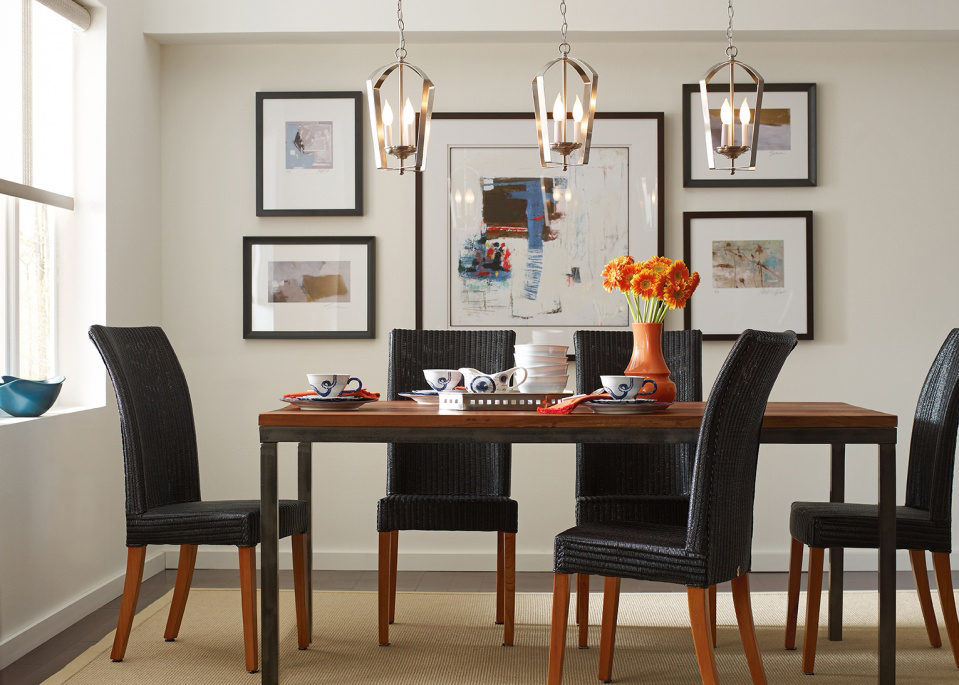 Dining room lighting trends
There are a few important things to consider as you plan lighting around your dining room. This includes proper illumination for everyone at the table, accents to highlight the room's features and enough light for your wall art. Dining room light fixtures also create atmosphere and light the room for other activities. Whether you serve multi-course dinners or use your table as a desk for work, it's important to find dining room lighting fixtures that suit your needs.
Unique Dining Room Lighting Ideas
Directional spot lighting targets specific areas of the room. These lights create a dramatic feel around seats, serving dishes and wall art. Because of their bold characteristics, spot and directional fixtures often work as part of a larger lighting plan. Consider these lights as complements to the pendant lights above your table. Separate switches for these lights can create warm, distinct environments between meals and soft, welcoming environments at dinner time.
As the centerpiece of the room, the dining room table requires adequate lighting for and between meals. Centrally-located lighting fixtures provide flattering illumination for those seated at the table. When located directly above seats, lights cast shadows over faces. That's why it helps to use softer lighting above the center of your dining room table.
Well-positioned wall lights make dining rooms look larger and more inviting. If you install wall sconces, you can illuminate the perimeter of the room and cast light toward other furniture. Recessed lighting on the sides of the room offers another way to highlight wall art. Adding dimmer switches to your wall lighting can enhance the atmosphere of the room even further, giving you control over the brightness to set the mood.
Dining Room Lighting Tips to Consider
Track and rail lights allow you to make the most of dining rooms with few electrical fixtures. These versatile fixtures also allow you to highlight different features on different occasions. You can point directional spots toward wall art on most days and toward central serving dishes during holidays.
Rooms with lower ceilings benefit from flushmount lights, while those with higher ceilings can use chandeliers or pendant lights for general illumination. Chandeliers cast soft and general light from directly above the table. These lights, like pendant lights, should hang high enough to avoid glare when diners stand near the table. In rooms with 8-foot ceilings, the base of the chandelier should hang about 30 inches above the surface of the table. Add more distance between the chandelier and the table with higher ceilings.
How to Find the Best Dining Room Lighting for Your Home
Evaluate your dining room before you choose your fixtures. Rooms with higher ceilings and larger tables require more substantial fixtures than smaller spaces. In homes with open floor plans, it also helps to match new lighting fixtures to existing fixtures in your home. This coordinates the look of your home as you move from one room to the next. Finally, consider dimmers for the fixtures in your dining room. These useful switches transform rooms from comfortable dining spaces into multi-purpose work areas.
Consider these dining room lighting tips as you shop for new fixtures. Adding proper illumination can make your dining area a popular destination, as the right fixtures shine a light on mealtimes, game nights, homework and crafting.