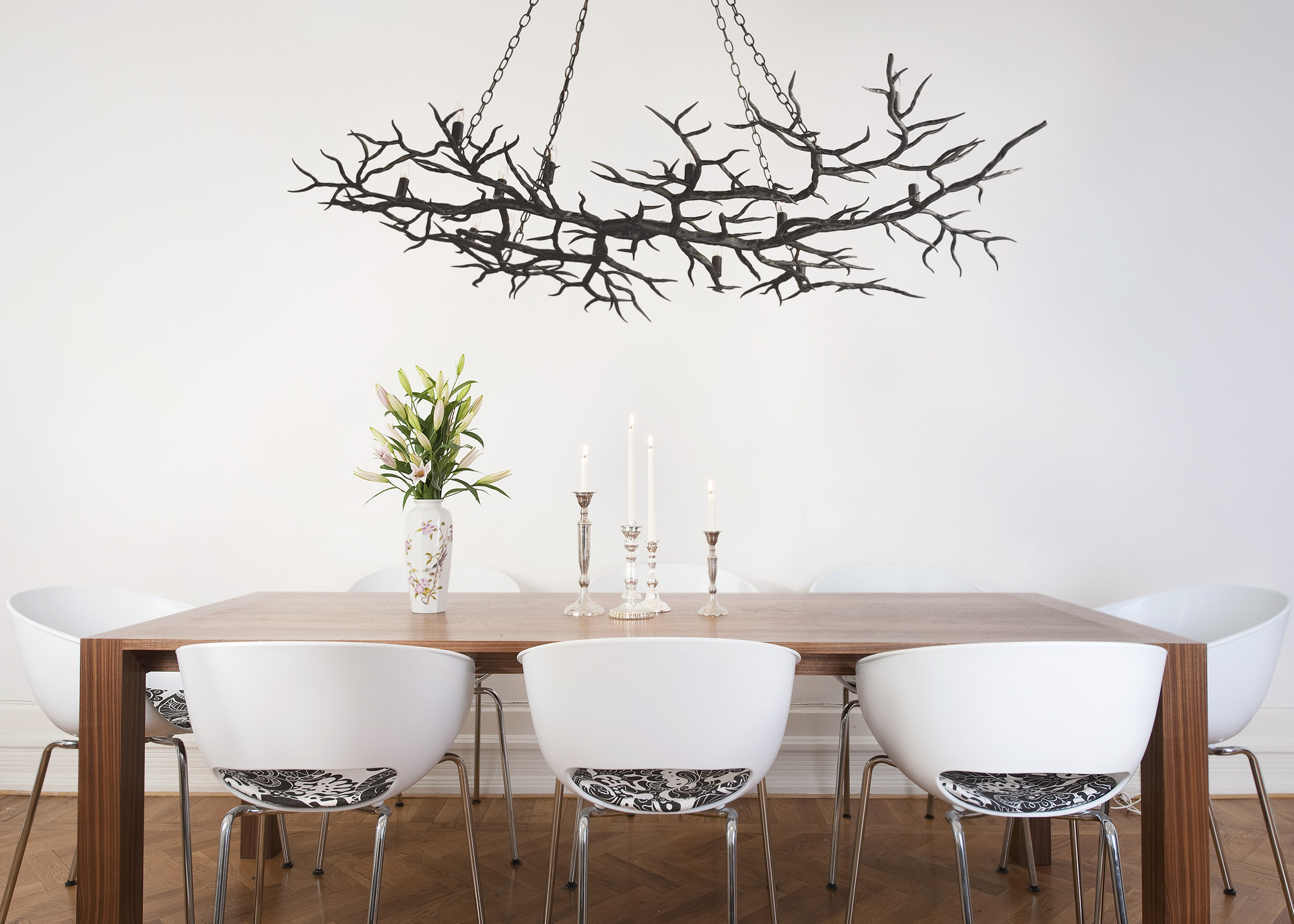 Completing your home with a rustic chandelier
Origins of Today's "Rustic Chandeliers"
Rustic decor, which focuses on bringing aspects of the outdoors into the decorating scheme of a room or home, has been a popular choice since the mid-eighteen hundreds. Early users focused on incorporating animal antlers, logs and twigs into the space, with some using sticks and other materials to make chairs, beds and other furniture. Many of those same aspects are present in today's rustic homes, albeit with modern touches and lighting fixtures that carry the theme from floor to ceiling.
Over time, the rustic look has evolved into other decorating choices, such as the lodge or cabin style lighting. Similar to the original rustic spaces, these schemes use images of deer, black bears and wolves to accent the room. Light fixtures, frames and other aspects of the rooms incorporate the look of twigs and antlers fashioned out of metal, iron or wood to complete the look.
Why It Works
Rustic spaces bring the beauty of the outdoors inside and continue to be a popular option for all types of homes. From log cabins to lofts, adding rustic decor creates a look that will remain stylish for years to come. It adds a nostalgic appeal to any space and invokes beauty and comfort for anyone who visits the home.
Adding Chandeliers to Your Home
Chandeliers diffuse the light throughout the room to create a soft glow. The light fixtures add ambiance to any space while providing plenty of illumination in areas where task lighting isn't needed. Chandeliers work well in small rooms by utilizing the space above, letting users add decorative touches without adding clutter to a cramped area.
Choose a Rustic Chandelier for Any Room
Stylish chandeliers add a decorative element to any room with rustic decor. Available in a range of colors, including bronze, brown, satin nickel and chrome, iron, beige and black, chandeliers fit with a variety of decorating schemes. Neutral options provide a softer look in rooms decorated in light colors, while darker hues add a bold touch that pairs well with rustic, lodge and cabin styles.
Chandeliers can be the focal point of any room, or they can tie the decor together. A large, bold option placed over a dining table or in the center of the room draws the eye of any visitor. Consider smaller mini chandeliers in bedrooms or other small spaces to add a hint of the rustic without overwhelming the rest of the room. Hanging a rustic design at eye level ensures guests notice it, especially if you turn it on when they enter the room, maximizing its overall beauty and style.
Types of Rustic Chandeliers
Chandeliers designed for rustic spaces come in a variety of options, including those that resemble branches, antlers and plants that also work well with cabin and lodge themes. There are models that have a distressed look that add a touch of vintage inspiration. Fixtures that feature tall, upright shades that look like candles also add to the rustic feel of the room.
Those who want to add a hint of elegance can choose crystal chandeliers that incorporate iron for an interesting mix of textures that becomes the focal point of the space. Simple mini chandeliers are available with single lights for low ceilings, or you can opt for one that includes multiple lights to ensure the entire space is lit. Consider adding chandeliers made from iron or wood to capture the outdoor elements of the decor.
Pro Tips
After choosing the rustic chandeliers that work for your rooms, you can also incorporate complementary lighting, area rugs and throws to complete the overall look.
Floor lamps made of iron or in brown or black tones light up those dim corners where the chandelier lights may not reach.
Add wall sconces in bronze to illuminate hallways and highlight interesting decorating features within a room, all while complimenting the look of the rustic chandeliers.
Consider using a mix of materials, such as iron with wood or metal and wire throughout the chandeliers and other lighting options in the home to create a cohesive look. There are fixtures and lamps available in similar colors and designs that make it simple to transform your home with a rustic, cabin or log decorating scheme.
Rustic interiors convey a sense of warmth and welcome to all who enter the home. Add lighting fixtures and rustic chandeliers that match the tone to tie the entire space together and create the ambiance you want to achieve.