8 Simple Dinner Party Ideas
Dinner parties can be stressful, and that's putting it mildly. If you're anything like us, you love the idea of hosting a dinner party, but when it comes time to actually plan it, panic starts to set in. You want to make sure your party is well organized, but you want it to be fun too. Is it possible to do both?
We thought it would be nice to take the stress away so that you can enjoy the party that you've signed up to host. After all, it's your party and you should have fun if you want to. Or cry, whichever works.
Your food should be good of course, that almost goes without saying. After you've nailed down your main dishes, it's time to add some fun, yet subtle touches to your home to kick things up a notch. Here are 8 simple ideas that will keep your guests entertained and keep them talking about it later.
1. Liquid courage on wheels
Instead of having everyone approach the bar, why not have the bar approach them? It doesn't even have to go anywhere, it's just a fun way to showcase all the drinks you have and show everyone that it's perfectly normal to spend most of their time by the bar. Bar carts, the only time alcohol and wheels go together.
2. Don't get shy with color
There's nothing wrong with having neutral tones or a minimalist design sense. However, since it's a party, you'll want to add some spice by throwing in color (we suggest bright) where it makes sense. The right color palette can make your guests feel a warm and comfortable vibe, setting the tone for the rest of the night.
3. Presentation over everything
As we mentioned, your food should be good, so we'll save that part. But don't forget about making it look good as well. We live in a social media age-and with Facebook, Instagram and Snapchat, food is the newest celebrity. Why not try:
Long cutting boards instead of plates to display your made from scratch crostinis.

Clay pots instead of bowls to serve your Vietnamese vermicelli dish.

Copper mugs instead of glasses for your summertime moscow mules.
It if looks good, the chances are it will taste good. And even if it doesn't taste good, at least your guests will have a lot of likes on their social media feed. Hey, that's worth something right?
4. String lights for the occasion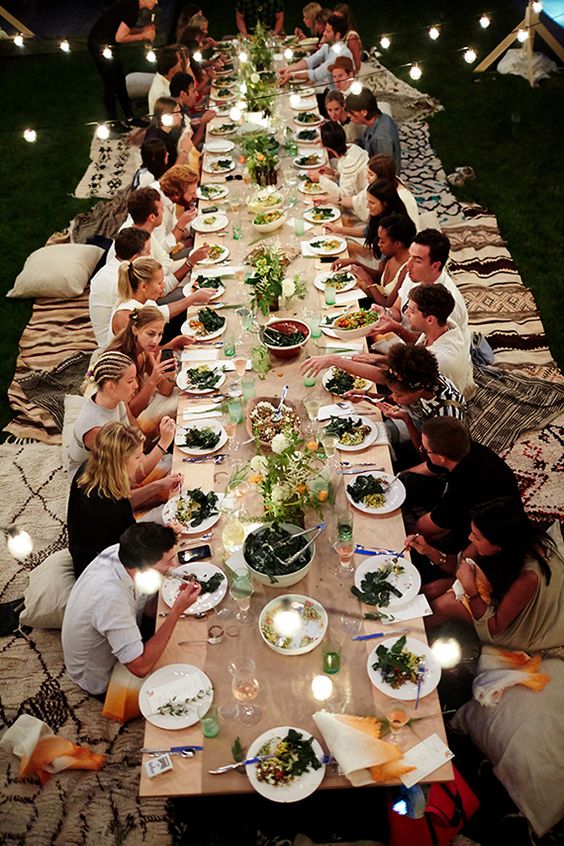 We are such suckers for string lights and it's no small wonder why. They look amazing, and they're no longer reserved for just weddings and Christmas time. There's a party light for every occassion. They add a festive, magical charm and they're really becoming more of a must-have than a nice-to-have. Stringing them outside on top of a patio, or inside adorned around a window, there's really no wrong way of displaying these.
5. Create a playlist
Playing some ambient background music is a nice way to set the mood and atmosphere. Keep the music simple and relatable (you know your friends better than we do). Although unless you want your dishes and vases to get broken, we'd probably stay away from Nirvana. Try creating a playlist for every situation. Relaxing, calming music during slow down times, and more upbeat tunes for when people want to get a little loose. By compiling a playlist in advance, you can spend less time on the music and more time making sure nothing is burning in the oven.
6. Games galore
Games are always the best way to break some ice, and a great way for your more introverted guests to show off their personality . There's a lot of fun new games like Left, Right, Center for the gambleholics, inappropriate card games like Cards Against Humanity (please don't let grandma play) to get people out of their shell, or the guessing game "Who am I?" if you don't mind people staring at something on your back for the entire night.
7. Create a personalized menu
Making your own dinner party menu might sound kind of cheesy, but that's sort of the point. Your guests are likely expecting a casual affair, so why not surprise them with a hand made menu and make them feel like they're experiencing a Michelin star dinner in the south of France?
And since there's no James Beard Awards being handed out, make it fun. If you're serving hot dogs, try a cursive, art nouveau style font. Or grab your daughters blackboard easel and write it out in your fanciest handwriting. At the very least your guests will laugh, and at best, you'll make them feel special (because they are of course).
If you need help creating a dinner menu, check out these free templates that are easy to use.
8. Adjustable lighting
There's nothing worse than winding down at the end of the night and having a bright, purely white light hit your face like a police interrogation. Do your guests a favor and get some dim, mood lights or install a dimmer switch. At the right brightness level, it'll feel more like candle light, which is far more preferable in a social setting than the spotlight approach.
You can also just do candles of course, but then you introduce an element of fire and potential danger. We can't totally recommend that, because there's an element of danger and a potential fire incident. And our advice to keep your place safe and as fire free as possible.
There you have it. 8 wonderfully simple ideas for hosting a dinner party that don't take up much time or effort. Now all you have to worry about is all the friends you didn't invite, and how they missed out on an awesome dinner party. Perhaps dinner party #2 coming soon?