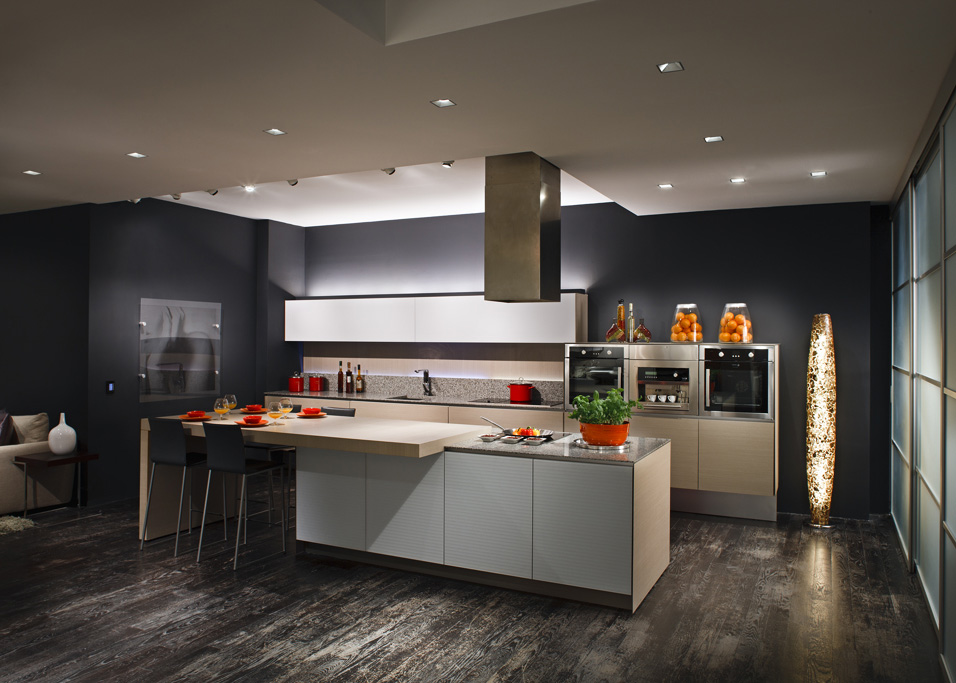 What is Recessed Lighting?
Recessed lighting is installed directly inside a ceiling, wall, or other surface. Recessed fixtures are comprised of three main components, housing, trim, and bulb. Housing is the bulk of the fixture which is hidden within the wall or ceiling  and contains the electrical connections of the fixture. Trim is the decorative, visible portion of the fixture and may include baffles, reflectors or shades. The final component is the bulb, the part of the fixture that produces light.
Installation Considerations
Because you install these fixtures inside a building surface, you'll need to choose recessed lights that match the access you have and the space available. You can use new construction lights if you're working with unfinished walls or in ceilings with attic access. If you're installing recessed lights in a finished surface, remodel fixtures are a better choice. You can install them from the finished side of the wall or ceiling. Materials present in the wall also affect the fixture you choose. If there's insulation present, you must use an IC-rated recessed light, which won't overheat in these conditions. Specialty lights with shallow housings are ideal for thin walls, and angled fixtures are the best recessed lighting for pitched ceilings. You can also use recessed fixtures outdoors, but choose wet location rated recessed lights if they'll come in contact with water.
Dress Your Recessed Lights with the Right Trim
Once you've found the right housing for your installation location, you can choose fixture trim that complements your room. Many recessed lighting designs are unobtrusive, but trims come in a broad range of metal, decorative and plain finishes that offer plenty of style choices. Most recessed lights have a single bulb and round or square trims. These symmetrical shapes can stand alone or work in groups. Fixtures with multiple bulbs typically have rectangular trims and are an ideal choice for lighting long horizontal features such as bookcases.
The trim you choose also affects the amount and type of light produced by the fixture.
The Final Component: The Bulb
Each recessed light uses a particular type of light bulb. Halogen and incandescent bulbs produce bright, white light, but they can get quite warm. They also consume more energy than other bulbs. Compact fluorescent bulbs are energy-efficient and produce very little heat, but they contain trace amounts of mercury. LEDs may be the best recessed lighting bulb choice. They're cool, efficient bulbs that last many years. There are even retrofit modules that let you use LED bulbs in existing recessed fixtures.
What is recessed lighting? It's an excellent way to add illumination to any room without taking up space. Put these recessed lighting ideas to work in your home and shine new light on a favorite reading nook or kitchen work surface.