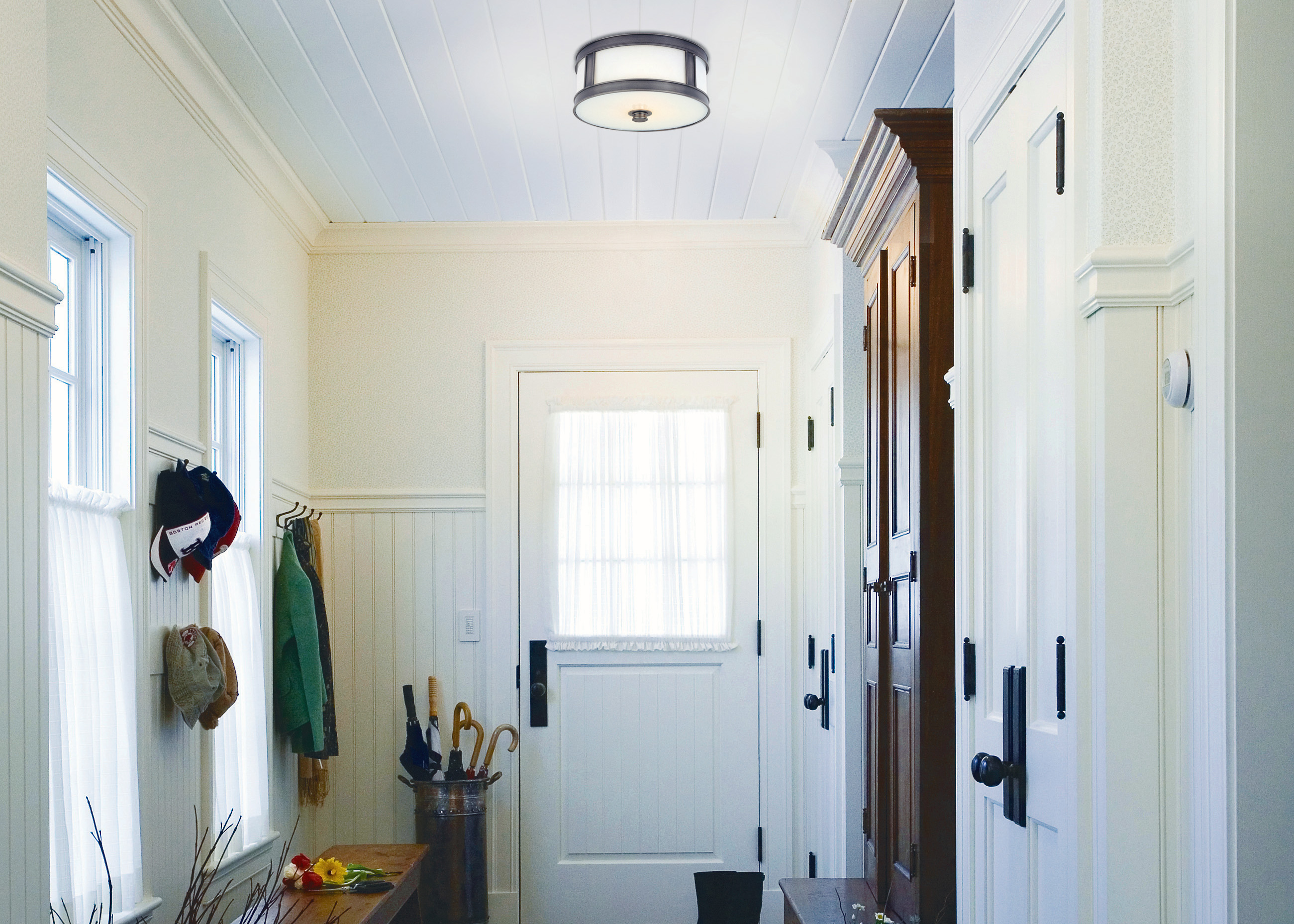 What's flush mount lighting?
Flush mount lighting sits directly against the ceiling and shines light downward. Because there's no space between the ceiling and the light itself, flush mount lights are ideal in rooms with shorter ceilings and for keeping dust and debris away from the bulb and shade. They're typically useful as overall lighting in a small room, task lighting in larger rooms or to fill in spaces that uplights miss.
Like flush mounts, semi-flush mount lighting hangs from the ceiling, but it has a little bit of space between the light and the ceiling. This space allows some uplighting to reflect onto the ceiling and into the room, which makes for a brighter room overall.
Flush Mount Styles
When you think of flush mount lighting, you may picture the ever-popular melon shape you see in apartments and businesses. However, you can find flush mount lights to fit nearly any lighting scheme imaginable. For targeted task lighting from the ceiling, a three-light flush mount does the trick. Add elegance to your entry space with a flush-mounted chandelier, or go all out in a small powder room with a crystal flush mount that bounces light around the room. Glass shades soften and diffuse the bulb's light, while fabric shades direct the light up and down for a subtle spotlight effect. Twist-and-lock shades make bulb changes simple, which is especially helpful in high-traffic areas such as laundry rooms, hallways or mudrooms.
Brighten up Your Decor
Conventionally, flush mount lighting blended into the ceiling. These days, though, unique flush mount lighting matches your decor and can stand on its own as art. If your home has a colonial feel to it, for example, traditional flush mounts use classic shapes and finishes to highlight the symmetry and timeless grace of your floor plan. If your design sense skews more contemporary, modern styles and designer flush mount lighting bring cohesion to your home's look. With geometric motifs and fascinating takes on shade shapes, these modern lights take on roles of form and function in your home's overall aesthetic.
Where to Install
Flush mount lighting works wonders in tight spaces and as a subdividing element in larger ones. It shines as an overhead light in a kid's bedroom, and smaller flush mount lights perform well in closets to shed light on the best outfit to start your day. Use unique flush mount lighting as architectural interest when you space multiple lights down the length of a hallway or set off work zones in a large kitchen. For tone setting at its best, flush mount lighting in your entryway welcomes guests with just the right amount of light.
Whether you're replacing your fixtures or adding some much-needed task lighting to what is there, flush mount lighting is available in every size, shape and finish you can dream up, Add this work horse to spaces around your home in which you could use an extra patch of brightness, and build a distinctive lighting layout that complements your home's decor.