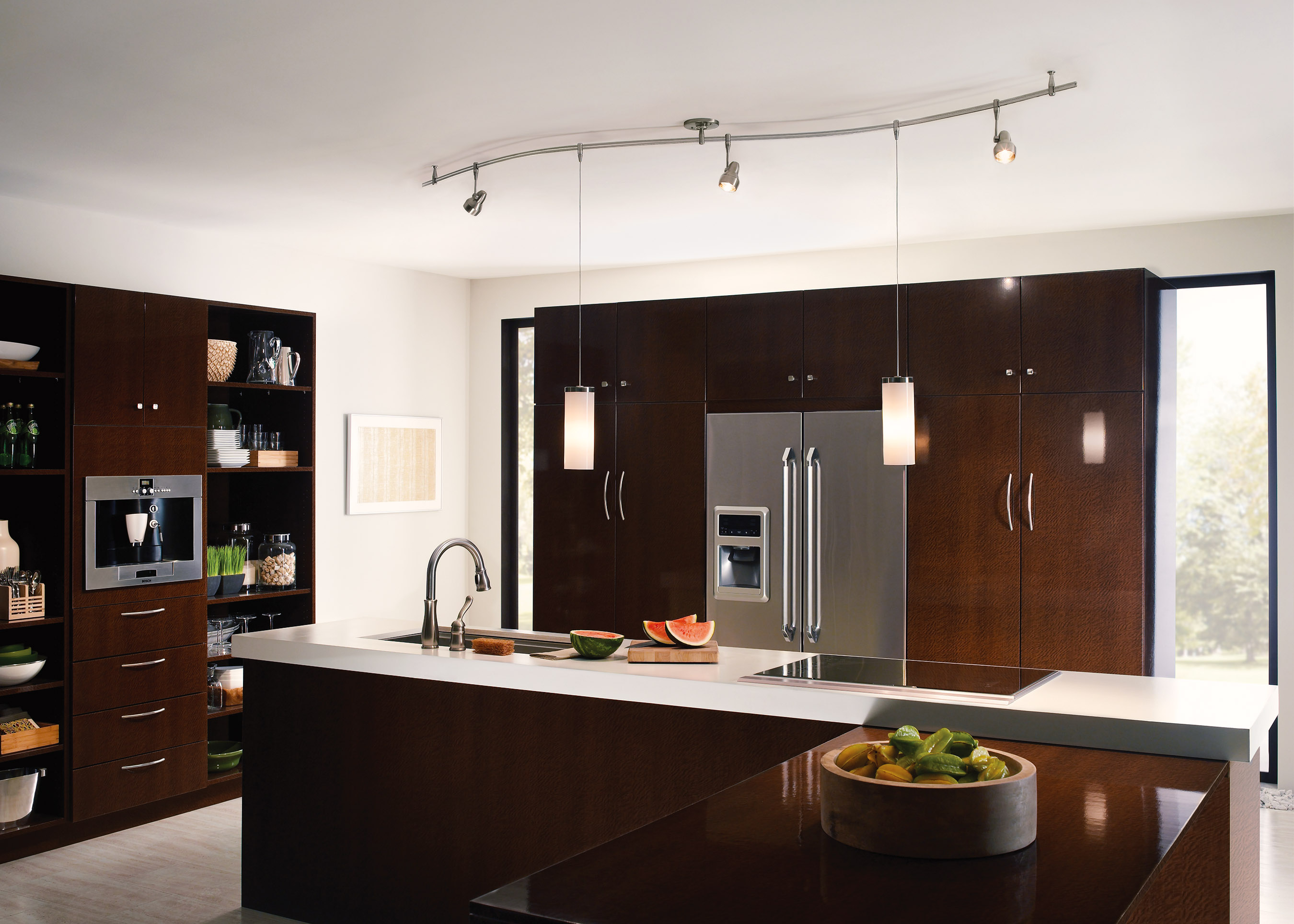 The pocket guide to track lighting
Track lights are basically the Beyonce of light fixtures. They look good anywhere, anytime.
What's really cool about them are the interesting ways you can rotate them to change up the look of your home. They're especially useful for spotlighting works of art, turning them from bargain bin dust collectors into antique museum exhibitions.
Each of these rail tracks uses a track or rail transformer attached to a single power source, so you don't need to hook each light to a different outlet. Once you install a track, you can choose how many heads to use and change their directions to suit the room. Track lighting is a clever way to use a single power source to operate multiple lights. It's really everything.
Choosing your light wisely
Every track works with multiple light bulbs, and it's best to know which bulb style you want for your room.
Framing projectors-When you want to accent wall art, look for special heads called framing projectors. These units maintain precise levels of light without washing out details. .
Step-style track lighting heads are standard in many homes, and they cast directional light for targeted illumination.
Gimbal-style heads have large, flat lenses that produce a wider spotlight than other styles of head.
Get everything you need in one fell swoop with track lighting rail kits to get you started on the path to better lighting. Your friends might start to wonder if your home is actually an undercover art museum.
Alternate uses for track lighting
Curved tracks for a little twist

Straight tracks are a good option, but it's not your only option. Curved tracks provide even more versatility. Install a curved track in your kitchen or living space to add an interesting
aesthetic and contour that draws the eye.

Home for the Holidays

Everyone loves the holidays. Okay maybe not everyone, but you can at least make everything look prettier with well placed track lighting. Think about using track lights to spotlight the juiciness of that turkey you just baked, or that family picture on the wall to remind everyone why they're here in the first place.
A few more things to consider…
Before you get started, here's a few other things to pay attention to:
The Height of the Room

For rooms with lower ceiling, consider smaller tracks or recessed track lights. You don't want anyone knocking their heads on your brand new lights.

The Size of Your TrackTracks come in more sizes and lengths than you might think. The size also changes how your lights might look. For example-a shorter, 23.75-inch segment will produce a completely different look than longer, 96-inch lengths of track. Consider your space, the areas you want to highlight, and what kind of look you're going for.
The Lighting Power

Consider how much light you need from your track lighting. Calculate the beam spread to determine how wide you want the coverage to be. Also known as the beam angle, beam spread is controlled by the reflector in the fitting. It can range from a narrow 8 degree spotlight to a 100 degree floodlight, depending on the fitting. The more powerful the bulb and the wider the beam spread, the more coverage you'll get. Most light bulbs list their beam spread rating. There are also online calculators to help you choose the right bulbs for your needs.
A single 50-watt light bulb with a 15 degree beam angle works especially well for character, but 75-watt halogen light bulbs with a 40 degree beam angle can reach further.

Pro Tip: For a quick, effective fix, try LED bulbs to replace older styles. LED's reduce energy costs,save money, and look just as elegant as standard bulbs (if not more).
There's just nothing like good track lighting. If you're looking for a light that is sleek, clean yet unpretentious, track lighting is definitely the way to go. Beyonce would be proud.