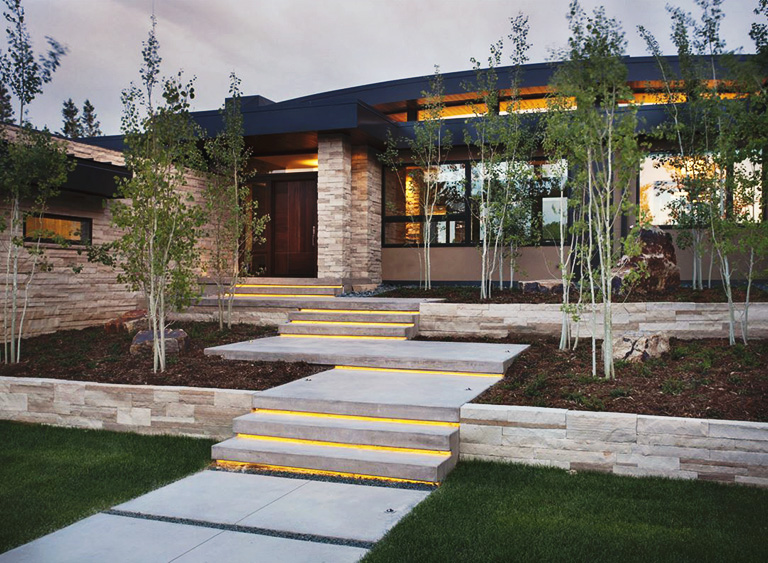 The pocket guide to improving your curb appeal
Anyone who's ever been on a good (or terrible) first date knows that first impressions are everything. The same is true for the curb appeal of your home, as those first impressions will tell your guests what kind of home they can expect. This guide will give you a good sense of what to expect when it comes to lighting your front entrance. From attractive outdoor ceiling fixtures to low voltage path lights, a variety of options abound which will add beauty, safety and security to your home.
Wall-mounted lights or lanterns are a popular option for the external entryway and a great place to start. These decorative outdoor fixtures can be mounted adjacent to the front door and come in myriad styles and finishes. Besides lighting the entryway, they can also be used to flank the garage door or illuminate a porch or deck. There are many styles to choose from and a variety of sizes are also available. Some manufacturers even group fixtures by collection, so it's easy to coordinate matching items.
Think about placing your outdoor lighting to highlight structural details like window frames, decorative trim or stonework. Positioning lights close to the wall will create a grazing effect, which reveals the texture and color of the home's exterior. Wall-mounted lights can also bring out texture by creating dramatic shadows. Use downlights or outdoor ceiling fixtures to focus light in specific areas, like the doorstep. Step lights can be used to illuminate a staircase leading up to the home, which creates a nice visual effect as well as enhances safety.
Good lighting is all about the details
There are several options to keep in mind for controlling the light around the outside of your home. In addition to an outlet near the door for convenience, photocell switches or a timer should also be considered. A photocell will turn lights on when darkness falls and off again when daylight returns, while a timer can be set to turn the lights on or off at preset times.
Bulb choice is another important factor to consider. Clear bulbs should be installed in fixtures with clear glass, while frosted bulbs work best in fixtures with frosted or translucent glass. Rather than using one fixture with a high-wattage bulb, another option is to spread light evenly with several fixtures and lower-wattage bulbs.
Even before you reach the house, there are other outdoor areas where lighting can play a key role. Consider shedding light on a pathway or driveway for instance. Pathways can be lit with path lights positioned close to the ground or with post lights at eye-level. While post lights will illuminate a broader area, path lights focus the light where you need it. To create an evenly lit walkway, space path lights no more than 8 to 12 feet apart.
The yard or garden can also benefit from creative lighting choices. One suggestion is to back-light plants or lawn ornaments to accentuate them. In-ground spot lights can point light upward to bring out the details in plants and trees while cross lighting, which brings light from two directions, can create a dramatic effect when directed at objects like statues or fountains. Low-voltage lights are popular for lighting landscapes. These fixtures are long-lasting, unobtrusive and can easily be wired to one system. Offset path lights, cone lights, tree-mounted spot lights and flood lights are examples of low-voltage outdoor fixtures.
Destination Lighting has one of the widest selections of outdoor lighting available anywhere.Shop now for outdoor lighting.