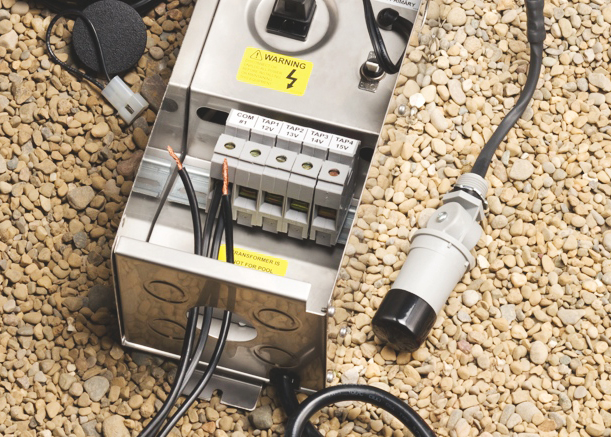 How to install a low voltage transformer
The electrical wiring in your home provides 120-volt energy, and some light fixtures require 12-volt for power. Transformers reduce your home's standard line voltage for use with low-voltage fixtures. Low voltage fixtures consume the same amount of power as other lights, but they often produce more brilliant beams. Because of their efficiency, many homeowners prefer them for outdoor lighting. You'll need to install a transformer to use low voltage landscape lights in your garden. Transformers moderate voltage, and you can use them to power path lights, in-ground well lights, and other landscape fixtures.
How to Find the Best Low Voltage Transformers
Before you install your lights, you'll need a transformer that suits your project. If you're just getting started, it helps to plot out your lighting grid. Determine which lights you want to use and where you want to install them. Consider their positions in relation to your house, and sketch out a plan for the cables. You'll need a different transformer for landscape lights than you'd use with low voltage recessed lights, because low voltage recessed lights already come with their own transformers. Here's what to look for.
Wattage
Low-voltage transformers need an outlet that connects with your home's electrical system. Once you know where you want to install the transformer, do a few calculations to determine the maximum wattage you need. Add the wattage from each light in your grid to determine the maximum wattage you'll need from your transformer. For example, a home with ten connected 7-watt path lights needs a transformer that outputs at least 70 watts of power.
Magnetic and Electronic Transformers_
Magnetic and electronic transformers differ in size and wattage. Electronic transformers tend to have smaller cases, and they produce a maximum of 300 watts. Because of their compact sizes, these transformers commonly support low-voltage under-cabinet and cove lighting. Magnetic transformers are larger. They usually produce a maximum of 1,200 watts. This makes them much more common for large-scale outdoor projects, including landscape lighting projects.
Photo Cells, Timers and Safety Features
Once you know your transformer will work with your light fixtures, look for other convenience features. These devices often have photo cells or timers that control when the lights turn on, so you don't have to flip a switch every night. Photo cells detect light levels near your home, so your lights automatically turn on when the sun goes down. These cells also turn the lights off when they sense natural light. Timers offer another way to control your lights. You can program these units to turn your lights on or off at specific times, even when you're not at home.
Some transformers also have their own safety features. Thermal detectors sense heat and can shut everything down to prevent overheating. These low-voltage transformers are also usually rated for wet and damp environments, so you can safely install them outdoors.
How to Install Low Voltage Transformers Outdoors
If you don't have much experience with electrical work, it makes sense to consult an electrician before you start your project. These professionals can do the job right the first time, and they'll know how avoid common mistakes. If you're comfortable with simple electrical grids and you've installed light fixtures before, you should be able to install low-voltage landscape lights on your own.
First, find a ground-fault circuit interrupter (GFCI) outlet to act as the connection point between your home and the outdoor lights. GFCI outlets detect current flows from positive to neutral points, and will shut the circuit down if there are inconsistencies. Mount your transformer near a GFCI outlet for extra protection against electrical issues.
Most low-voltage transformers have their own mounting systems, so you can attach them to stakes outside your home. These transformers also have weather-protection seals, but it's still a good idea to cover your outlet to keep moisture out. Check your transformer's manual to determine what kind of cables to use for your grid, and make sure they'll work with your lights. You can install your landscape light fixtures and wires before you turn on the transformer. Just be sure to test everything before you bury the wires.
Unique Low Voltage Transformer Placements
Your transformer shouldn't draw attention away from the landscape. Luckily, they're easily concealed under decks or porches. Many transformers are small enough to hide in the garden behind large leafy plants or sculptures. Most are rated for wet environments, and they can stay outdoors in any weather.
Whether you hire a professional or install it yourself, there are many places to use low voltage transformers. Find the device you need for your low-voltage light fixtures, and you can install a variety of lights around your home.
*Legal Notice: Destination Lighting content is for information only. It is strongly recommended that you consult a professional before attempting any lighting or wiring projects. The company is not liable for misuse of its content.